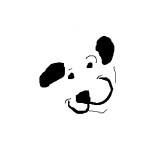 In this issue:
Your Special Offer
Pentobarbital Recall Update
What Pet Food and Vacations Have in Common
Against the Grain Beef Recall
Blue Buffalo Chicken dog can Recall
Wellness Chicken cat can Recall
Evanger's Hunk of Beef Recall
Monthly Features
Treat of the Month
Greetings!
It's been a busy month for recalls with one resulting from a particularly disturbing supplier chain issue. The other recall resulted from a production problem which allowed some "foreign material" (i.e. aluminum shavings) to potentially get packed in cans along with the food. The second recall appears to have been confined to a limited number of production runs. The first recall is ongoing and may blossom into a more interesting story in the coming months.
For those of you considering a move to a grain-free kibble, don't miss a couple of great opportunities with this month's features. This offer is limited to stock on hand of these two foods.
And for those of you pondering how best to begin to add some frozen, raw food to your dog's bowl, have a look at the special offer for Rock Island Raw this month!
YOUR SPECIAL OFFER
5% or $5- Which Do You Prefer?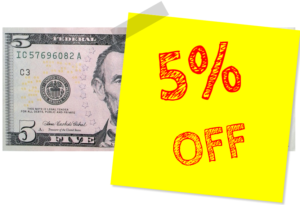 There's much talk at the national level about budgeting these days. Now you get to do some budgeting closer to home. Your choice is much simpler than what the Feds are wrangling over or tax preparation challenges.
This month's subscriber offer gives you a choice of 5% or $5 off your next order. Which should you choose? Do the math! The choice is yours, although choosing the smaller of the two would appear to be… odd.
Simply request your choice with any single order this month. You must request the offer- it will not be applied automatically. Your offer is good for a single order meeting minimum ($15) after the discount which is placed and delivered by March 31, 2017.
For those of you enjoying auto-delivery, yes, this does mean one extra step. But saving a few dollars with a simple email or phone call is fairly simple, wouldn't you agree?
NEWS
Pentobarbital Recall Update
Earlier this month, Evanger's issued a limited recall for two production lots of its Hunk of Beef canned dog food. Shortly thereafter, Against the Grain issued a limited recall because of the possibility of similar contamination.
We've been following the updates closely on these recalls. One disturbing fact which emerged is that the affected beef was sourced from a USDA inspected facility. This is a supplier that has been used and trusted for over 40 years by Evanger's.
The original recall led to an FDA inspection of the canning facility. Numerous observations were reported, although none were related to the problems behind the recall. Nonetheless, it came as a surprise to read of the deficiencies, even though they did not rise to the level of a health violation.
To Evanger's credit, they have remained transparent throughout this process by sharing each step in this unfortunate series of events with the public. They recently responded to the FDA's observations. Read more…
What Pet Food and Vacations Have in Common
Have you ever considered your vacation to be a learning experience? Whether it's sitting on a beach, adventuring in far off lands, or just lazing around the house for a few days, these breaks from routine often present unexpected ways to feed the brain.
 For some, the true meaning of the word "vacation" borders on a foreign concept. It's something exotic that "other" people do. A Mexican vacation is no exception.
Sitting on a white sandy beach may not be quite the same as slinging dog food, but it does share quite a few educational similarities. And both provide an incentive for deeper dives into continued education. Read more…
Against the Grain Beef Recall
Against the Grain has issued a voluntary recall for one lot of its 12 oz cans of  Beef with Gravy Dinner. The affected lot number has a Best By date of December 2019, and lot number of 2415E01ATB12. The lot number can be found stamped on the bottom of the can.
The food is being recalled because it has the potential to be contaminated with pentobarbital. Pentobarbital is a sedative often used to euthanize animals. This is the same drug that was found in the recalled Hunk of Beef formula from Evanger's earlier this month.
There have been no reports of illness from this food, and the company maintains it is no longer on store shelves. Read more…
Blue Buffalo Chicken dog can Recall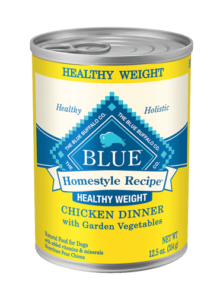 Blue Buffalo has announced a limited recall of one lot of their 12.5 oz Homestyle Recipe Healthy Weight Chicken Dinner with Garden Vegetables canned dog food. The affected lot has the potential to be contaminated with the presence of aluminum during production.
This recall is similar to one issued earlier by Wellness, which affected multiple formulas.
The Blue Buffalo recall is limited to a single production batch with a Best By date of August 3, 2019. We will continue to monitor both of these recalls in case more information becomes available, or if an expansion is announced. Read more…
Wellness cat food can Recall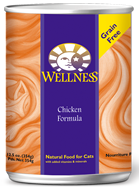 Wellness Pet Food has announced a limited recall on some of their 12.5 oz Wellness Complete Health cat food formulas.
The recall is a result of a potential manufacturing error. The facility which makes the recalled formulas has notified Wellness that "foreign material" was found in non-Wellness cans made in the same plant.
A recall of Grreat Choice Adult Dog Food with Chicken & Rice Classic Ground cans with the same Best By date was announced earlier due to metal contamination found in the food.
As a result, Wellness is recalling product that was made at the same time and location to avoid any potential problems. Read more…
Evanger's Hunk of Beef Recall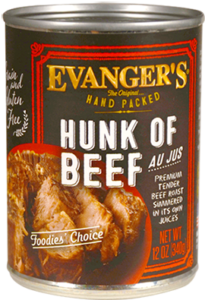 Evanger's has announced a limited recall of its Hunk of Beef canned dog food. The recall comes after a can tested positive for the presence of pentobarbital.
Pentobarbital can be used to anesthetize or euthanize animals.  The company is attempting to determine how this drug may have entered its raw material supply, since all beef used is sourced from USDA facilities.
Although pentobarbital was detected in a single lot, Evanger's is voluntarily recalling Hunk of Beef products that were manufactured the same week. Each has an expiration date of June 2020. Read more…
FEATURES of the MONTH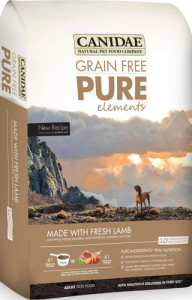 Looking for a high quality, mixed protein, grain free dog food? Why not take advantage of this month's featured offer and save 25% on the 24 lb bag of this highly digestible formula? PURE Elements combines Lamb, Turkey, Chicken and Fish proteins in a grain-free adult dog formulation. Limited to stock on hand, so let us know if you'd like one or more of these held for you before they disappear! 24 lb bag Regular- $63.75, now $47.75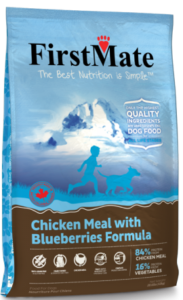 Prefer a single protein, grain-free limited ingredient formulation? FirstMate Chicken with Blueberries is a true limited ingredient formula using just 3 main ingredients- Chicken, Potatoes and Blueberries. This month's featured price is limited to stock on hand but you can order and request a future delivery date to "reserve" yours before they disappear.  30 lb bag Regular $71.50, now $57.25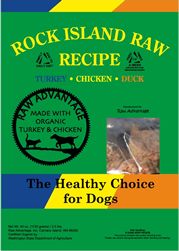 There is no easier way to introduce your dog to the benefits and taste of a variety of meats than Raw Advantage's Rock Island Raw. This raw, frozen food is packed in easy to portion, hand formed chunks that can be easily mixed into any meal. Pick up two bags at a very special price this month- save 50% on your second bag with the purchase of one bag at regular price. For those looking to begin a regular raw routine, talk to us about the new Ready for Raw program for even greater savings.
Rock Island Raw is made in Washington State with Duck, Organic Chicken, Organic Turkey, Organic Millet, Organic Oats, Organic Carrots, Organic Zucchini and Organic Squash. 2.5 lb bag Regular $21.50, now 2 for $32.25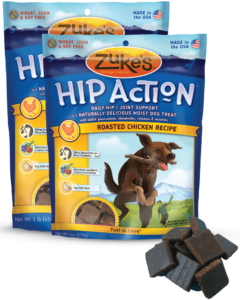 These chewy treats are an easy way to offer joint support without pills or powders. Each treat contains 300 mg of Glucosamine and 50 mg of Chondroitin for a therapeutic dose of relief. 6 oz bag Regular $9.50, now $7.25
TREAT of the MONTH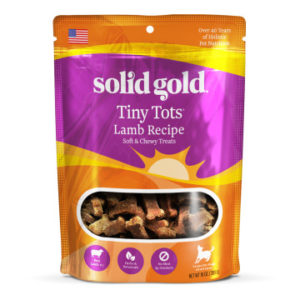 Solid Gold Tiny Tots- save 42%
A special purchase of these treats put them in your paws with very special savings! These small, chewy Lamb jerky treats are ideal for training or repeated treating. Tiny Tots are low in fat and contain just 6 calories per treat.
Ingredients: Lamb, Brown Rice, Oats, Lamb Meal, Tapioca Starch, Lamb Liver, Brown Sugar, Glycerine, Cane Molasses, Salt, Garlic Powder, Natural Smoke Flavor, Phosphoric Acid (preservative), Potassium Sorbate (preservative), Mixed Tocopherols (preservative), Cinnamon, Rosemary. Regular Price: $13.75,  Club Price: $8.00
Interested in the special pricing on these treats? Become a Treat of the Month Club member- it's free! Just email us or mention it with your next order to sign up. Each month that you receive a delivery, the featured treat will automatically be added to your order. You'll save a minimum of 10% each time, and treats are no more than $8.00.