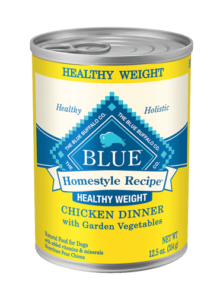 Blue Buffalo has announced a limited recall of one lot of their 12.5 oz Homestyle Recipe Healthy Weight Chicken Dinner with Garden Vegetables canned dog food. The affected lot has the potential to be contaminated with the presence of aluminum during production.
This recall is similar to one issued earlier by Wellness, which affected multiple formulas.
The Blue Buffalo recall is limited to a single production batch with a Best By date of August 3, 2019. We will continue to monitor both of these recalls in case more information becomes available, or if an expansion is announced.
The company is suggesting that any unopened cans be returned to the place of purchase for refund or replacement.
The company's recall announcement can be found here.