Are you feeding the best dog or cat food available? Would you like to know if your pet's food is good enough to eat?
Would you like to be able to answer these questions on your own? Visit our Pet Food Evaluation section to begin a journey of discovery.
In this section you can learn the basics of food evaluation, including:
how to quickly judge the quality of a dog or cat food
ingredients to look for and to avoid
recognize misleading advertising claims
the "value" of guaranteed analysis numbers
why cheaper is sometimes better (but often not)
If you're confused by all the conflicting claims swirling around by food manufacturers, stores, salespeople and pet owners, take a deep breath. There are some very simple steps you can take which allow you to evaluate any pet food with confidence.
Everyone has their own methods for evaluation, and we're no exception. Of course, we think our way is best, although we're not adamant that it is the ONLY way. We ask that you accept the information presented here with as much skepticism as other things you read. We encourage you to question and do as much additional research as you choose.
This may mean a quick 30 second surfing session, a lifetime of unending research, or more likely, something in between. You may even want to consider picking up a copy of The Dog Food Detective. When you feel comfortable you have enough perspective, you'll be in a much better position to form your own well researched decisions.
No time to do the research? In that case, we invite you to rely on us.
We'll be happy to make suggestions for your specific circumstances, based on information you provide. If you like what we have to say, and you live within our service area, we'll deliver to your door!
Pick up your own copy
of this useful book!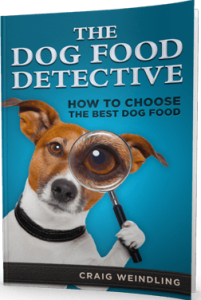 Available in your choice of
eBook formats or paperback