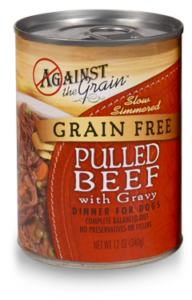 Against the Grain has issued a voluntary recall for one lot of its 12 oz cans of  Beef with Gravy Dinner. The affected lot number has a Best By date of December 2019, and lot number of 2415E01ATB12. The lot number can be found stamped on the bottom of the can.
The food is being recalled because it has the potential to be contaminated with pentobarbital. Pentobarbital is a sedative often used to euthanize animals. This is the same drug that was found in the recalled Hunk of Beef formula from Evanger's earlier this month.
There have been no reports of illness from this food, and the company maintains it is no longer on store shelves.
Against the Grain also sources their beef from the same human grade facility which raises more questions about the safeguards in place for both the human and pet food ingredient chains. We'll be watching with interest to see whether this recall claims any additional products.
You can read the company's recall notice and the FDA's recall notice here