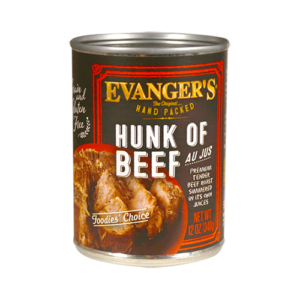 Evanger's has announced a limited recall of its Hunk of Beef canned dog food. The recall comes after a can tested positive for the presence of pentobarbital.
Pentobarbital can be used to anesthetize or euthanize animals.  The company is attempting to determine how this drug may have entered its raw material supply, since all beef used is sourced from USDA facilities.
Although pentobarbital was detected in a single lot, Evangers is voluntarily recalling Hunk of Beef products that were manufactured the same week, with the following lot numbers that start with:
1816E03HB
1816E04HB
1816E06HB
1816E07HB
1816E13HB
The above lots have an expiration date of June 2020.  The second half of the barcode reads 20109, which can be found on the back of the product label.
The recall affects 5 lots of food that were produced from one supplier's lot of beef, which is specifically used for the Hunk of Beef product and no other products. To date, it has been reported that five dogs became ill and 1 of the five dogs passed away after consuming the product with lot number 1816E06HB13.
You have already been contacted with this information if you've purchased Hunk of Beef from Smiley Dog in the past 12 months. If you have any cans which were purchased elsewhere, return them to the store for credit or refund.
The company's official recall notice can be found here
Previous research and testing by the FDA has shown that pentobarbital has been found primarily in dry foods.