Join the Treat of the Month Club and sample some wonderful dog treats!
Any month you have your dog's food delivered, you will receive the featured Treat of the Month.
As a Treat of the Month Club member, you'll save a minimum of 10% off regular price, often more than 30%. Your Club price is never more than $8.75
Receiving more than one delivery in the month? Just ask for another round- it is automatically included only for the first delivery in any month.
Not receiving monthly deliveries? No worries- your featured treat will be included only when you order.
Ready to join? It's fast and free. Just mention it when you place your next order, send us an email and we'll sign you up, or call to leave a message. Your first treat will be included with your next order.
September 2018 Treat of the Month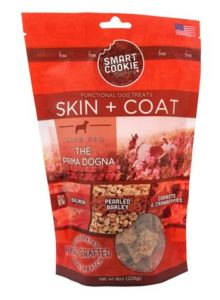 Smart Cookie Prima Dogna biscuits- save 15%
There are approximately 50 crunchy cookies in this bag of all-natural biscuits. USA made with no wheat, corn or soy, these tasty treats contain wild caught Alaskan Salmon which provide Omega 3 and 6 Fatty acids for a shiny coat and barley for a healthy gut.
Ingredients: Salmon, Pearled Barley, Carrots, Organic Ground Flax Seed, Lentils, Peanut Butter, Molasses, Cranberries, Sea Salt, Mixed Tocopherols (a source of Vitamin E), Rosemary Extract, Green Tea Extract
8 oz Prima Dogna biscuits Regular Price: $9.75 Club Price: $8.25
Interested in the special pricing on these treats? Become a Treat of the Month Club member- it's free! Just email us or mention it with your next order to sign up. Each month that you receive a delivery, the featured treat will automatically be added to your order. You'll save a minimum of 10% each time, and treats are no more than $8.75.