Each month you'll find special savings on foods, toys, supplements, or supplies with Monthly Features. We periodically offer "Last Chance Boneyard" items that are short-dated or expiring within 30 days at savings up to 50%.
Enjoy these promotional savings each month as we choose from the best our suppliers have to offer. Supplies often are limited, so these promotional prices are offered while supplies last.
Last Chance Boneyard- September 2018
These items have recently expired or will expire within the next few months. Grab them while they are available at up to 50% off! Price below reflects discounted final price along with expiration date. Most are single items, so act fast to avoid disappointment!
September 2018 Features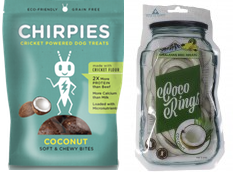 Pick up a couple of coco-nutty confections with this tropical offer. Purchase a package of Chirpies Crazy Coconut Cricket cookies and receive a FREE package of Himalayan Coco Rings.
5.5 oz Chirpies Crazy Coconut Cricket biscuits FREE Himalayan Coco Rings  Regular $12.25, Now $7.50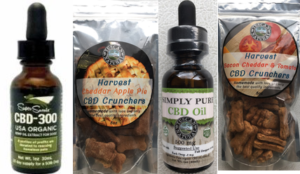 If you've been considering offering your pet CBD for a particular problem, now's a great time to pick up some high quality CBD Oil or treats. CBD can be effective in providing relief for a variety of conditions ranging from inflammation, anxiety, seizures and digestive issues. CBD oil can be offered directly into your pet's mouth, on food or to enhance a favorite treat. The CBD treats contain 5 mg of CBD per treat for very simple dosing. These products are made with full spectrum hemp oil and contain no THC.
1 oz DYD Super Snouts 300mg CBD Oil Regular $64.75, now $55.00
1 oz Tuscan Naturals 500mg CBD Oil Regular $69.75, now $59.25
8 oz Tuscan Naturals CBD Bacon/ Cheddar Crunchers Regular $24.75, now $21.00
8 oz Tuscan naturals CBD Cheddar/ Apple Pie Crunchers Regular $24.75, now $21.00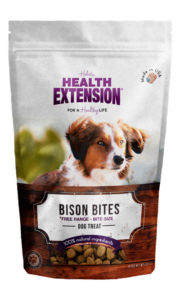 Bite-sized pieces of 100% natural Free Range Bison with no additional ingredients. These treats are high in Protein, low in Fat and contain under 17 calories per piece.
4.5 oz Bison Bites Regular $10.50, now $8.40

Enjoy a 3 lb package of new Tucker's Mini-Patties with the purchase of any 6 lb Tucker's Patty purchase while supplies last. Mix or match- choose from Beef, Bison or Lamb Mini-Patties, all of which are blended with Pork & Pumpkin. If you're ordering from the Shopping Cart, your 50% Mini-Patty discount will be manually applied before any charges are run.
3 lb Tucker's Mini Patties Regular $19.75, now $10 with purchase of any 6 lb Tucker's Patties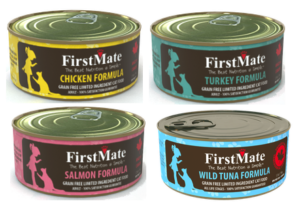 Sample four different 5.5 oz cans of a flavor variety from FirstMate while supplies last this month. Your kitty will enjoy one can each of Chicken, Salmon, Turkey, and Tuna. And here's a secret- these formulas are not species specific- your dog can enjoy this offer as well!
FirstMate Variety Sampler Pack– Regular $8.80, now $7.00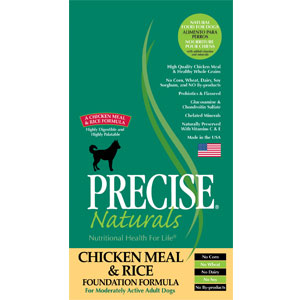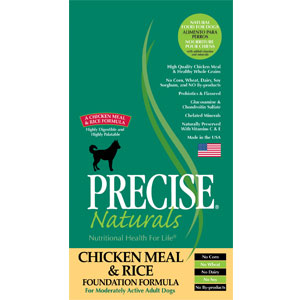 Precise Foundation formula was the first food sold at Smiley Dog and has remained a top seller over the past 26 years. To honor an excellent formula which has been improved a few times over the years and continues to perform extraordinarily well, you can pick up an extra bag at significant savings this month.
Purchase one 30 lb bag at the regular price of $54.75 and receive 26% off your second bag. If you are on an auto-delivery schedule for Precise Foundation and would like to take advantage of this, just let us know. You'll receive 2 bags with your upcoming delivery and we'll skip the following delivery to get your schedule back on track.
2- 30# Precise Canine Foundation– Regular $109.50, now $95.25