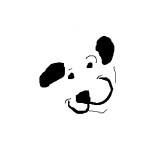 In this issue:
Your Special Offers
Precise Pet Under New Ownership
Rad Cat Expands Recall
FDA Investigating Possible Connection of Diet and Canine Heart Disease
A New Home for Smiley the Bus
Monthly Features
New Products
Treat of the Month
Greetings-
As the weather begins its slow change to a new season, more manufacturers are announcing price adjustments, new formulations and management changes. Stay tuned for updates on these and an announcement of some changes coming to Smiley Dog in the coming months as well.
If you've used, or have considered trying CBD with your pets, don't overlook the additional 10% offered to you as a subscriber on any of the listed CBD Oil or treats this month. We've seen impressive results from CBD as a therapeutic aid, and are pleased to offer you an additional subscriber bonus on selected CBD products this month.
If you've had any doubt whether deliveries will be made as usual on Labor Day, wonder no more. As with most holidays, all deliveries will be made as expected while we take advantage of the lighter holiday traffic which makes for clearer roads!
YOUR SPECIAL OFFERS
CoCo BOGO Bonus Hopping Your Way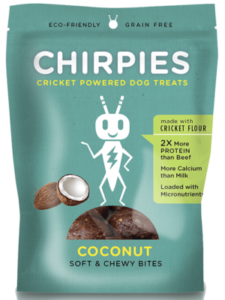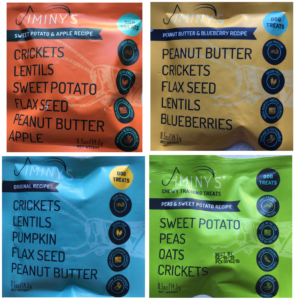 One of this month's features is the CoCo BOGO (Buy One, Get One) which includes a FREE package of Himalayan Coco Rings with the purchase of Chirpies Coconut Cricket biscuits. Your special status as an eMuse subsciber adds a bit more to that offer- more crickets!
Ask for your eMuse offer when ordering the CoCo BOGO and you'll also receive a FREE Jiminy's Cricket sampler containing 4 trial packages of their cricket-based treats in Original, Peanut Butter/ Blueberry, Sweet Potato/ Apple and Sweet Potato/ Peas flavors.
The Jiminy's sampler was offered in August as the Treat of the Month and normally sells for $11.00. They'll hop your way this month as a subscriber freebie with the purchase of the Coco BOGO!
An Extra Subscriber Bonus this month- save 25%!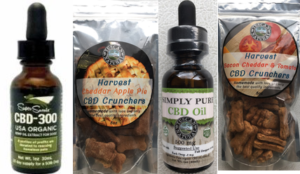 We feel very strongly about the therapeutic benefits that CBD can offer your pets. As a way to share these benefits, you can save an additional 10% off any of the CBD products listed below while supplies last. Just be sure to request your eMuse discount when placing your order. That's a total of 25% off these intriguing products- take advantage of these special savings before they're gone!
NEWS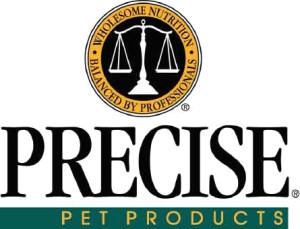 Precise Pet Under New ownership (again)
Precise Pet foods has been purchased by Barkstrong LLC  just 3 years after its acquisition by Kodo, Inc.  You may recall that Barkstrong recently rescued Wild Calling from bankruptcy and has resumed production and shipping of its canned formulas.
Barkstrong has also purchased 3 other premium pet food companies and appears to be building a very strong portfolio of healthy, natural pet foods. Read more…
Rad Cat Recall Expands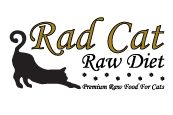 The recall issued last month by Radagast Pet Food has expanded to include all formulas produced during a specified timeframe.
All formulas and sizes with lot numbers between 62763 and 63101, inclusive, are now being recalled due to the potential of having been exposed to Listeria.
Following the initial recall, the company performed a complete teardown, inspection and cleaning of production equipment. During this inspection process, a small quantity of Listeria bacteria was found in a screw hole of the equipment. Read more…
FDA Investigating Possible Connection of Diet and Canine Heart Disease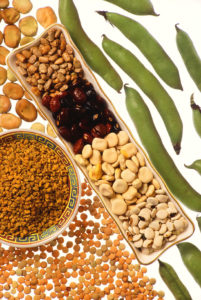 For many years we've been told to "eat your vegetables" but Mom never told us to "eat your pulses." The FDA is now studying whether there may be a connection between pulses or potatoes in pet food and some medical issues.
Pulses are the seeds of certain legumes like beans, peas and lentils. They are often considered vegetables, although by definition fall into a category of their own. Pulses are high in both protein and fiber, and can be used as a meat substitute to supply protein. So why would the FDA be concerned about pulses in pet food?
Last month the FDA announced they were looking at a potential link between diet and canine heart disease. Recent reports to the FDA have raised concerns that potatoes or pulses as primary ingredients in pet food may contribute to higher than normal levels of canine dilated cardiomyopathy (DCM). DCM is a heart disease which can result in congestive heart failure.  Read more…
A New Home for Smiley the Bus
Earlier this year, we mentioned there would be some administrative changes in the coming months. The first of these had to do with the beloved Smiley the bus.
Thank you all for the suggestions that came in for consideration. In the end, Smiley in a home with a new but familiar role.
We're not quite at liberty yet to disclose what that role will be, but rest assured the legacy of Smiley will proudly carry forth in its new home. We'll be posting a bit more information on this and related news in the coming weeks.
For now, we'll leave you with this intriguing question… who is this smiling man and what is he doing with Smiley the bus?
FEATURES of the MONTH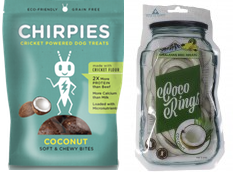 Pick up a couple of coco-nutty confections with this tropical offer. Purchase a package of Chirpies Crazy Coconut Cricket cookies and receive a FREE package of Himalayan Coco Rings.
5.5 oz Chirpies Crazy Coconut Cricket biscuits FREE Himalayan Coco Rings  Regular $12.25, Now $7.50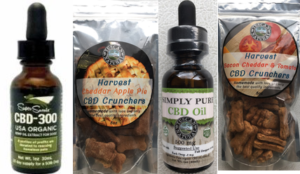 If you've been considering offering your pet CBD for a particular problem, now's a great time to pick up some high quality CBD Oil or treats. CBD can be effective in providing relief for a variety of conditions ranging from inflammation, anxiety, seizures and digestive issues. CBD oil can be offered directly into your pet's mouth, on food or to enhance a favorite treat. The CBD treats contain 5 mg of CBD per treat for very simple dosing. These products are made with full spectrum hemp oil and contain no THC.
1 oz DYD Super Snouts 300mg CBD Oil Regular $64.75, now $55.00
1 oz Tuscan Naturals 500mg CBD Oil Regular $69.75, now $59.25
8 oz Tuscan Naturals CBD Bacon/ Cheddar Crunchers Regular $24.75, now $21.00
8 oz Tuscan naturals CBD Cheddar/ Apple Pie Crunchers Regular $24.75, now $21.00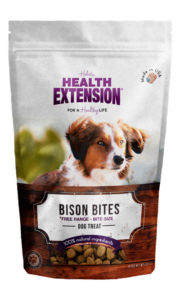 Bite-sized pieces of 100% natural Free Range Bison with no additional ingredients. These treats are high in Protein, low in Fat and contain under 17 calories per piece.
4.5 oz Bison Bites Regular $10.50, now $8.40

Enjoy a 3 lb package of new Tucker's Mini-Patties with the purchase of any 6 lb Tucker's Patty purchase while supplies last. Mix or match- choose from Beef, Bison or Lamb Mini-Patties, all of which are blended with Pork & Pumpkin. If you're ordering from the Shopping Cart, your 50% Mini-Patty discount will be manually applied before any charges are run.
3 lb Tucker's Mini Patties Regular $19.75, now $10 with purchase of any 6 lb Tucker's Patties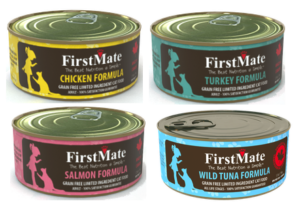 Sample four different 5.5 oz cans of a flavor variety from FirstMate while supplies last this month. Your kitty will enjoy one can each of Chicken, Salmon, Turkey, and Tuna. And here's a secret- these formulas are not species specific- your dog can enjoy this offer as well!
FirstMate Variety Sampler Pack– Regular $8.80, now $7.00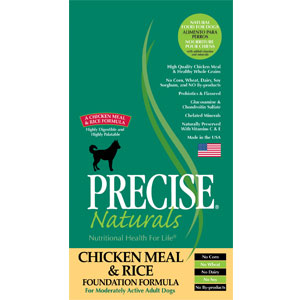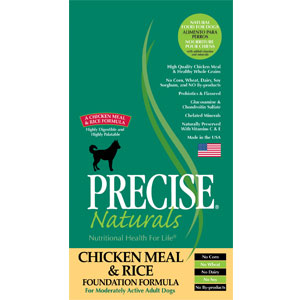 Precise Foundation formula was the first food sold at Smiley Dog and has remained a top seller over the past 26 years. To honor an excellent formula which has been improved a few times over the years and continues to perform extraordinarily well, you can pick up an extra bag at significant savings this month.
Purchase one 30 lb bag at the regular price of $54.75 and receive 26% off your second bag. If you are on an auto-delivery schedule for Precise Foundation and would like to take advantage of this, just let us know. You'll receive 2 bags with your upcoming delivery and we'll skip the following delivery to get your schedule back on track.
2- 30# Precise Canine Foundation– Regular $109.50, now $95.25
NEW ITEMS
Inventory Updates
Each month as clients' food needs change, our inventory gets adjusted to meet those needs. Here are some of the new foods added over the past months that can now be found in the Smiley Dog shop:
Health Extension Bison Bites
Chirpies Crazy Coconut Cricket biscuits
Himalayan Pet Coco Rings
In Clover BioResiliant Allergy Relief
Smart Cookie Prima Dogna Skin & Coat biscuits
Tucker's Pork/ Beef/ Pumpkin Mini Patties
Tucker's Pork/ Bison/ Pumpkin Mini Patties
Tucker's Pork/ Lamb/ Pumpkin Mini Patties
Tuscan Naturals CBD Bacon/ Cheddar Crunchers
Tuscan Naturals CBD Cheddar/ Apple Pie Crunchers
Tuscan Naturals 500mg CBD Oil
TREAT of the MONTH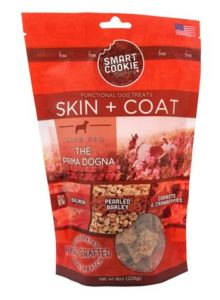 Smart Cookie Prima Dogna biscuits- save 15%
There are approximately 50 crunchy cookies in this bag of all-natural biscuits. USA made with no wheat, corn or soy, these tasty treats contain wild caught Alaskan Salmon which provide Omega 3 and 6 Fatty acids for a shiny coat and barley for a healthy gut.
Ingredients: Salmon, Pearled Barley, Carrots, Organic Ground Flax Seed, Lentils, Peanut Butter, Molasses, Cranberries, Sea Salt, Mixed Tocopherols (a source of Vitamin E), Rosemary Extract, Green Tea Extract
8 oz Prima Dogna biscuits Regular Price: $9.75 Club Price: $8.25
Interested in the special pricing on these treats? Become a Treat of the Month Club member- it's free! Just email us or mention it with your next order to sign up. Each month that you receive a delivery, the featured treat will automatically be added to your order. You'll save a minimum of 10% each time, and treats are no more than $8.75.