Earlier this year we mentioned there would be some administrative changes in the coming months. One of the first changes, difficult as it may be, is planning a fond farewell and final journey for the Smiley Dog bus.
That bus makes us smile each and every day upon arrival at the warehouse. It sits there, parked, just waiting for its next assignment which will bring involuntary smiles to all who catch a glimpse. Do you have the best idea for where it should head? Read on, but first let's review a bit of the background of this mechanical monster.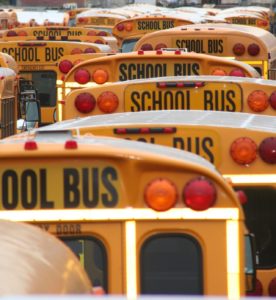 It took only a few trips down I-5 to and from one of our suppliers
It was on one of those frequent trips when the bus breeding ground was first spotted. Just off the freeway in the same neighborhood as Wild Waves, this oddly out of place collection of buses appeared to beckon. (Spoiler alert- this bus breeding ground is long gone, currently home to shipping containers. Our supplier is long gone as well)
During one of these supplier runs in 1995, curiosity won out. Using the navigation instincts based on the "it must be around here somewhere" approach the closest exit was taken.  Some dead ends and backtracks finally led to a few fenced acres of gravel. Just beyond the gate was a population of municipal and school district vehicles that had served their purpose and been retired.
It was here that the short bus that came to be known as Smiley originated
I can't say if it was the yellow color or the hydraulic lift that sealed it for me. Maybe it was the price. Or perhaps the ridiculous idea that it could be tricked out, used as a rolling billboard for deliveries, shows and Pupperware Parties. After all, the idea was no more outrageous than anything else associated with Smiley Dog.
There's a mental block between the memory of purchase and shepherding the beast to the State Patrol Inspection Station, then home to the driveway in Shoreline. And there it sat, just waiting for its makeover.
Within 2 months it had been transformed. I learned the magic and heartbreak of applying vinyl lettering and graphics. Seats were removed, leveling platforms constructed, installed, and gridwall attached to the interior. The mechanics inspection had missed "a few" things, which were discovered during shakedown test drives. Some new parts, a bit of paint and polish, and Smiley was ready to hit the road.
One of the first assignments was a West Seattle Pupperware Party
After loading up a bus full of goodies, we headed off on a beautiful spring day. The drive from Shoreline to downtown Seattle was uneventful until  Smiley began to burp and lurch.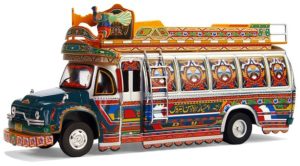 Now it's one thing to be caught behind the wheel of a dying car doing 6o mph in the midst of Seattle freeway traffic. It's quite another trying to wrangle an unfamiliar 5 ton yellow monstrosity from the center lane to the right shoulder with power steering failing as the engine sputters and dies.
Fortunately, it was a Saturday morning and traffic volumes had not yet developed into the familiar gridlock under the Convention Center. Unfortunately, there really is no right shoulder under the Convention Center, especially not for an extra wide school bus. And, just to make things more interesting, as Smiley slowed to a stop inches away from the concrete sidewall, a sickening scraping sound filled the bus.
No, it wasn't one of the 4 elongated side mirrors scraping the sidewall. It was the bus protesting that the 9 ft 10 inch clearance required was just an inch or so more than the Exit Only sign above which was now firmly wedged on top. I do believe that sign has long since been replaced. And raised.
With a half blocked lane, I think this roadside assistance call was a first for the AAA rep who showed up to help. All the more so when he suggested all was well. Or would be, once he poured in a few gallons of gas.
It had been quite a long time since I'd felt that stupid
It didn't occur to me that Smiley would burn more than a half tank of gas between Shoreline and W Seattle. To be fair, it didn't- it burned more!
For the next few trips, the tank was topped off as soon as the needle dipped below 3/4. During this time, mileage was carefully monitored to determine what could be expect from a full tank of gas. I suppose it would have been a good idea to research this before purchase. Too late to reconsider, the estimate of 8 miles to the gallon was a painful disappointment. Little did we know that number should have made us jump for joy. Fully loaded, and on city streets, we were lucky to squeeze out 5 miles to the gallon.
The next experiments were to explore using the bus for daily deliveries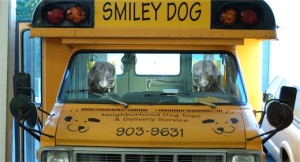 That lasted less than 2 weeks. It became apparent that this vehicle was not at all suitable for deliveries in Queen Anne or Capital Hill, where a compact car could barely squeeze between vehicles parked on both sides of the road.
Gas continued to be a limiting factor during deliveries. Although it was still selling for less than $2.00/ gallon, Smiley drank fuel like a fish. By now it was obvious we'd have to confine its use strictly as a truck for shows, which was really the primary purpose of the purchase.
Being able to roll carts on and off the hydraulic lift allowed for fully stocked display panels to be carried. This made setting up and tearing down at shows so much simpler. Our show booth setup was completely redesigned and went from a 3 hours setup to under 90 minutes. Teardown and loadout soon clocked in at just over 30 minutes, down from 2+ hours. By itself, this was a major accomplishment. And our Test Lab had a special padded place reserved for his transport to shows as well.
Over the years, Smiley reminded us that the second act of a 15+ year old bus was not the same as a newer vehicle. It asked for a new muffler, some belts & hoses, seals, battery, power steering pump, a few visits to the transmission shop, regular oil changes, brakes and a couple of alternators.
But it was the breakdown at the Taste of Edmonds that was most disappointing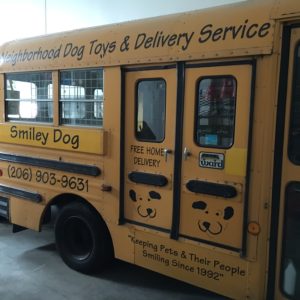 Coming off a 3 day show, 4 days if you count load-in, the carts were packed, the lift was lowered and all was ready to hoist up, in and drive away. Except instead of that familiar whine and hum of the lift, there was… nothing. The line of loaded carts and display panels were waiting. The rain did not.
As the sky opened to drench vendors struggling to wrap up the show, it became very clear that the lift's motor was toast. But wait, what's this- a manual overide!
Yes, there was a mechanical override which required a steel bar to be pumped repeatedly to inch the lift platform up into its storage position. Would it work with a load on the lift? Perhaps, but to find out a steel bar was needed and there was none in sight. There were multiple branches, all of which broke after one or two pumps. A screwdriver painstakingly got the lift to its halfway position. The final load out was done in the pouring rain with all merchandise hoisted to this intermediate level, then up into the bus to be secured.
The following week when the damage was diagnosed, the numbers were shocking. It would cost 1/4 as much as the original bus purchase price to repair and replace the lift motor. So of course it got the go ahead.
Many other fond and frustrating memories highlight Smiley's colorful history
These include repeated, creative vandalism and theft while parked at our Lake Forest Park warehouse. Windows were broken so often that the folks at Associated Glass must have kept a template just for us.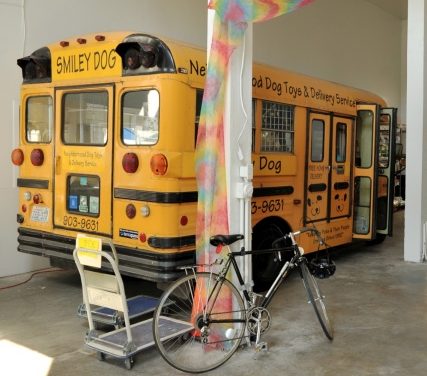 The final straw came after only the 2nd time Smiley was parked up top in the lot at our (then new) Edmonds warehouse location. It took less than 48 hours for the driver door window and side mirrors to be broken, most likely from a careless delivery truck driver. It was then that Smiley was retired to cower inside the warehouse where it has been comfortably resting ever since.
At one point we pondered the idea of donating Smiley to a high school or community college to be converted into an electric vehicle. That's still an option, although a donation to one of our local rescue groups seems to be a better fit. Since we no longer do shows, retaining the vehicle for its memories doesn't make much sense.
So what do you think? Do you have any brilliant ideas on how best to let Smiley make a final gift at the end of this phase of its life? Let us know your thoughts, and who knows… perhaps your idea or group will win out over all others!
And lest you think this is a poor April Fool's joke, it certainly could be. But it most assuredly is not. So if you have some thoughts on where or what should be the next chapter of our magic bus, speak up. The wheels of time are creaking forward, and ol' Smiley is willing to be dragged along…