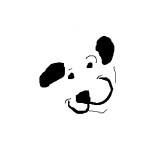 In this issue:
Your Special Offer
OsoPure food samples available
Election Smear Campaign- keep smiling!
Foods for Thought & Fun: SuperZoo 2016 Recap
Monthly Features
New Products
Treat of the Month
As summer draws to a close (at least according to the calendar) we're reluctantly watching as the days begin to grow shorter. There is a silver lining—  each day brings the year's election antics closer to an end.
It can be difficult at times to keep political opinion separate from Smiley Dog business. Thankfully this year there's a way to allow everyone, including our dogs, to properly position and keep a sense of humor about the whole process.
Repooplican poop pickup bags are now available, and Democrap poop pickup bags are available to pre-order. We're waiting to reach the required number of pre-orders before bringing in the second set.
I was warned to steer clear of politics, even with poop, and take full responsibility for any resulting stench. It seemed too good an opportunity to pass up!
YOUR SPECIAL OFFER
Ask for your free Trump or Hillary Poop Pickup bag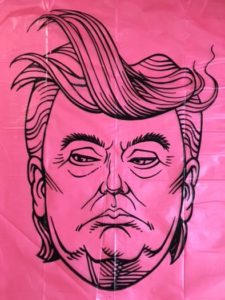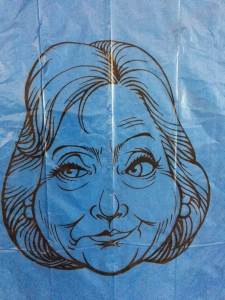 Politics and poop don't ordinarily mix, although this year many folks seem to agree they're well suited for each other.
Choose a candidate and we'll include a poop bag with their likeness with your next delivery. Just ask for your free "election smile special" when placing your order.
These bags can be used as intended as poop pickup bags. They can also do double duty (not literally) to hold popcorn while watching the debates later this month.
If you feel strongly enough about one or the other and need a full box of 80 rolls, Mr. Trump is currently available to order. Pre-order the Hillary version and they will become available once we reach enough presales.
NEWS
OsoPure Food Samples Available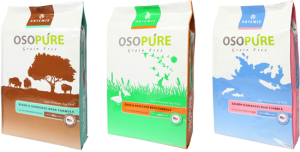 OsoPure is a limited ingredient, grain-free line of foods made by Artemis Pet Foods. The ingredient list reads very well and the food is competitively priced.
None of the OsoPure formulas contain chicken, wheat, corn or soy. The foods have been formulated to allow for easy transition between proteins for those interested in rotational feeding.
OsoPure is available in 4 dog formulas (Bison/ Salmon, Duck, Salmon and Turkey) as well as a Salmon cat formula. Canned formulas are also available. Read more…
Election Smear Campaign- Keep Smiling!
Are you a bit disillusioned about the current state of our political process?
Do you get a stinky, sinking feeling with each newscast?
Now you can do something about it while picking up after your pup and rub the face of your chosen candidate in poop every day until the election.
The 2016 Smear Campaign Poop Bag collection keeps your sense of humor fresh as politics heads deeper down the toilet! Read more…
Foods for Thought: SuperZoo 2016- Part One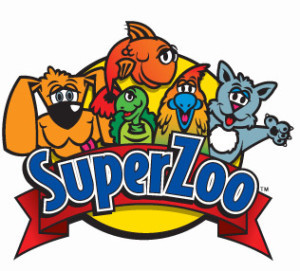 There was a surprising number of new foods introduced at this year's industry Trade Show. Some are available now, and others are "coming soon."
Osopure, a limited-ingredient, grain-free line made by Artemis, now has samples available for the asking.
We're eagerly awaiting two salmon-based foods which use no synthetic vitamins or minerals from our friends at Grizzly Pet Products here in Woodinville.
Rawz had an interesting high protein, potato-free food made without any rendered ingredients. It uses both fresh and dehydrated meats and is positioned as a close alternative to raw diets. Read more…
Food for Fun: SuperZoo 2016- Part Two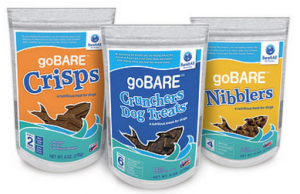 Last year's show introduced a host of functional treats. That trend continued this year, along with some new, well-priced, natural, healthy treats that were just plain fun!
Some of these new goodies will first appear as Treat of the Month features. For those of you not participating in the Treat of the Month Club, let us know if you're interested in any of the new goodies. Read more…
FEATURES of the MONTH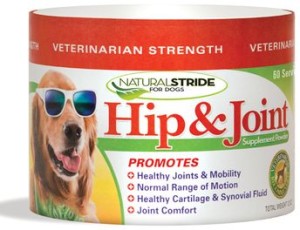 One of our favorite powdered joint support supplements is offered at a special price this month.
Natural Stride Hip & Joint contains more active joint support compounds than most competitors. It combines 2 types of Glucosamine with Cetyl Myristoleate, Hyaluronic Acid, MSM and Yucca.
The 150 gram jar will last a 50 lb dog a full month and is even more attractively priced this month. Regular- $38.75; now $33.75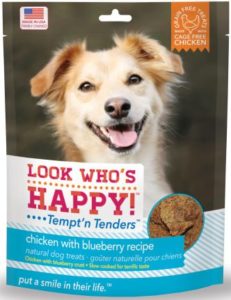 Made in the USA with cage-free chicken, these crusty treats can be fed straight from the bag or broken into smaller pieces. You've just got to smile when looking at this label!
Ingredients: Chicken, Blueberry, Cane Molasses, Sea Salt, Citric Acid, and Mixed Tocopherols. 4 oz. bag Regular Price: $8.00; now $6.00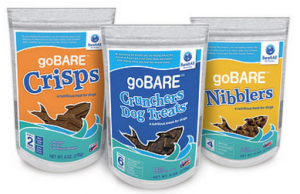 The main ingredient in these treats is Asian Carp, an invasive species which is spreading throughout the midwest.
By using the fish in treats, it helps to reduce the Asian Carp population and slow the spread which is decimating the native fish populations in rivers. Asian Carp is high in protein and Omega-3 oils, which helps turn an invasive pest into a healthy treat.
The goBARE line includes:
6 oz. Crunchers (Wild-Caught Asian Carp, Sweet Potato, Buckwheat, Flax Seed and Cranberry) $9.75
2 oz. Crisps (Wild-Caught Freeze-Dried Asian Carp & Sweet Potato) $9.75
4 oz. Nibblers (Wild-Caught Asian Carp, Chickpeas, Flax Seed & Mangos) $7.75
Save 10% on any single goBare treat this month. Or, try the trio and take 20% off your price!
NEW ITEMS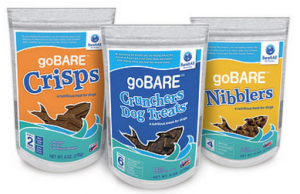 A unique line of treats from a small, socially conscious company in Chicago. Each variety of treat has a different texture and short ingredient list. See above for special pricing this month!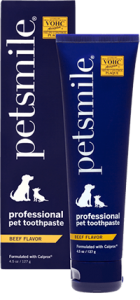 A new pet toothpaste from the makers of SuperSmile human toothpaste. PetSmile is the only commercially available pet toothpaste to be tested and approved by the Veterinary Oral Health Council (VOHC). One tube should last a 50 pound dog 12 months. $24.75
TREAT of the MONTH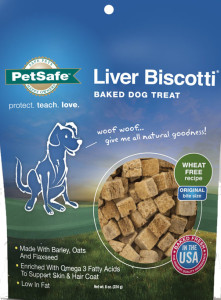 PetSafe Wheat Free Liver Biscotti- save $2.00
Dogs love liver. And crunching. And lots of little treats to keep them happy. That's what you'll find in this package of USA made Liver Biscotti.
A long time ago, these were one of the first hypoallergenic treats available, formerly known as Wolff's Liver Biscotti. The recipe has remained the same, only the packaging has been changed to reflect the new owners.
Ingredients: Beef Liver, Barley Flour, Oat Flour, Flaxseed, Carrots, Potato Starch, Sodium Bicarbonate, Sodium Pyrophosphate.
8 0z bag Regular Price $8.75;  Club Price $6.75
Interested in the special pricing on these treats? Become a Treat of the Month Club member- it's free! Just email us or mention it with your next order to sign up. Each month that you receive a delivery, the featured treat will automatically be added to your order. You'll save a minimum of 10% each time, and treats are no more than $8.00.