Click here to read Part One of the Show Report
Of course you'd expect to find lots of special treats at a show in Vegas, and SuperZoo 2016 did not disappoint.
Last year's show introduced a host of functional treats. That trend continued this year, along with some new, well-priced, natural, healthy treats that were just plain fun!
Some of these new goodies will first appear as Treat of the Month features. For those of you not participating in the Treat of the Month Club, let us know if you're interested in any of the new goodies. With enough interest, they could become part of the regular inventory.
The new offerings include: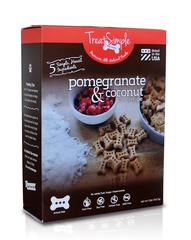 Treat Simple's delicious looking (and tasting) Pomegranate and Coconut Recipe biscuits.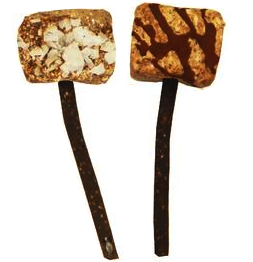 Majesty's ridiculously cute Coconut Carob and Peanut Butter Buddy Pops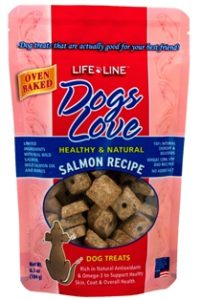 Lifeline Salmon biscuits (now available)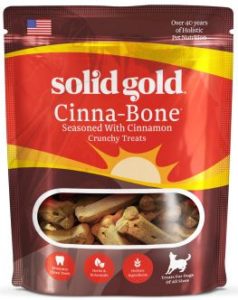 Solid Gold Cinnabones (now available)
Dog Bark Naturals single ingredient Shark Bark and Roo Bark (available by special request)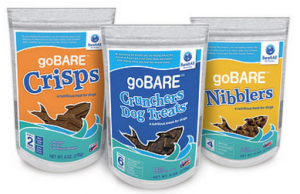 The goBARE line of Asian Carp treats have a unique story behind them.
They come from BareItAll, a small, socially conscious company based in Chicago. BareItAll operates the BarkBack program, which donates a portion of their profits to pet rescues and shelters.
The main ingredient in these treats is Asian Carp, an invasive species which is spreading throughout the midwest.
By using these fish in treats, it helps to reduce the population and slow the spread which is decimating the native fish populations in rivers. Asian Carp is high in protein and Omega-3 oils, which helps turn an invasive pest into a healthy treat.
The goBARE line includes Crunchers (Wild-Caught Asian Carp, Sweet Potato, Buckwheat, Flax Seed and Cranberry), Crisps (Wild-Caught Asian Carp & Sweet Potato) and Nibblers (Wild-Caught Asian Carp, Chickpeas, Flax Seed & Mangos)
Rounding out the food and treats were supplements and supplies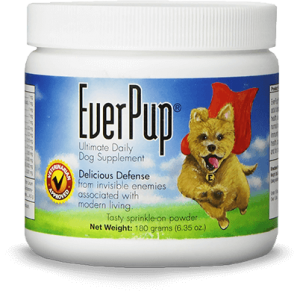 An interesting new supplement from Hawaii, EverPup, combines superfoods, herbs, and nutraceuticals to provide a wide range of benefits. Originally developed using cancer research, the supplement claims to also support cognitive function, joints, and organs.
We're currently testing EverPup and look forward to learning more about the research that went into its development.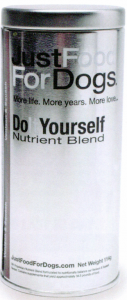 One product we were not able to bring home, but is available to order directly, comes from JustFoodForDogs, a small company based in Los Alamitos, CA.
For those wishing to prepare home cooked diets, the company offers recipes and a nutrient blend. In its local area, it also provides the raw ingredients needed to prepare each recipe. Here, you would include those ingredients on your regular shopping list, follow the recipe to prepare the meal, and add the nutrient blend.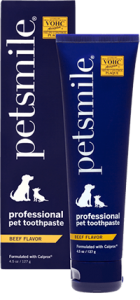 PetSmile, a new toothpaste was introduced at the show as well. This toothpaste is modeled after the company's human product which has received rave reviews worldwide. PetSmile is the only commercially available pet toothpaste to be tested and approved by the Veterinary Oral Health Council (VOHC).
PetSmile toothpaste is applied with a simple applicator swab and does not require brushing. Its gentle cleaning and whitening action comes from Calprox, a patented combination of calcium and peroxide in a tasty London Broil flavor. While more expensive that other pet toothpastes, a single tube should last a 50 pound dog about one year.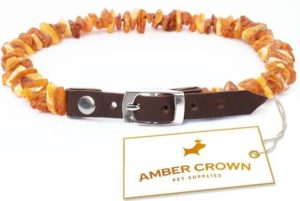 Anther intriguing product not returning home with us but slated for further research is the Amber Crown Flea Collar. These attractive collars are made from small pieces of amber strung together. The friction from your pet's fur on the amber causes a small static charge which prevents fleas from clinging to the coat.
The friction also causes the amber to release aromatic compounds which naturally repels fleas. Over time (about one year) the amber gradually becomes smooth and loses effectiveness. These collars from the UK appear to offer a time-tested new weapon for natural flea control.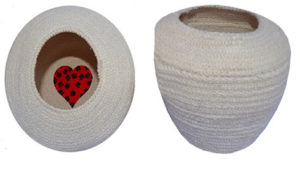 The BioUrn, a biodegradable cremation urn, tastefully addresses an inevitability all pet parents face. Each BioUrn is individually sewn by hand in the USA. It can be used as a decorative urn, or planted to memorialize your pet's remains as part of a new cycle of life.
The BioUrn comes with a cotton drawstring bag, complete planting instructions, and your choice of tree varieties appropriate for your growing region. The company has partnered with The Arbor DayFoundation to fulfill your seedling request.
And finally, just to keep things politically connected
Although we had a temporary respite from the political circus which is now in full swing, we ran smack into a different type of Smear Campaign on the show floor which was too good to leave behind.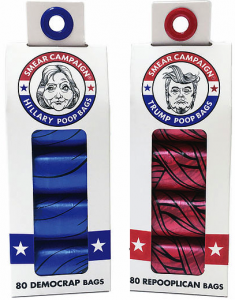 Now you can use your pooch's poop to satisfy your urge to smear your chosen candidate's face in… shtool. Choose from red Trump bags to "Make Poop Great Again" or blue Hillary bags which "won't leak like servers."
Only in Vegas. And at Smiley Dog.
Happy Election Season!
Click here to return to Part One of the Show Report