From the initial sensory overload of indoor smoking to the reluctant acceptance of 72 straight hours encased with indoor filtered air, SuperZoo 2016 certainly offered a break from routine. Getting whacked in the face with a selfie stick (not once, but twice) offered a fitting end to this year's Trade Show.
The show was a whirlwind unto itself, and those sharp raps to the head brought reality back in focus. At least the reality of Las Vegas. Can't think of a better attitude adjustment for the location!
This year's show was… yuuuuge
Not having been prepared for the scale of last year's show, I'm pleased to report that advance preparation paid off well this year.  Despite spending close to a half day in seminars, covering the full floor in 3 days was manageable. Sure, another 8 hours would have been nice, but that was not an option.
The layout this year was a bit confusing, although the show's new mobile app helped navigation tremendously. The biggest challenge came from my "old school" desire of wanting to use booth numbers to visit vendors. That worked to a certain extent, but the numbers on the floor didn't always track.
Eventually, after getting turned around and disoriented more than a few times, it all came together. But enough of the experience. Here's what you can expect to see in the coming months
There was a surprising number of new foods which looked interesting
Some of these new foods are available now, and others are "coming soon."
We expect to see samples of Osopure arriving before the end of the month. Osopure is a limited-ingredient, grain-free line made by Artemis.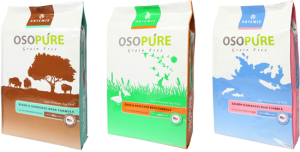 The ingredient list reads very well, and the food is competitively priced. It's available in 4 dog formulas (Bison/ Salmon, Duck, Salmon and Turkey) as well as a Salmon cat formula. Canned formulas are also available.
I spoke with the company about Osopure's feeding guidelines, which seemed high for the ingredients listed. "Don't pay any attention to them," I was told. "Just feed the same amount you're feeding of your current food. If you feed what's recommended your dog will gain weight."
The explanation given as to why the guidelines on the bag were so high made a certain amount of sense. I would prefer to see more reasonable numbers, since it's an important measure of quality. But given the company's reputation and approach to formulation, it seems a worthy alternative for a lower priced, grain-free, limited ingredient option to what is currently available.
Interested in a sample or three? Just ask!
A few other foods looked quite promising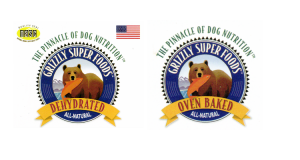 Grizzly Pet Products introduced two new Salmon-based foods. The foods have an extremely short ingredient list and contain no added synthetic vitamins and minerals besides Tocopherols (Vitamin E) used as a preservative.
The foods are made in Woodinville and are available in either baked (kibble) or dehydrated form. They contain Salmon, Salmon Meal, Coconut Meal, Salmon Oil, Quinoa and Cod liver Oil. They are expected to be available in September.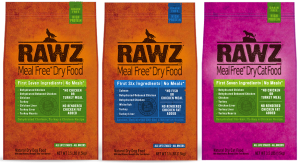 Rawz was another food of interest. It is a high protein, potato-free food made without any rendered ingredients. It uses both fresh and dehydrated meats and is positioned as a close alternative to raw diets. Two dog formulas (Salmon/ Dehydrated Chicken/ Whitefish, and Dehydrated Chicken/ Turkey/ Chicken) and one cat formula (Dehydrated Chicken/ Turkey/ Chicken) are currently available to order.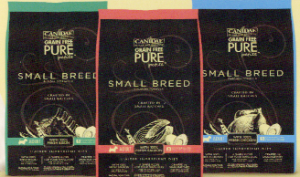 Canidae is introducing a new grain-free Small Breed line. Three single-source protein formulas (Chicken, Salmon and Bison) are expected to be available the Fall.

Grandma Lucy introduced Macanna, a new freeze-dried line of limited ingredient, preservative free mixes made with hemp hearts, coconut, pinto beans and kale.
Look for the Macanna line to be introduced this Fall with a Salmon, Beef and Pre-Mix included in the line. (Macanna means gift in Hawaiian)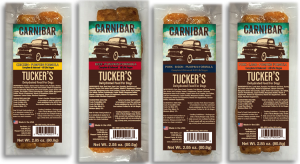 Tuckers introduced Carnibars, a new dehydrated food bar. This new approach to feeding makes it simple to feed a raw diet on the go. The bars can be fed as-is, or rehydrated in water for 5 minutes. Each package contains 2 bars, which provides a meal for a 50 pound dog. Carnibars will be available in Chicken/ Pumpkin, Beef/ Pumpkin, Pork/ Bison/ Pumpkin, and Pork/ Lamb/ Pumpkin.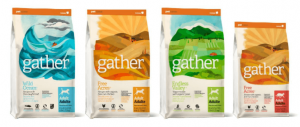 Last, but certainly not least, is Gather, a new line from Petcurean. Gather's uniqueness comes from its formulas which use certified organic and sustainable ingredients. The foods use single-source proteins and are free from any rendered or genetically modified ingredients.
Gather will be available in 3 dog formulas (Chicken, Cod and Vegan) and a Chicken cat formula.
Did you catch that Vegan dog food formula? Organic peas, barley, oats and flaxseed along with lentils, potatoes and quinoa are used for this 22% protein formula. As "they" say, find a need and fill it!
There were hundreds of other foods on the floor
Time and interest were limited in many of the other foods being hawked at the show. It was both surprising and gratifying to see more than a few new fresh, dehydrated and freeze-dried foods being introduced or making their way west.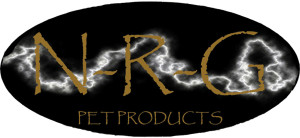 It was particularly nice to see our friends from NRG back on the show floor. NRG is the first dehydrated line of foods carried by Smiley Dog, way back before the turn of the century. It remains the only dehydrated mix made exclusively with whole foods and no additional vitamin/ mineral supplementation. The NRG line is available by special request.
Look for announcements about Frenchie's Kitchen, Spot's Farm, Vintage, Well Made, and Welly Chef in the coming months. As these foods become available, we'll take a closer look. If they compare favorably in quality and price with our current favorites like Honest Kitchen, Grandma Lucy's, Sojos and NRG, we'll help spread the word.
It's been quite a while since this many foods of interest were introduced at a show
But foods were not the only new products that drew us into booths and conversations.
Follow us over to Part Two to read about some new treats, supplements and other goodies that can be available to you.