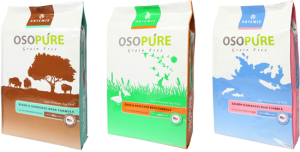 OsoPure is a limited-ingredient, grain-free line of foods made by Artemis Pet Foods. The ingredient list reads very well and the food is competively priced.
None of the OsoPure formulas contain chicken, wheat, corn or soy. The foods have been formulated to allow for easy transition between proteins for those interested in rotational feeding.
OsoPure is available in 4 dog formulas (Bison/ Salmon, Duck, Salmon and Turkey) as well as a Salmon cat formula. Canned formulas are also available.
The foods are also GMO free and use low-glycemic garbanzo beans rather than potatoes in their formulas. They also use Coconut and Sunflower oils for their fat sources as an alternative to animal fats. All formulas also include pumpkin for digestive and urinary support.
OsoPure is currently available by special request. If you'd like to try a sample (or four!) just ask. Samples are available now and can be included with your next order.