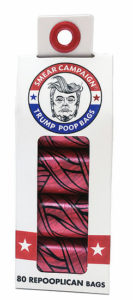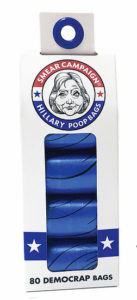 Are you a bit disillusioned about the current state of our political process?
Do you get a stinky, sinking feeling with each newscast?
Now you can do something about it while picking up after your pup.
The 2016 Smear Campaign Poop Bag collection keeps your sense of humor fresh as politics heads deeper down the toilet!
Now you can rub the face of your chosen candidate in poop every day until the election.
Each box contains 4 rolls of poop bags for a total of 80 bags ($13.75). The bags fit all standard size dispensers.
The Trump Poop Bags are available now. Pre-orders are being accepted for Hillary Poop bags.
Each bag measures a generous 13.5 inches X 8.75 inches. Can also be used for popcorn while watching the debates if you prefer.