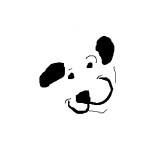 In this issue:
Your Special Offer
Help Plan the Next Journey for Smiley the Bus
Canine Analytica Launch Delayed
Solving the Cost to Feed Mix Mixup
Rad Cat Raw Limited Recall
Steve's Real Food Limited Recall
Tucker's Limited Recall
Monthly Features
New Products
Treat of the Month
Happy Spring everyone!
Take advantage of your subscriber offer this month to pick up a new toy for your pet's pleasure. We're starting our Spring cleaning by sniffing out a new home for the Smiley Dog bus and invite you to share your ideas.
Rumor has it there are some price adjustments coming this month but we've not yet received final numbers. For those of you on an auto-delivery schedule, remember that you'll receive price protection for the next month as another benefit of the service.
YOUR SPECIAL OFFER
Take 10 on any Toy!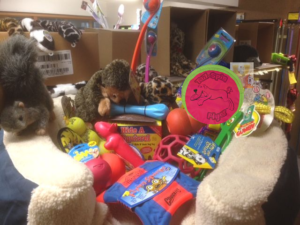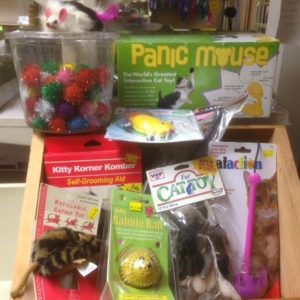 Once upon a time, in the early days of Smiley Dog, a primary focus was on fun and toys. The focus on fun hasn't changed, but toys have taken a back seat to our commitment to bringing you helpful information about healthy pet foods. So, let's play with some toys again!
This month, your subscriber offer allows you to save 10% on any single cat or dog toy found in the Smiley Dog Shop.
If you're ordering through the Shop, be sure to mention you'd like the eMuse offer for April in the Comment box. The discount will be applied manually before the charge to your card is run. Ordering a toy by phone or email? Simply request the discount when placing your order and it will be applied immediately.
NEWS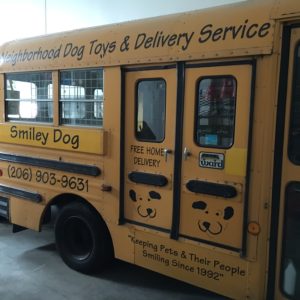 Help Plan the Next Journey for Smiley the Bus
Earlier this year we mentioned there would be some administrative changes in the coming months. One of the first changes, difficult as it may be, is planning a fond farewell and final journey for the Smiley Dog bus.
That bus makes us smile each and every day upon arrival at the warehouse. It sits there, parked, just waiting for its next assignment which will bring involuntary smiles to all who catch a glimpse.
Do you have the best idea for where it should head? Read on, but first let's review a bit of the background of this mechanical monster. Read more…
Canine Analytica Launch Delayed
In keeping with the tradition of informative early April updates, the new Canine Analytica social media site was to have launched today.

Canine Analytica, in conjunction with Seattle Canine League (SCL), allows pet owners to create a completely secure account for their pets' essential records. The accounts can include confidential information such as birthdate, breed/ national origin, gender identity, medical history and favorite treats.
This information will be used in a secure and controlled research project to determine the psychological propensities of various social stimuli to which pets are exposed to during a normal workday. The results of this study will help to develop better training and lifestyle approaches for a wide variety of household environments.
Given the ongoing data leaks, breaches and hacks which have become commonplace, the time seems right to add an extra level of security to protect the private information of pets. Read more…
Rad Cat Raw Limited Recall
Radagast Pet food, manufacturers of Rad Cat Raw cat food, has announced a limited recall for one lot each of their Turkey and Chicken formulas.
The food is being recalled after 2 tubs tested positive for the presence of Listeria. There have been no reports of illness to humans or pets.
Only the specific lot numbers for all sizes of these formulas are affected Read more…
Tucker's Pork/ Bison Limited Recall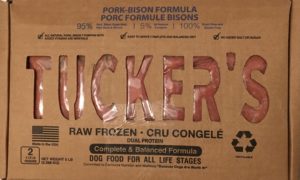 Tucker's Pet Food has issued a limited recall for one batch of their 5 lb boxes of Pork/ Bison complete raw diet.
Testing revealed that one batch of the food has tested positive for Salmonella. No illness has been reported to date.
The affected batch was not distributed in Washington state. Read more…
Steve's Real Food Turkey Limited Recall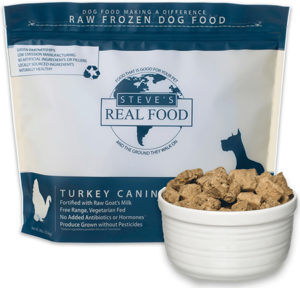 Steve's Real Food has recalled one batch of frozen, raw Turkey in the 5 pound bag. Testing showed that this lot had the potential to be contaminated with Salmonella.
The affected lot number is E 178 with a Best By date of 9/27/18. The UPC of this product is 6-91730-15303-8.
No other sizes or products are affected by this recall, and there have been no reports of pets getting sick from eating the food. Read more…
FEATURES of the MONTH
Beef Proper Toppers- save 35%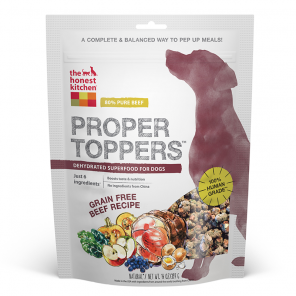 Proper Toppers from The Honest Kitchen are one of the simplest ways to add some tempting, healthy flavor to your dog's meals. These human-grade superfood clusters are made with just 6 dehydrated ingredients and are 80% ranch raised meat. They can be served alone as a treat, on top of kibble, or crushed for a surprisingly tasty sprinkle on top of any meal. Cats love them, too!
5.5 oz bag Regular $11.75, now $9.40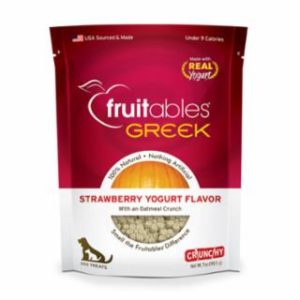 Pick up a couple of packages at a 50% discount while supplies last this month. Supply of these is limited to stock on hand. Don't delay if this offer appeals to you or your dog!
7 oz package Regular $6.75; now 2 for $6.75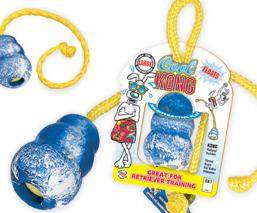 The original and still the best floating and field retrieval Kong! Grab one and be ready for those elusive sunny days before summer arrives.
Original Cool Kong- Regular $14.50, now $12.50
NEW ITEMS
Inventory Updates
Each month as clients' food needs change, our inventory gets adjusted to meet those needs. Here are some of the new foods added over the past months that can now be found in the Smiley Dog shop:
All Provide Raw Beef Recipe
All Provide Raw Chicken Recipe
All Provide Raw Turkey Recipe
Canidae Large Breed Turkey
Nature's Variety Instinct Ultimate Protein Chicken
Tucker's Pork/ Beef
Tucker's Pork/Bison
Tucker's Chicken/ Bacon Treats
TREAT of the MONTH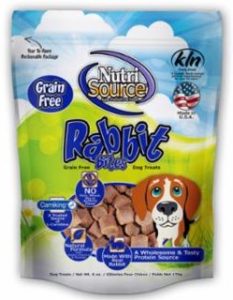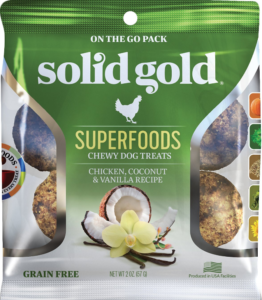 NutriSource Rabbit treats & Solid Gold Superfoods Chicken/ Coconut- save 25%
Enjoy a Spring Treat Duo for the April Treat of the Month. You'll receive one 6 oz package of grain-free Rabbit treats from NutriSource, along with a 2 oz package of chewy Chicken/ Coconut Superfoods treats from Solid Gold.
The Rabbit treats are small goodies, more than 250 per package which can easily be fed without guilt- under 4 calories per treat! The Chicken/ Coconut treats combine coconut milk and chia seed for a nutritious treat containing 13 calories per treat.
NutriSource Rabbit treat Ingredients: Rabbit, peas, potatoes, garbanzo beans, glycerin, flax seed, molasses, dried egg product, chicken fat (preserved with mixed tocopherols and citric acid), tapioca starch, sweet potatoes, natural smoke flavor, sodium lactate, salt, lactic acid, palm oil, salmon oil, phosphoric acid, zinc propionate, calcium propionate (a preservative), yucca schidigera extract, natural flavor, L-carnitine, rosemary extract.
Solid Gold Chicken/ Coconut Ingredients: Chicken, Dried Peas, Dried Lentils, Vegetable Glycerin, Dried Chickpeas, Ground Flaxseed, Coconut Milk, Sunflower Oil (Preserved with Mixed Tocopherols), Citric Acid, Vinegar, Xanthan Gum, Chia Seed, Mixed Tocopherols (Natural Preservative), Pumpkin, Kelp, Parsley.
6 oz NutriSource Rabbit Treats AND 2 oz Solid Gold Superfoods Chicken/ Coconut Treats Regular Price: $10.75, Club Price: $8.00
Interested in the special pricing on these treats? Become a Treat of the Month Club member- it's free! Just email us or mention it with your next order to sign up. Each month that you receive a delivery, the featured treat will automatically be added to your order. You'll save a minimum of 10% each time, and treats are no more than $8.75.