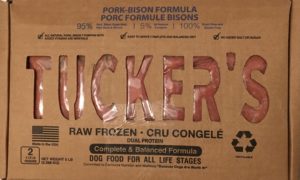 Tucker's Pet Food has issued a limited recall for one batch of their 5 lb boxes of Pork/ Bison complete raw diet. Testing revealed that one batch of the food has tested positive for Salmonella. No illness has been reported to date.
The affected batch has a lot number of 27717 with a Best By date of 4/17/19. The UPC of the product is 072635520017. This lot of food was not distributed in Washington state. Distribution of the recalled food was limited to retailers in Minnesota, Georgia, Kansas, and Pennsylvania.
The company is suggesting anyone who has the affected product return it to the place of purchase for replacement of refund.
You can read the FDA recall announcement here