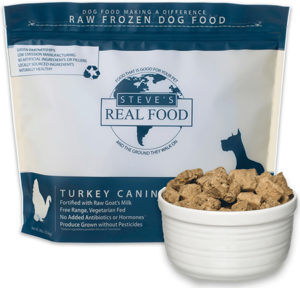 Steve's Real Food has recalled one batch of frozen, raw Turkey in the 5 pound bag. Testing showed that this lot had the potential to be contaminated with Salmonella.
The affected lot number is E 178 with a Best By date of 9/27/18. The UPC of this product is 6-91730-15303-8. No other sizes or products are affected by this recall, and there have been no reports of pets getting sick from eating the food.
If you have a bag of this particular lot of food, return it to the place of purchase for a refund or replacement. None of these bags have been sold at Smiley Dog
You can read the FDA recall information here.