Radagast Pet food, manufacturers of Rad Cat Raw cat food, has announced a limited recall for one lot each of their Turkey and Chicken formulas.
The food is being recalled after 2 tubs tested positive for the presence of Listeria. There have been no reports of illness to humans or pets.
The single lot of Rad Cat Raw Diet Free-Range Turkey Recipe being recalled in this area can be identified from the lot number and Best by Date:
Lot #2926
Best By Date: 05/03/19
This affects all sizes of the Turkey formula, which appear below:
8oz  UPC 8 51536 00100 5
16oz UPC 8 51536 00101 2
24oz UPC 8 51536 00102 9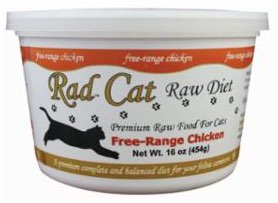 Clients who have had any Rad Cat Turkey delivered within the past 6 months have already been notified. If you have purchased this food elsewhere and have any remaining, return it to the place of purchase for replacement or refund.
The single lot of Rad Cat Raw Diet Free-Range Chicken Lot 62762, BB Date: 10/19/18, was not distributed in Washington State.
Details of the recalled Chicken products can be found in the FDA recall notice below.
You can read the FDA recall notice here