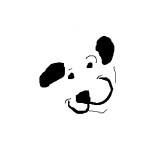 In this issue:
Orijen and Acana Available for Delivery
What's the Big Deal About a Bag
Win a Subscription to Whole Dog Journal
New Products
Monthly Features
Treat of the Month
We residents of the Pacific Northwest had quite a wild and dramatic end to the month of August! We hope you, your pets, and homes weathered the wind without too much distress and are getting back to a "normal" routine. Quite a change to the rather toasty, warm summer temperatures of the previous weeks!
But summer is not quite over yet, and to reinforce that point you can pick up some Puppycake Peanut Butter ice cream mix for $1 off until they're all gone. This was available only to Treat of the Month members last month, but there's a small supply remaining, so act quickly if you'd like a container.
Don't miss your chance to win a gift subscription to the Whole Dog Journal, along with a Gift certificate this month. It's your subscriber special this month, and the more friends you share with, the better your chances to win!
YOUR SPECIAL OFFER
Get a Bonus Gift Certificate with any referral this month!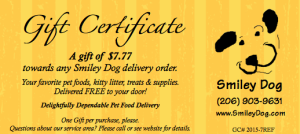 One of your September promotions includes entry into the drawing for a 12 month subscription to The Whole Dog Journal when you refer a friend who places an order.
As a newsletter subscriber, you'll also receive a $7.77 Gift Certificate to use yourself or pass along to a friend with every referral. Twice the reward for the same amount of effort!
If you're a lucky winner and prefer not to accept the subscription, you're welcome to gift it to a friend or have your account credited for $20.
NEWS
Orijen and Acana Foods Available for Delivery (again)
Orijen and Acana foods are available once again for free home delivery!
We're pleased to announce that the full line of Orijen and Acana are once again available for delivery to Smiley Dog clients.
This includes the new freeze-dried formulas and treats, along with the original dry favorites. Read more…
What's the Big Deal About a Bag?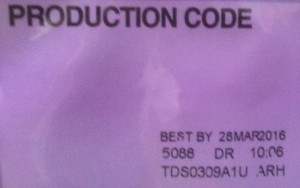 Sometimes a bag is just a bag, a box is just a box, and a can is just a can. But when it comes to pet food, these containers are more than just vehicles to transport product from a manufacturer to your home.
They are a critical source of information that may keep your pet safe.
Besides the familiar Ingredient List, Guaranteed Analysis and nutrient charts, there is a bit of information on a pet food bag that can tip us off to potential danger. Read more…
Whole Dog Journal Introduces New Column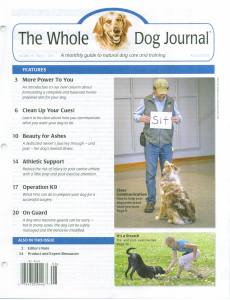 If you're a regular reader of this newsletter or the Smiley Dog website, you'll know I'm a huge fan of The Whole Dog Journal (WDJ).
The WDJ recently announced the start of a new column co-written by 3 extraordinarily well-respected pioneers of the raw and home-prepared food movement.  
Keep reading below to learn how you can win a 12 month subscription this month just in time for the start of the Conscious Feeding column Read more…
FEATURES of the MONTH
Want to win a full year's subscription to The Whole Dog Journal?
Just share what you like about Smiley Dog with your friends this month.
Simply refer a friend to Smiley Dog between now and September 30, 2015. For every referral who becomes a client, both of your names will be entered in the drawing.
No limit to the number of entries you can earn!
Save 10% on Boz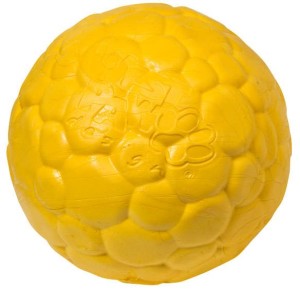 The new, lightweight ball from West Paw Design has arrived. This is an ideal replacement for the BowWowzer ball, a favorite toy until it was discontinued a few years ago.
The Small Boz is 2.5 inches in diameter, durable, lightweight, floats and fits in a standard Chuckit. Boz is also available in a large 4 inch diameter size, which does not fit in the Chuckit. Both sizes are guaranteed against dog damage- if your dog chews it up, we'll replace it at no charge (one-time replacement only)!
Small Boz- reg.$11.75, now $10.50  Large Boz- reg. $16.75, now $15.00 
Mix and match any of our new cat food cans from Applaws and FirstMate and enjoy some special savings this month.
The 2.8 oz Applaws Chicken & Duck Breast features unique peel and serve, recyclable packaging. FirstMate formulas come in 5.5 cans. Choose from:
2.12 oz. Applaws Chicken & Duck Breast- $1.85 ea
5.5 oz. FirstMate Chicken- $2.20 ea.
5.5 oz. FirstMate Salmon- $2.20 ea.
5.5 oz. FirstMate Turkey- $2.20 ea.
5.5 oz. FirstMate Tuna- $2.20 ea.
Your free item will be the item with the HIGHEST price. Pricing for any orders placed through the website will be automatically adjusted to reflect your freebie discount before the charge is run.

What goes better with summer's hot weather than ice cream? This unique powdered mix makes a very special end-of-summer treat. Simply add hot water to the container, mix for 2 minutes, freeze, and you've got a fresh, creamy, soft batch of Peanut Butter flavored ice cream for your dog. Prepared ice cream will keep in freezer for up to 2 months, but do you really think it will last that long once you begin using it? Ingredients: Lactose free whole milk, peanuts, evaporated cane juice, gelatin, and salt. Regular $7.50, now $6.50
NEW ITEMS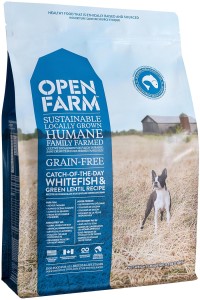 We're pleased to announce the arrival of the first of 3 Open Farm dog food formulas. This is the first food we've found which uses only humane and sustainably sourced meat and fish ingredients, certified by third-party auditors. 12 lb Catch of the Day– $47.50
Boz is here!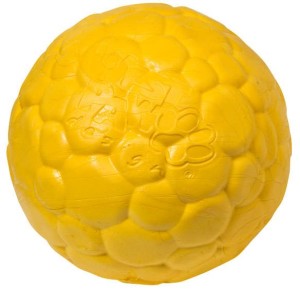 Read more about this lovely, lightweight ball in the Monthly Features section above. Two sizes, both suitable for indoor, outdoor and water use!
TREAT of the MONTH
Nature's Bits Crunchy Salmon, Strawberry & Sweet Potato treats- save 19%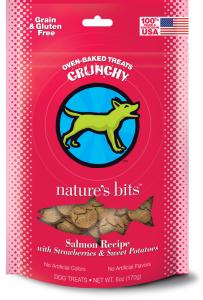 Your dog will enjoy some lingering tastes of summer with these crunchy Salmon and Strawberry treats. These low-fat treats are grain and gluten-free, and can easily be broken into smaller pieces for smaller dogs.
Ingredients: Salmon, Peas, Potatoes, Potato Starch, Pea Fiber, Cane Molasses, Strawberries, Sweet Potatoes, Chicken Fat (preserved with Citric Acid & Mixed Tocopherols), Natural Flavor, Green Tea Extract, RosemaryExtract. 6 oz. bag Regular $8.00, Club price $6.50
Interested in the special pricing on these treats? Become a Treat of the Month Club member- it's free! Just email us or mention it with your next order to sign up. Each month that you receive a delivery, the featured treat will automatically be added to your order. You'll save a minimum of 10% each time, and treats are no more than $8.00.