Orijen and Acana foods are available once again for free home delivery!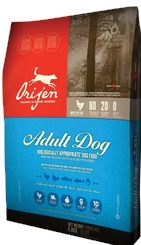 We're pleased to announce that the full line of Orijen and Acana will once again be available to Smiley Dog clients by the end of August.
This includes the new freeze-dried formulas and treats, along with the original dry favorites.
Orijen foods were first carried in the Seattle area by Smiley Dog in 2009
When they were introduced, it was clear that their "Biologically Appropriate" approach to formulating was quite different from other dry foods. Over the next three years, this noticeable difference made Orijen one of our most popular lines.
Champion Pet Foods, the manufacturer of Orijen and Acana foods, offers this definition of its Biologically Appropriate philosophy: "mirror the freshness and variety of meats that dogs would naturally hunt in the wild and for which they are developed to eat." It is guided by 5 principles:
Rich and varied in whole meats
Meat and protein rich
Limited carbohydrates
Fresh fruits, vegetables and berries
Botanicals to strengthen the body and spirit
The majority of ingredients in Orijen formulas are fresh rather than frozen
Orijen foods are produced in Champion's own facility, and the emphasis is on high-quality meat proteins combined with minimal carbohydrates, fresh fruits, berries and botanicals. Orijen uses 75%-90% meat in their formulas.
Orijen's original Adult, Puppy, Senior and Cat formulas use a combination of locally sourced Chicken, Chicken liver, Herring, Turkey, Eggs, Walleye and Salmon.
Six Fish is made with a combination of fresh saltwater and freshwater fish including Salmon, Herring, Flounder, Walleye, Pike and Whitefish.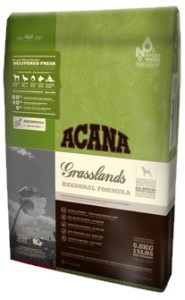 Regional Red combines fresh Beef, Boar, Lamb, Beef liver, Pork and Herring.
The Acana line uses the same "Biologically Appropriate" approach
Acana mixed protein formulas are slightly lower in protein than Orijen, featuring 55-65% meat.
Grasslands combines Lamb, Duck and Whitefish. Pacifica combines Salmon, Herring and Whitefish. Ranchlands combines Beef, Lamb and Whitefish. Wild Prairie combines Chicken, Turkey and Walleye.
Acana also offers a Singles line, which is ideal for dogs with sensitivities or allergies to specific proteins. Acana Singles are available in Duck, Lamb and Pork formulations.
We're proud to once again be able to offer these excellent foods to you
Following Champion's plant fire in 2012, our access to these foods was first rationed, then eliminated. With production back to normal, and the construction of a new manufacturing plant in Kentucky nearing completion, we expect the past shortages to become a rare occurrence.
Let us know if you'd like to chat about any of these formulas or give them a try. We think your dog will be as excited as we are to see them return!