Update August 2015:
We are pleased to announce that Orijen and Acana foods are once again available for delivery to pet parents in the Seattle area!
The full line of Champion products, including all Orijen and Acana dry, freeze-dried and treat products are available for delivery. While not all items are kept in stock, any that are not can usually be available for delivery within one to two weeks.
We're grateful to our clients who have shown patience and understanding over the past few years as we worked to bring back this excellent line of food. The alternatives listed on this page remain available and are now joined by the current Orijen and Acana formulas.
The following was originally posted in September 2012:
We'll call this our October surprise.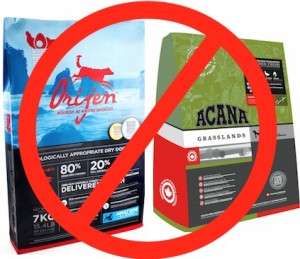 We were notified today by our supplier that effective immediately, Orijen and Acana formulas would not be available to Smiley Dog until the spring or summer of 2013.
What this means for you: If you are currently using any Orijen or Acana formula, we will no longer be able to supply you once our current stock is depleted. We will be notifying all of our clients individually about this situation once we have prepared a list of possible alternatives.
If you wish to continue using Orijen or Acana once our stock is depleted, we recommend you spend some time calling around to see which retailers may have it in stock. In addition to cutting off some stores completely, retailers who are fortunate enough to be allocated product will be experiencing shortages as well. We suggest you look at possible alternatives in advance, just in case your preferred food becomes completely unavailable.
Why is this happening: A fire earlier this month at the Champion Pet manufacturing plant destroyed one of their critical pieces of machinery. This has reduced their production capacity by almost 50%.
Production of some formulas and sizes will be temporarily discontinued until the plant returns to full capacity.
Champion Pet Foods has instructed its distributors to begin allocating food based on the size of their accounts. This will favor larger stores, as supply to smaller outlets is cut off. The company's position appears to want to take care of a select number of accounts fairly well, instead of taking care of all retailers poorly.
What we think about this: There is a certain logic to the company's position. A difficult decision must be made as to how to allocate a scarce resource.
What doesn't sit well with us is the all or nothing approach. Every retailer, large and small, that currently carries this product started from zero. There are likely more small retailers that have contributed to the company's success than larger retailers.
Is it sour grapes to bemoan the fact that we may have refer some of our clients to a competitor to purchase a product that we helped to establish in the area? Perhaps. If it is in the best interest of our clients, we will do just that.
Is this just market forces at work? If so, we do not agree that the logical choice should be bigger is better.
We feel a more balanced approach would have been preferable. Why not fill all retailer orders as they arrive with the understanding that backorders are inevitable? Implementing  a blanket policy which essentially states "you're too small for us to try to meet your needs" does not inspire confidence or gratitude. It is also a rude jolt to thousands of Champion customers who have built relationships with "their" shops over the years.
It's a bitter pill to swallow, particularly when endorsed by a small company whose business was built from the ground up primarily by small retailers.
The next steps: Visit this page of alternatives to explore your options. If you have questions, or would like more options, just give us a call at (206) 903-9631 or email us. We'll do our best to make any transition as painless as possible.
Rest assured that we will do all we can to help you continue to feed your pet a healthy food, even if it means moving to a different formula.