Want to be entered in a drawing for a free one year Whole Dog Journal subscription?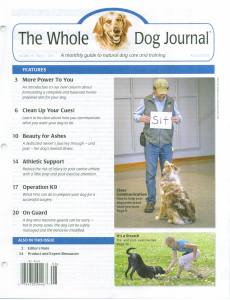 That's 12 issues mailed to you along with online access to each monthly edition, a $39 value! (You can get a subscription for only $20 right now, but it's still a great deal)
Simply refer a friend to Smiley Dog between now and September 30, 2015. For every referral who becomes a client, both of your names will be entered in the drawing.
Can you enter more than once?
You bet! Refer two friends who become clients and you'll receive two entries. Three friends gets you three entries, and I bet you can guess what happens after that.
No limit to the number of entries!
What do we mean by "friend who becomes a client?"
That's pretty simple- when your friend places an order with Smiley Dog, they've become a client!
You'll get entered into the drawing when your friend tells us you referred them. And yes, we ask how they heard about us!
Sharing what you appreciate about Smiley Dog with your friends may be all that's needed to encourage them to get in touch. But if you'd like a brochure or free Gift Certificate to pass along, just let us know. We want you to win!
Winners will be announced in the October newsletter, so start spreading the word!
Read about the new Conscious Feeding column coming in the September issue of Whole Dog Journal.