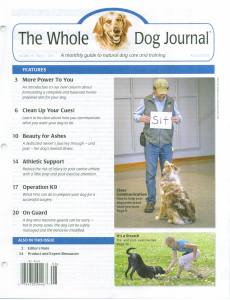 If you're a regular reader of this site, you'll know I'm a huge fan of The Whole Dog Journal (WDJ).
The WDJ is a fact-filled monthly publication which has been educating dog owners since 1998. (Full disclosure: WDJ ran  small article highlighting Smiley Dog in December 1998)
Despite it's small size, it's rare to receive an issue of WDJ that takes less than a few hours to devour. That's because its two dozen pages are filled with fascinating articles and no advertising.
Why no advertising? So they can publish unbiased information without worrying about upsetting any financial backers.
The August 2015 edition of Whole Dog Journal contained an announcement of a new column
Each month, there are columns which cover food, training, supplement, behavior, toys and other timely topics. Beginning in the September edition, a new column, Conscious Feeding, will be introduced. My tail hasn't stopped wagging since reading about this.
The Conscious Feeding column will be co-written by 3 extraordinarily well-respected pioneers of the raw and home-prepared food movement.  The editor, Nancy Kerns, has been working to find someone to cover this topic and somehow managed to arrange for Steve Brown, Karen Becker and Mary Straus to contribute regularly. Their wealth of factual and practical knowledge which will be shared in upcoming issues.
Next month Steve Brown will write about commercial raw food diets which are nutritionally incomplete
Steve is the original formulator of Steve's Real Food For Dogs, which was introduced in 1998 and was one of the first raw foods carried at Smiley Dog. While no longer associated with the brand, he has been compiling his own database of nutrient information for ingredients used in dog foods.
Later in the year, we'll hear from Karen Becker, a holistic veterinarian and nutritional consultant, and Mary Strauss, a nutritional researcher who shares her work on her website, DogAware.com.
It will be interesting to see whether specific brands are called out or congratulated in the Conscious Feeding columns, given the past associations the contributors have had. We won't have to wait too long to find out.
Want a deeper understanding of what goes into a truly balanced approach to feeding?
I'm very much looking forward to the first Conscious Feeding column. If it lives up to expectations, there will be excellent information to share which will benefit all pet owners, not just those feeding raw or home-prepared diets. We expect to pass along some of that information in the coming months.
If you've read this far, it may sound as if this is a pitch to subscribe to WDJ. It's not, although we highly recommend the publication. We think so much of it, we're running a contest in September where you can win a free one-year subscription to the magazine. This is a $39 value which you'll qualify for simply by referring your friends to Smiley Dog.
Learn how to win a free one-year subscription to The Whole Dog Journal