It's been a few months since last updating the results of the Glacier Peak Holistics test and supplements. I'm happy to report that Ginger's issues have almost completely disappeared.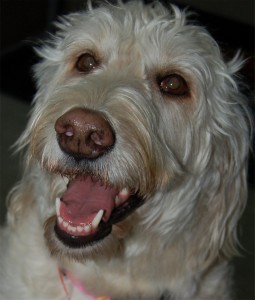 Ginger, our test subject, did not have significant issues we were trying to eliminate. There was daily licking and itching which was being kept under control with a daily antihistamine.
The hope was that we could use the test results to make adjustments which would stop both licking and itching while eliminating the need for an antihistamine.
If you've not been following these posts, here's a quick recap with links to the original reports:
Now that we've had a few more months of experimentation, it's time to share the results in a final update.
After 2 months of supplements, we're seeing the desired results
We began with a 2 week cycle of Glacier Peak Gold, followed by a 2 week cycle of Peak Immune. During this time, we began daily use of Daily Defense. A second cycle of Glacier Peak Gold was used and Daily Defense continued daily for the next few weeks.
At the end of this time, there was a noticeable improvement with Ginger's licking and itching. As the weather got warmer, we watched for symptoms to return, but they have not. To date, the itchies have all but disappeared, and the licking returns occasionally during times of stress.
I didn't realize we had discontinued Daily Defense last month
Many households have a "primary" person who handles most of the feeding. In ours, that responsibility falls to my partner Barbara. There are times when she's working late or out of town and I have the honor of filling Ginger's bowl. So it came as a bit of a surprise last month when we were talking about the results of the supplementation that I learned Barb has stopped adding the Daily Defense.
Ginger has not had any issues since stopping the supplement, which is exactly what I'd expect if this experiment is to be considered a success.
Would she be better off if we continued Daily Defense indefinitely? Perhaps, but it's gratifying to see the improvement reflected even after discontinuing the supplements. This indicates these dietary changes and supplements have done what they were intended to do- get at the root cause of the issue rather than just managing symptoms.
Next up was a test for joint issues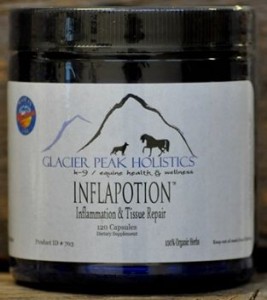 The primary reason for going through the GPH test was to identify sensitivities and provide relief. When we began, we focused on itching and scratching.
Typical of "older" dogs, we'd been noticing that Ginger would occasionally groan when lying down or repositioning. She didn't appear to be in pain, and there were times we'd question whether it was a sign of discomfort or a ploy for attention. As time went on, the groans became more consistent and we decided to do another experiment.
After a brief debate, we decided to hold off on Herbal Aspirin and began adding Inflapotion to Ginger's meals at half the recommended dose.
Inflapotion is an organic herbal mix intended to help with soreness
I had expected to evaluate whether the reduced dosage was effective after a few weeks or whether it needed to be increased. I'm happy to report that we've already seen (and heard) a significant reduction in groaning and stiffness.
Another test will come this Fall as the weather turns cool and dampness gets added to the mix. But for now, we're quite pleased with the relatively fast improvement seen using a reduced dose.
All in all, we've been quite happy with both the GPH Test and their line of supplements. The price is reasonable, and results have been consistent. We hope you see the same results should you decide to give them a try!
Read how the Glacier Peak Holistics test compares to NutriScan®