Since beginning to document our experiments with the Glacier Peak Holistics Alternate Allergy and Sensitivity Assessment kit, we've had some inquiries about how it compares to NutriScan®.
NutriScan is another allergy assessment kit designed to be an alternative to traditional allergy testing. There are a few significant differences between the two. Depending on your needs, and budget, one may be a better fit than the other.
Different trigger identification methods are used for each test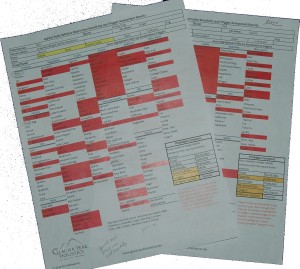 The Glacier Peak Holistics (GPH) test uses biofeedback to identify potential sensitivities and triggers. NutriScan tests for the presence of specific antibodies in saliva to identify two dozen potential food allergens.
The GPH test reports on both food and environmental triggers, while NutriScan is limited to the 24 most commonly ingested foods.
I've found the GPH test results a bit easier to read and use as a reference. The report is color coded, with potential triggers highlighted in Red.
The NutriScan report is also simple to read, but appears as a list with a numerical value for each potential allergen.
I do like the added detail of NutriScan's number assignment to each potential trigger. This gives you a clearer picture of how much weight to place on each particular ingredient. With GPH, a slight sensitivity and a definite allergy will be equally reflected as Red.
Both tests offer a road map which can be used to formulate your plan
Although you get more detail with the numerical values in the NutriScan results, it lacks the environmental info contained in the GPH report. Depending on what your situation demands, either test can help guide your choices.
If you're certain that your pet's problems are the result of food sensitivities, NutriScan may offer a more detailed path, provided those triggers are included in the 24 ingredients tested. It's nice to see how much of a problem an individual ingredient is in relation to the others.
On the other hand, without taking potential environmental sensitivities into consideration, your approach may be incomplete.
The additional triggers in the GPH test offer more information
I found myself wondering just how much of an issue each of the highlighted triggers were when looking at the GPH results. Is it best to start with identified food or environmental triggers?
To be safe, the best course of action is to eliminate ALL of these when using the GPH test as a guide. The test results make this simple to accomplish. If you're not quite ready to eliminate all the food ingredients immediately, you can begin with environmental triggers.
From my perspective, the inclusion of environmental triggers allows a more holistic approach to your pet's issues. It gives you yet another layer of information to consider when making changes.
So which test is for you?
Both the GPH test and NutriScan have a good track record. If you're just beginning this journey on your own, I'd suggest the GPH test because of its affordability and larger testing range.
I feel the environmental component is critical for developing a better perspective of the range of issues to address. It's possible that the issues your pet faces are a combination of environmental and food. Addressing one without the other may not lead to the desired result. This has been proven with clients who have used the GPH test.
If you've already narrowed your triggers down and are attempting to hone in on specific food triggers, NutriScan will give more targeted results. Just be sure the ingredients you suspect are among the 24 included in the test panel.
Since the GPH test can be had at about 1/3 the cost of NutriScan, it seems to be a good place to begin. You can always move on to the other if you do not get acceptable results and are convinced your problems are solely food related.
Have you used one or both of these tests?
If so, feel free to share your experience. Good or bad, we can all benefit from your experience!
Ready to try the Glacier Peak Holistics test? Get it here!