Ever intend to do something and then get sidetracked by seemingly endless distractions? Well, it happens to the best of us.
And that's exactly what happened with the promised test of the Healthy Dog and Cat Alternative Sensitivity Assessment from Glacier Peak Holistics we wrote about last year.
I'm happy to report that testing has finally begun, and a report on "Phase One" follows. So far, both the process, and the interactions with the company, have been both simple and encouraging.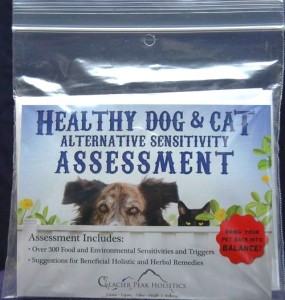 The kit arrived within a few days of ordering. The appearance may initially take you by surprise because of its simplicity. You won't find a slick clamshell package. Instead you'll find a simple, clear ziplock bag which contains instructions, a sample Result Report,  information sheet and what you'll use to gather your pet's samples.
This is not a complicated process
The contents reveal what appear to be 3 common Q-Tip swabs and a small plastic comb which are used to gather your samples. A small circle on the information sheet shows how much hair should be collected. It's roughly the size of a quarter (25 cent piece)
Running the comb through your pet's coat a few times should give you enough of a sample to fill that circle. If your pet just does not want to part with any hair with this method, the instructions allow you to clip a small portion of hair to send. Don't attach the hair sample to the circle on the info sheet. The hair goes into the smaller zip lock bag that originally held the comb and cotton swabs. The comb is yours to keep- it does not need to be returned.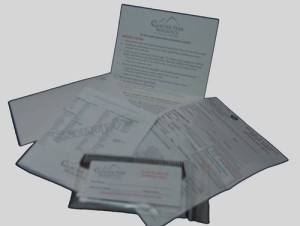 Now that you've collected the hair sample, it's time to swab!
Three cotton swabs are included in the kit. The instructions give you the option to use all 3 at once, or individually. Whichever you choose, simply run the swab(s) under your pet's cheek and across the gum line. I opted to do all three at once because I wasn't sure what reaction to expect. There was no need for concern- it was as simple as a pat on the head.
The instructions caution you not to substitute other cotton swabs you may have at home. The swabs contained in your kit are made with organic cotton. We'll accept that this is important, since they are provided.
Once you've collected the saliva samples, place the swabs in the same clear envelope as the hair sample. Be sure not to touch the end which as collected the saliva sample. That's about as hard as it gets. Unless you don't have a postage stamp.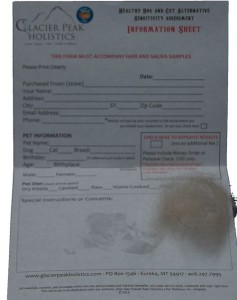 This is the only step that wasn't crystal clear
The kit includes an envelope for you to return your samples to the company. The envelope is pre-addressed, and says "additional postage required."
It's not immediately clear whether "additional postage required" means you must add regular First Class postage, or if you must use additional postage for non-standard contents in the envelope. Envelopes thicker than 1/4 inch require that second ounce additional postage for First Class mailing.
It's possible that your collection of hair and the position of the swabs could measure more than 1/4 inch. Then again, you can ensure it does not. It's your choice whether you choose to take the chance, but it's not really worth the risk. This is the only blip I've had with the process so far.
My inquiry to the company about this got an immediate response. You do need additional First Class postage— currently a total of $0.65 in postage is required.
A nice touch would have been if the return envelope were prepaid. Since you've already paid for the test, and you may no longer use stamps of any kind, this could potentially delay getting those samples on the way back to the company for analysis. So be sure to have your stamps on hand before you grab your samples.
I'm impatient so Priority mail was used
The postage issue is a minor inconvenience. I opted to use a Flat Rate Priority Mail envelope instead of stamps. Yes, that costs even more (about $5) but gives you a tracking number and $50 insurance if you create your label online and print it yourself. This also reduces the possibility of the samples being damaged during transit or getting returned for insufficient postage.
The peace of mind was worth the extra $4 to me.
Now we'll see how long it takes to get the results
I expect to see or hear something back within the next 2 weeks. Did I gather enough saliva with the swabs? Was there enough hair? What will the report show and what will be the next step?
Stay tuned for Part Two once the results arrive!