The results are in!
Last month you read about the steps involved in submitting samples to be tested using the Glacier Peak Holistics Healthy Dog and Cat Alternative Sensitivity Assessment kit. Last week we received Ginger's test results and have been pondering what comes next. But let's back up before moving on.
We're running parallel tests to get a better perspective
Rather than just post my experience for Ginger's test, we are following another client's process as well. Results for both her dog, Roscoe, and Ginger were received within 2 weeks of submitting samples. I was curious to compare results since Ginger and Roscoe face different issues.
For Ginger, we're looking to address some recurring ear issues and paw licking. Roscoe faces more severe itchies and is currently on a daily antihistamine.
Not surprisingly, the test results came back showing significant differences in triggers and suggested approach.
The results are sent by email, but are in a form that is easily printed if you choose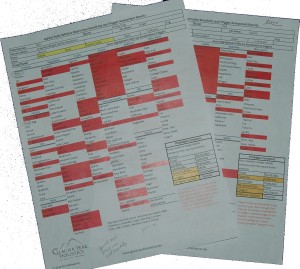 The results include two pages of color-coded sensitvity and trigger results, along with probable concerns and a page of suggested remedies.
One color-coded page is food related items. The food items are broken into categories which show proteins, veggies, fruits, grains, beans/ nuts/ seeds, additives, oils, spices and miscellaneous. The proteins are further broken into categories including specific meats, poultry, fish and milk.
The second color-coded page lists environmental items. The environmental categories include noxious energy, petrochemicals, environmental chemicals, insects, weeds/ flowers, grasses, trees, pollens and miscellaneous.
Each category lists specific items which have the potential to cause an allergy or sensitivity
The items highlighted in red are the focus of attention based on each test result. I was surprised to see Chicken highlighted as a potential issue for Ginger, since that has been a primary protein source for quite some time. Although we've been rotating proteins, Chicken has remained a fairly constant component as part of her raw, fresh or kibble food. On one level that certainly makes sense since any protein fed consistently over time can lead to a sensitivity.
Two proteins that have been included in Ginger's food rotation, Beef and Duck, were not highlighted so we'll likely move to those next. Surprisingly, Lamb was highlighted, as were a few proteins she has never eaten. We'll use these results as a roadmap for future meal planning and see if Chicken can be reintroduced at a later time.
Roscoe's results were significantly different in the protein and veggie categories. He has been eating a Salmon based food. While Salmon was not highlighted on his result, 4 other fish species were indicated as potential triggers.
We've long had a suspicion that Ginger does not tolerate grains well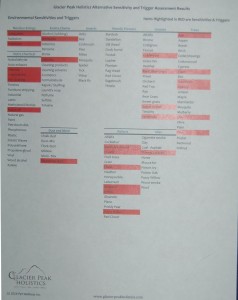 The test results confirmed this belief about grains. 100% of the grains listed, from Amaranth to Wheat, were highlighted as potential triggers for both Ginger and Roscoe. While Ginger has been avoiding grains for quite a while, Roscoe's food contains no grain. While neither grains nor Salmon in Roscoe's food are a current issue, 50% of the first 6 ingredients of his current food were highlighted in red.
While Ginger has been avoiding grains for quite a while, Roscoe's food contains no grain. While neither grains nor Salmon in Roscoe's food are a current issue, 50% of the first 6 ingredients of his current food were highlighted in red.
What was even more striking for Roscoe may lead to a solution to our client's comment that "he seems allergic to me." Roscoe's result showed a sensitivity to dry cleaning, which is a mainstay of our client's wardrobe. He's also been getting his daily antihistamine stuffed in a piece of cheese, which was another highlighted item.
Over the next few weeks we'll track both adjustments and results
The accuracy and effectiveness of these test results will be further established once we see the result of changes made based on highlighted items. For Ginger, we plan to add some of the suggested supplements, eliminate chicken (once her current supply is depleted) and use the non-highlighted ingredients as a guide to adjusting her rotation.
One benefit of using the GPH kit is that it offers a guide, rather than a strict set of instructions. It is your choice which trigger(s) to address and what supplementation, if any, to use. You can jump in and make multiple adjustments or take things one step at a time. Your results can then guide your approach.
If you prefer a more structured approach, that is certainly available. If you purchased your kit from Smiley Dog, we can certainly help you craft a plan to follow. The folks at Glacier peak Holistics are also available to review your results, answer questions and make detailed suggestions.
What I'm looking to see is a noticeable improvement in appearance, no recurrence of ear infections, and reduction or elimination of paw licking. Roscoe's will be getting a change of food and may hold off on adding supplements. The goal for Roscoe is to eliminate the daily allergy medication that currently keeps symptoms under control.
Is this a way for Glacier Peak Holistics to sell their supplement line?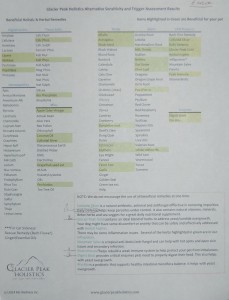 Well, yes. But unlike traditional allergy testing where a dog is prescribed expensive shots for an indefinite period, the GPH line of supplements takes a significantly different approach.
The supplements produced by GPH are formulated to strengthen and balance your pet's systems so they are not needed indefinitely. Once in balance, our pet's natural and immune systems are much better equipped to fend for itself without the need for continued outside assistance.
There are a few GPH supplements that are recommended for daily use. Others are part of an occasional regimen, or for a specific issue.
The suggested remedies included with the result are not solely GPH products. They also include a list of herbs, homeopathics and other supplements that could be beneficial for your pet. The supplements offered by GPH contain many of these ingredients and offer a simple, convenient way to incorporate them from a single source.
Some may view this test as a marketing method of selling a supplement line
While there is some truth to this, the test and supplements as a whole serve to diagnose and address the conditions we're attempting to solve.
Viewing it solely as a marketing ploy dismisses the value these products can introduce. If these supplements perform as expected, this system will prove to be a simple, affordable and effective way to manage some of the most common issues we face as pet parents.
We're expecting the first order of supplements to arrive within the week. More info will be posted soon on the products. Ginger will be starting on the immune booster and daily supplement, with a progress report posted within the next few weeks.
Read the next progress report in this post.