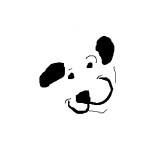 In this issue:
Your special offer
Digesting Digestion
Checking in on Chia
Monthly Features
Treats for the Howlidays
Treat of the Month
Thanksgiving has passed. Black Friday is behind us. Shop Small Saturday is finished and in less than 24 hours Cyber Monday will be history as well.
December has finally arrived, and I do hope you're able to relax a bit before the rush and frenzy of the holiday season overshadows all.
If you're looking for a simple way to do a good deed for a pet loving friend, why not ask for a FREE $10 Gift Certificate to pass along to them. We're extending last month's special offer for another month so you're welcome to request one or more to pass along to your friends.
YOUR SPECIAL OFFER
Free $10 Gift Certificate for a Friend- help us help you help them
Here's a chance for you to enjoy an all-around good deed for three.
You get to help a friend by introducing them to Smiley Dog with a $10 saving certificate.
Your friend helps you by redeeming it, which earns you free treats on your next order!
You and your friend help us grow the Smiley Dog family. Win- win- win!
Here's how it works:
Ask for your Gift Certificate to be included with your next order. If you're not expecting an order before Dec. 15, the Gift Certificate will be mailed to you.
Fill in your name on the front (on the "from" line). Fill in your friend's name (on the "To:" line)
Hand it over to your friend along with a brochure.
Smile.
When your friend redeems the certificate,  we'll know it came from you (your name is on it, remember?) They save $10. You receive a free treat with your next order. We meet your friend.
Everyone's happy!
NEWS
"It made me sick to my stomach" is not just an exaggeration. There's real science behind the saying.
Did you know that 70% of your pet's immune system is housed in the digestive tract? That simple fact helps to explain why poor digestion can cause familiar symptoms often associated with illness.  It also helps us understand how the digestive and immune systems are related.
While a pet's digestive system is similar to our own, there are some notable differences which include   Read more…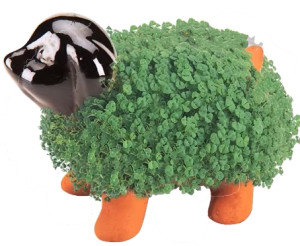 We've all heard about the benefits of Essential Fatty Acids for pets. You can get a quick refresher in this article from a few years ago.
Yes, EFAs are important. And while salmon is one of the most common sources of EFAs for pets, would it surprise you to learn there's a plant-based source that is even more potent? Read more…
FEATURES of the MONTH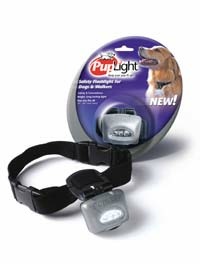 As the days get darker sooner, why not let your dog light the way? These compact LED lights brighten your path up to 15 feet ahead, and are invaluable as a "poop spotter" on dark walks. Use the included collar for quick and easy Can be attached directly to an existing collar, or use the included adjustable collar to slip quickly on and off your dog. Works with 3 AAA batteries. Regular $20.75, now $16.50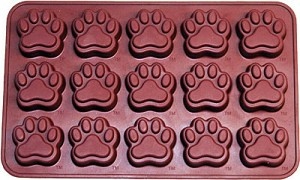 Planning some baked snacks for family and friends this month? Use this mini baking pan to bring a smile to your pet loving friends faces. This silicone pan is dishwasher safe and can be used for your goodies or your pet's paw-shaped treats. The flexible pan measures 5.5 X 9 inches and makes 15 bite-sized goodies. Makes a great gift as well! Regular $11.75, now $9.50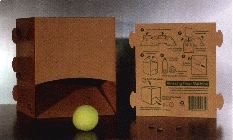 What do you get when you combine a cardboard box, plastic bottle, a tennis ball, instructions and kibble? An automatic feeder that will keep your dog busy and won't break the bank!
Save 20% on this unique alternative to a food bowl, puzzle and interactive toy. Watch the Amazing Treat Machine in action here! Regular $14.75, now $11.75 (while supplies last!)
Try More Treats- save up to 20%
Here's a new selection of treats to delight any dog during this holiday season. From now through the end of the year, you can enjoy special pricing on any or all of the treats listed below. It's a slew of new, just for you!
Try any listed treat- save 10%
Try 2 different treats- save 15% on each
Try 3 or more different treats- save 20% on each
Here are your treat choices for the howlidays:
Nature's Bits Crunchy Salmon, Strawberry and Sweet Potato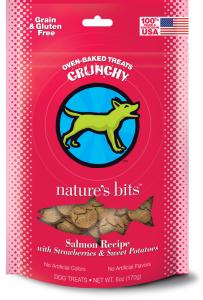 A 6 oz. package of crunchy, round, grain & gluten free cookies.  Made with Salmon, Peas, Potatoes, Potato Starch, Pea Fiber, Cane Molasses, Strawberries, Sweet Potatoes , Chicken Fat (preserved with Citric Acid and Mixed Tocopherols), Natural Flavor, Green Tea Extract, Rosemary Extract. Just 5% Fat. Regular price $8.00; Try one at $7.20 or TRY MORE TREATS and save up to 20%
You may have enjoyed Sweet Potato chews from this family-owned company in Canada. Now you can enjoy their newest offering of 100% dried lamb. Lightweight and high in protein, these treats are easily broken into smaller pieces for training, or can be fed whole as a very special treat. 1.9 oz package Regular $9.75; Try one at $8.75 or TRY MORE TREATS and save up to 20%
These hypo-allergenic, crunchy baked liver treats have a long and distinguished history. Originally sold under the name "Woolf's Liver Biscotti" they were one of the first truly hypo-allergenic, healthy treats available. Bite-sized chunks can be used for treating or training as a guilt-free goody. Made with Beef Liver, Barley Flour, Oat Flour, Flaxseed, Carrots, Potato Starch, Sodium Bicarbonate, Sodium Pyrophosphate. 8 oz. package Regular $8.50; now $7.65 or TRY MORE TREATS and save up to 20%
Snicky Snacks Peanut Butter & Molasses
We've been waiting to offer some tasty treats from Snicky Snaks for a few years. We got reacquainted with the line and its new packaging this Fall and we're pleased to have this USDA certified organic Peanut Butter favorite available for your discriminating pleasure. Made with Organic peanut butter, organic oat flour, organic rolled oats, organic peanut flour, organic nonfat milk, organic eggs, organic nonfat milk. 6 oz. box Regular $8.00; now $7.20 or TRY MORE TREATS and save up to 20%
Wet Noses Cranberry Waffle & Toast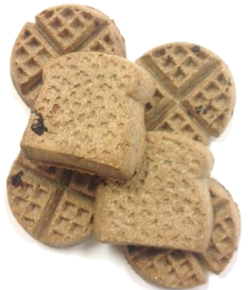 From our good friends up the road in Monroe, WA comes a new bulk treat in unique shapes. The appearance of these cute cookies made us do a double take when they first appeared. A combination of excellent ingredients, a locally produced product and irresistible appearance made this an instant conversation cookie. Sold in bulk, we think you'll agree they are an attention getter! Made with Rye Flour, Canola Oil, Whole Eggs, Dried Cranberries, Molasses, and Cinnamon. Regular $5.75/ pound; now $5.15/ pound or TRY MORE TREATS and save up to 20%
NEW ITEMS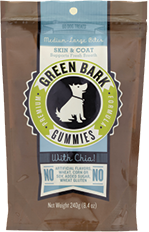 These cute bear-shaped soft treats are made with sprouted chia seeds to provide a nutritional punch of omega-3 fatty acids. Available in two formulations. Choose the fish flavored Medium/ Large size chews for Skin & Coat or the duck flavored Medium size for Vitality.
There's not much difference in treat size— both can be used for just about any size dog. Both formulations are made with NutraCHIA kelp, and alfalfa. 8.4 oz package- $9.75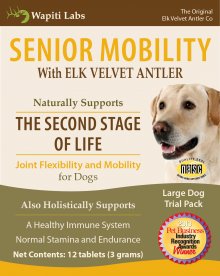 An inexpensive and effective way to sample Wapiti Labs elk velvet antler supplement for joint and mobility support. This trial pack contains 12 tablets of Joint Flexibility and Mobility which is formulated for dogs 50 pounds and larger that have begun to slow down, may be affected by colder or damper weather, or who struggle to climb steps or rise from a sitting or sleeping position. 12 tablets- $6.50
OptaGest is a daily digestive supplement for dogs and cats from In Clover, the makers of our best-selling joint supplement. OptaGest is unique in that it contains the prebiotic inulin as well as digestive enzymes. It does not contain probiotics since these can lose most of their effectiveness as they travel through a pet's digestive tract.
Prebiotics are the "food" that allow existing probiotics to work their digestive magic. Adding prebiotics to your pet's diet benefits both the immune and digestive systems by increasing the quantity of good bacteria.
Pets under stress, aging or experiencing difficulty with food transition can benefit from OptaGest. It works quickly, in harmony with your pet's metabolism, and results are normally seen within 3-5 days. Try a 2 gram single serve sample for just $1.00, or 5 for $3.00
TREAT of the MONTH
byNature Green Tea and Honey biscuits- save 20%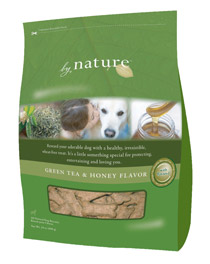 A generous 24 oz. package of crunchy biscuits are this month's featured treat. Made with Ground Rice, Ground Flaxseed, Ground Barley, Psyllium Seed Husk, Cane Molasses, Vegetable Oil, Green Tea, Parsley, Dried Kelp, Honey, Dried Carrots, Cranberries, Blueberries, Dried Tomatoes, Peppermint Leaf, Natural Flavors, Chlorophyll.
Regular $7.50; Club Price $6.00
Interested in the special pricing on these treats? Become a Treat of the Month Club member- it's free! Just email us or mention it with your next order to sign up. Each month that you receive a delivery, the featured treat will automatically be added to your order. You'll save a minimum of 10% each time, and treats are no more than $8.00.