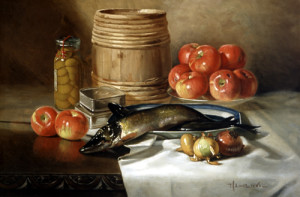 Most of us are familiar with Salmon Oil as a good source of essential fatty acids, or EFAs. But why should you care? Here's some basic info about this important nutrient for your pets.
Essential fatty acids can help improve skin and coat health, and act as an anti-inflammatory for our pets. The most common EFAs are Omega-3 and Omega-6. To benefit fully from these EFAs, they must be present in proper proportion. The accepted ratio ranges from 5:1 to 10:1 (Omega-6 to Omega-3). More is not necessarily better.
The Omega-6 level is not usually an issue in pet food. Most foods contain plenty of Omega-6, which can be an issue if not properly balanced with Omega-3. Fish Oil is a common way of supplementing Omega-3 levels.
Without getting too technical, there are 3 main components of Omega-3 fatty acids. The most useful for our pets is DHA, which is present in fish oil. DHA has been shown to provide benefits for the heart, eyes, and brain.
Did you know that the main source of DHA from fish oil is a result of the algae that fish regularly consume? As sources of fish become more stressed, a new source of DHA is being utilized with excellent results. This is an algae-based DHA source, which is grown and harvested specifically for its DHA profile, called DHA Gold.
Watch for this to appear as an ingredient in more foods and supplements. Time will tell how it compares to DHA derived from fish oil, but early studies look very promising as a beneficial food component!