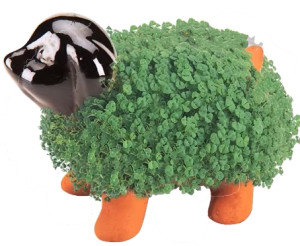 We've all heard about the benefits of Essential Fatty Acids for pets. You can get a quick refresher in this article from a few years ago.
Yes, EFAs are important. And while salmon is one of the most common sources of Omega-3 EFAs for pets, would it surprise you to learn there's a plant-based source that is even more potent?
Say hello to chia
You may be familiar with the annoying/ endearing ch-ch-ch-Chia Pet commercials that run incessantly at certain times of the year. Turns out those little chia seeds pack quite a potent nutritional punch.
Chia is gluten free, relatively high in protein, and contains almost three times the Omega-3 fatty acids as found in salmon. High Omega-3 levels help to balance Omega-6, reduce inflammation and support the immune system. Chia is also high in calcium, iron and magnesium.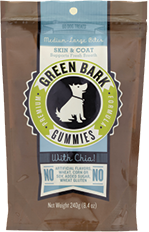 Chia contains high levels of EFAs but they are not always absorbable
Because it is a seed, the nutritional power of chia must first be unlocked. Soaking, milling, or sprouting the seeds offers better access to nutrients and allows more benefits of all EFAs to be utilized. Some companies are incorporating their own type of sprouted chia seed in their products for more readily absorbable benefits. An example of this is the "Ingrained" chia, or NutriCHIA used in Green Bark Gummies.
Green Bark Gummies use a natural process which they claim allows dogs to benefit from 100% of the EFAs contained in chia seed. Since chia contains no mercury, it offers more peace of mind than using some fish products. Chia is also a renewable resource, and can be easily replaced as it is harvested.
Chia is also more economical than EFAs from fish sources
It's good to now have a potent plant-based source of EFAs that can be used as a treat and offer cost savings as well. If you'd like a sample of Green Bark Gummies, along with an information sheet, just ask for it to be included with your next delivery!