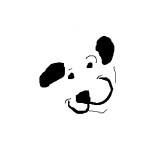 In this issue:
Your special offer
Liver for Pets
A Day as an Escort
Blue Buffalo Lawsuit Update
Monthly Features
Treats for the Howlidays
Treat of the Month
Are you reading this on Saturday, November 1? Then don't fur-get to turn your clocks BACK one hour when you turn in for the day. You'll enjoy an extra hour on Sunday, Nov. 3.
Halloween may be over, but you've got lots of treats to choose from between now and the end of the year. Whether you'd like to pick up some early or late gifts for your friends and pets, there's a good selection available at savings up to 20% through the remainder of the year.
Just for kicks, and because it's not something we've offered before, the special pricing on treats offered here are yours until the end of the year unless they happen to run out first. It's our gift to you early birds and procrastinators alike!
And don't miss one of your most generous offers ever— a Free Gift Certificate to pass along to a friend!
YOUR SPECIAL OFFER
Free $10 Gift Certificate for a Friend- help us help you help them
Here's a chance for you to enjoy an all-around good deed for three.
You get to help a friend by introducing them to Smiley Dog with a $10 saving certificate.
Your friend helps you by redeeming it, which earns you free treats on your next order!
You and your friend help us grow the Smiley Dog family. Win- win- win!
Here's how it works:
Ask for your Gift Certificate to be included with your next order. If you're not expecting an order before Dec. 15, the Gift Certificate will be mailed to you.
Fill in your name on the front (on the "from" line). Fill in your friend's name (on the "To:" line)
Hand it over to your friend along with a brochure.
Smile.
When your friend redeems the certificate,  we'll know it came from you (your name is on it, remember?) They save $10. You receive a free treat with your next order. We meet your friend.
Everyone's happy!
NEWS
Liver For Pets- Love It or Leave It?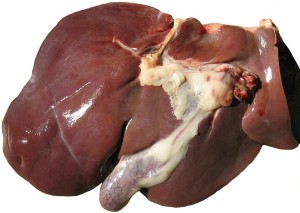 Is liver really good for pets? Most of us have had it drummed into our heads- "don't feed by-products!" For the most part, that's a good rule to follow.
But there are exceptions to every rule and feeding liver may just be an exception to this one. By definition, organ meats are by-products. But just as the quality of the muscle meats we value highly in our pet foods can vary, so can the quality of organ meats. The quality of any animal product, including organ meats, is determined by its source. Read more…
A Day as an Escort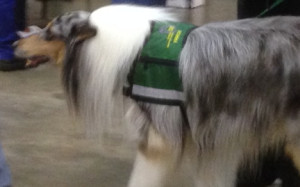 "The most important thing is don't hurt yourself."
That was Disaster Dave speaking to the odd assembly of 40+ volunteers who had shown up to work. Those of us who were there for the first time didn't really know what to expect. A few others returning for another day wore broad smiles.
Everyone relaxed a bit more when the comfort dogs made an appearance. Read more…
Blue Buffalo Lawsuit Update
 Blue Buffalo recently released a statement on its website confirming that some of its formulas may have contained poultry by-products meal instead of 100% chicken meal.
In its statement, Blue places the blame on one of its suppliers, Wilbur-Ellis, for mislabeling an ingredient used in producing some of their food. They claim that while Blue was "ordering and paying for 100% chicken meal, at times they were receiving shipments that contained poultry by-product meal." Read more…
FEATURES of the MONTH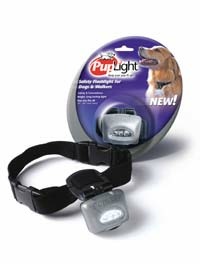 As the days get darker sooner, why not let your dog light the way? These compact LED lights brighten your path up to 15 feet ahead, and are invaluable as a "poop spotter" on dark walks. Use the included collar for quick and easy Can be attached directly to an existing collar, or use the included adjustable collar to slip quickly on and off your dog. Works with 3 AAA batteries. Regular $20.75, now $16.50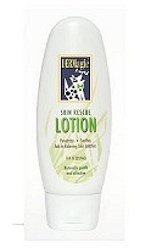 As the weather turns colder, skin gets drier. Use this specially formulated topical skin lotion for your pet's hot spots, flea allergies, and irritated or dry skin. Simply massage on to skin for soothing, moisturizing relief.
Made with organic aloe vera gel, vitamin E, rosemary essential oil and sesame oil, Skin Rescue lotion reduces itching and flaking. It is antibacterial, antifungal, and an anti-inflammatory agent. 4 oz DERMagic Skin Rescue lotion Regular $14.75, now $12.50
Try More Treats- save up to 20%
Here's a new selection of treats to delight any dog during this holiday season. From now through the end of the year, you can enjoy special pricing on any or all of the treats listed below. It's a slew of new, just for you!
Try any listed treat- save 10%
Try 2 different treats- save 15% on each
Try 3 or more different treats- save 20% on each
Here are your treat choices for the howlidays:
Nature's Bits Crunchy Salmon, Strawberry and Sweet Potato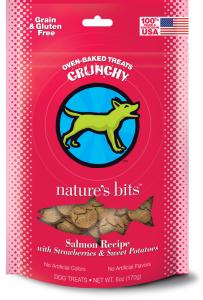 A 6 oz. package of crunchy, round, grain & gluten free cookies.  Made with Salmon, Peas, Potatoes, Potato Starch, Pea Fiber, Cane Molasses, Strawberries, Sweet Potatoes , Chicken Fat (preserved with Citric Acid and Mixed Tocopherols), Natural Flavor, Green Tea Extract, Rosemary Extract. Just 5% Fat. Regular price $8.00; Try one at $7.20 or TRY MORE TREATS and save up to 20%
You may have enjoyed Sweet Potato chews from this family-owned company in Canada. Now you can enjoy their newest offering of 100% dried lamb. Lightweight and high in protein, these treats are easily broken into smaller pieces for training, or can be fed whole as a very special treat. 1.9 oz package Regular $9.75; Try one at $8.75 or TRY MORE TREATS and save up to 20%
These hypo-allergenic, crunchy baked liver treats have a long and distinguished history. Originally sold under the name "Woolf's Liver Biscotti" they were one of the first truly hypo-allergenic, healthy treats available. Bite-sized chunks can be used for treating or training as a guilt-free goody. Made with Beef Liver, Barley Flour, Oat Flour, Flaxseed, Carrots, Potato Starch, Sodium Bicarbonate, Sodium Pyrophosphate. 8 oz. package Regular $8.50; now $7.65 or TRY MORE TREATS and save up to 20%
Snicky Snacks Peanut Butter & Molasses
We've been waiting to offer some tasty treats from Snicky Snaks for a few years. We got reacquainted with the line and its new packaging this Fall and we're pleased to have this USDA certified organic Peanut Butter favorite available for your discriminating pleasure. Made with Organic peanut butter, organic oat flour, organic rolled oats, organic peanut flour, organic nonfat milk, organic eggs, organic nonfat milk. 6 oz. box Regular $8.00; now $7.20 or TRY MORE TREATS and save up to 20%
Wet Noses Cranberry Waffle & Toast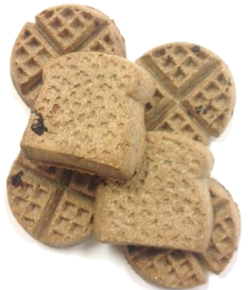 From our good friends up the road in Monroe, WA comes a new bulk treat in unique shapes. The appearance of these cute cookies made us do a double take when they first appeared. A combination of excellent ingredients, a locally produced product and irresistible appearance made this an instant conversation cookie. Sold in bulk, we think you'll agree they are an attention getter! Made with Rye Flour, Canola Oil, Whole Eggs, Dried Cranberries, Molasses, and Cinnamon. Regular $5.75/ pound; now $5.15/ pound or TRY MORE TREATS and save up to 20%
NEW ITEMS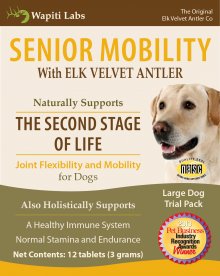 An inexpensive and effective way to sample Wapiti Labs elk velvet antler supplement for joint and mobility support. This trial pack contains 12 tablets of Joint Flexibility and Mobility which is formulated for dogs 50 pounds and larger that have begun to slow down, may be affected by colder or damper weather, or who struggle to climb steps or rise from a sitting or sleeping position. 12 tablets- $6.50
OptaGest is a daily digestive supplement for dogs and cats from In Clover, the makers of our best-selling joint supplement. OptaGest is unique in that it contains the prebiotic inulin as well as digestive enzymes. It does not contain probiotics since these can lose most of their effectiveness as they travel through a pet's digestive tract.
Prebiotics are the "food" that allow existing probiotics to work their digestive magic. Adding prebiotics to your pet's diet benefits both the immune and digestive systems by increasing the quantity of good bacteria.
Pets under stress, aging or experiencing difficulty with food transition can benefit from OptaGest. It works quickly, in harmony with your pet's metabolism, and results are normally seen within 3-5 days. Try a 2 gram single serve sample for just $1.00, or 5 for $3.00
TREAT of the MONTH
Beach Bums Piña Colada (and Turkey) biscuits- save 13%
A 4 oz. package of crunchy, grain- free biscuits to take your mind off the approaching winter season. Made with Turkey, Sweet Potato, Molasses, Glycerin, Coconut Oil, Pineapple, Sea Salt, Rosemary, Mixed Tocopherols (a natural preservative)
Regular $5.75; Club Price $5.00
Interested in the special pricing on these treats? Become a Treat of the Month Club member- it's free! Just email us or mention it with your next order to sign up. Each month that you receive a delivery, the featured treat will automatically be added to your order. You'll save a minimum of 10% each time, and treats are no more than $8.00.