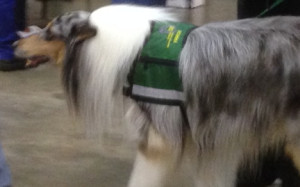 "The most important thing is don't hurt yourself."
That was Disaster Dave speaking to the odd assembly of 40+ volunteers who had shown up to work. Those of us who were there for the first time didn't really know what to expect. A few others returning for another day wore broad smiles.
Everyone relaxed a bit more when the comfort dogs made an appearance. More on these amazing animals shortly.
It was the final day of the RAM clinic at Seattle Center
The volunteers were split up and sent to all corners of Key Arena to work with the hundreds of attendees lucky enough to be admitted.
Many of those in need had arrived the night before to grab a number and ensure they would receive care. Others were camped out after having attended a previous day. By the time the doors opened shortly after 7am, all spaces had been filled. It was time to begin our escort duties.
Our assignment was to guide attendees from intake to each station
Unlike the previous 3 days of the clinic, attendees at the final day were told they'd be limited to a single service. They had their choice of medical, dental or vision. While this was disappointing, all were extremely grateful to receive what was being offered. Dental appeared to be the most popular, with the floor of the arena filled with more than 60 dental stations.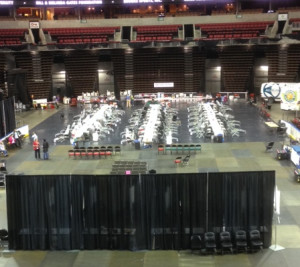 The hundreds of attendees were moved quickly through the process. From a volunteer's perspective, organization of the clinic appeared masterful.
Some volunteers had seen the RAM segment on 60 minutes. Others had seen the Remote Area Medical film. Still others had learned of the clinic on Facebook or through the media. There was little time to chat with fellow volunteers since we were on the move with patients for the majority of the time.
The stories that emerged during the short 3-5 minute walk between stations were astounding
Many had waited more than 18 hours just to get their number. One had been unable to treat an infected tooth for more than a year because she was unable to find a dentist that accepted a payment plan. Another was unable to talk but was smiling broadly because he just had 5 teeth removed. Hard luck stories, changes in life and reversal of fortune all presented themselves. The one common thread was appreciation and deep gratitude for what was being offered.
Walking down the steep steps of Key Arena towards the dozens of dental stations, one man stopped to take a look around the empty stadium. "I've never been up here in the seats before. Never seen this view. Always been down on the floor or coming out of the tunnel to play the game. It's all different from up here."
He got handed off to another volunteer and as I returned to my station I heard someone ask if that had been a former Sonics player. I suppose anything is possible. We'll never know. Back to the volunteers.
Two of the first volunteers I met were Sonny and Roxy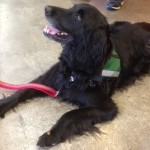 They were both eager to get to work, having travelled from Bellingham to participate. Their handlers are members of a group new to me- the Hope Animal Assisted Crisis Response. They were there as "comfort dogs." And then there was George.
It didn't take long to see the effect of comfort dogs in action. While waiting for the next escort assignment, an attendee at the intake table began to get agitated. A supervisor was summoned, and a call made to security. I left the area to escort another patient to the dental area.
When I returned a few minutes later, George was seated next to this formerly belligerent man, who was now smiling and gently petting the comfort dog. I don't know whether security ever made it or not. The shift was remarkable.
Midway through the day, more services were made available
Those who had initially been told they would be limited to a single service now had the option of choosing another. Things were moving along more efficiently than expected. This shift also changed the escort assignments, and I was sent to the NW Rooms to hand out shoes.
At the NW rooms, I was greeted by more than 1000 pairs of shoes. These had all been generously donated by Brooks, and were available for both men and women. I  understand there had been some children's shoes earlier in the day, but they were all gone by the time I arrived.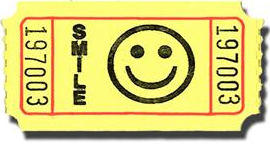 We take shoes for granted until they're not available
Handing out shoes was another extraordinary experience. Attendees had been given yellow tickets with a smiley face on it once they had finished at Key Arena. That ticket could be exchanged for a free pair of shoes and socks.
There were lots of smiley faces, not just those on the tickets. The smiles grew even broader as the shoes came of out of their bags and onto feet.
These were first quality sports shoes from Brooks. "I'm going to call these my fancy shoes," one of the delighted recipients remarked. "I could never afford to buy something like this." As we scurried around trying to find sizes and colors that worked, it was clear that the need was overwhelming.
Towards the end of the afternoon, a request was made for a size 14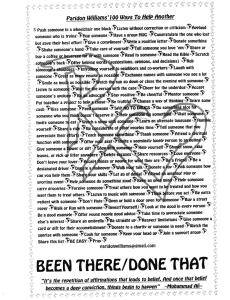 The largest we had was a size 13, but he made it work. I suppose if you need shoes, you really can't be too fussy about fit or color.
"Thank you," the man said, extending his hand. "I'd like to give you something for what's being done here." Despite protests, he insisted on reaching into his jacket and pulling out a sheet of paper. "This is for you. It's a wonderful thing that's happening here and I have to give you this in return."
As the shoe dispensary wound down, there was finally time to take a moment to reflect on the day. It was an experience to remember and treasure. It's sad that the need exists in this country, but extraordinary to see the outpouring of support from those willing to offer their time and talent.
Walking out into an unexpectedly sunny late-October afternoon, the International Fountain waters were dancing to the final chords of Beethoven's 9th Symphony.
And, appropriately enough, the day ended with a rainbow.