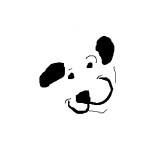 In this issue:
Pet Allergies, Sensitivities, and Assessments
Primal Pet Feline Raw Turkey Recall
Alternate Allergy Testing: The Next Step
New Products
Monthly Features
Treat of the Month
Yes, it is April Fool's Day but your offer this month is no joke. Your cost of The Dog Food Detective can be refunded for you or a friend this month.
We had considered writing a report on our continued use of drones which do not require FAA approval, but thought we'd hold off on that update. Our drones can handle up to 80 pounds in a single delivery. Since they can be safely programmed for single or multiple deliveries, weight is never a limiting factor. Smiley Dog currently operates two redundant drones which use proven, safe operating systems.  Each integrates true organic intelligence with legacy navigation and fulfillment controls to quickly adapt to changing needs. Best of all, response to voice commands are instantaneous, and they continually remain within visual sight of their operators. To learn more about the Class "C" and Class "M" drones currently in use, contact Craig.
We also didn't include an update of the latest industry acquisition which has Smucker's becoming one of the largest players in the pet industry because that almost seems like too much of a joke as well.
Check the website for updates or read more in next month's newsletter!
YOUR SPECIAL OFFER
$15 Smiley Dog Gift Certificate with the purchase of The Dog Food Detective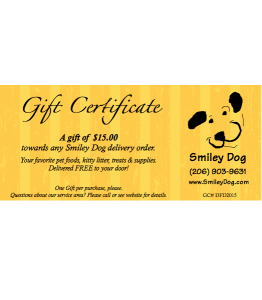 There are a few ways to look at your special offer this month. A free book for yourself. A free book for a friend. A rebate on your book purchase that can be used on any Smiley Dog order. A good book with a bonus. Whichever way you choose to view it, consider grabbing this offer before the end of the month.
Include a copy of  The Dog Food Detective paperback ($14.97) with any order this month (even by itself) and you'll receive a $15 Gift Certificate at no charge. Autographed copies are available at no additional charge- just ask.
Limit 3 books/ Gift Certificates per household, please. Be sure to ask for your eMuse Gift Certificate when you place your book order or use this special link!
NEWS
Pet Allergies, Sensitivities and Assessments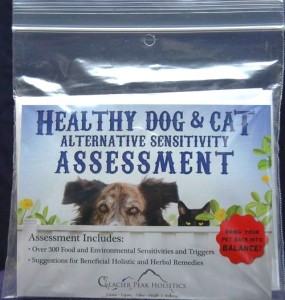 Last year we wrote about the Healthy Dog and Cat Alternative Sensitivity Assessment from Glacier Peak Holistics. Last month, testing began and the process and interactions with the company have been both simple and encouraging.
The kit arrived within a few days of ordering.  You won't find a slick clamshell package. Instead a simple, clear ziplock bag contains instructions, a sample Result Report,  information sheet and the simple supplies which you'll use to gather your pet's samples. Read more…
Primal Pet Feline Turkey Recall
Last month Primal Pet Food announced the recall of a single production batch of its 3 pound Feline Turkey frozen raw formula.
The affected batch has a "Best By" date of 060815 B22. Read more…
Alternate Allergy Testing: The Next Step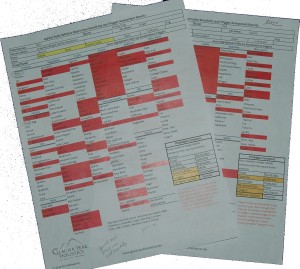 Earlier you read about the first steps of our testing using the Glacier Peak Holistics Healthy Dog and Cat Alternative Sensitivity Assessment kit.
Rather than evaluate a single set of results just for Ginger, we are following another client's process as well. Results for both her dog, Roscoe, and Ginger were received within 2 weeks of submitting samples.
Not surprisingly, the test results came back showing significant differences in triggers and suggested approach. Read more…
Glacier Peak Holistics Supplements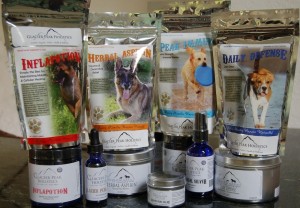 Supplements formulated to target issues identified with the Glacier Peak Alternate Allergy Assessment kit are now available. These supplements can be used individually or in combination to address food or environmental sensitivities and triggers.
Glacier Peak Holistics supplements are organic, herbal remedies which address common conditions many pets face. Read more…
FEATURES of the MONTH

A 6 oz. package of 100% USA natural beef lung, bathed in 100% pure liver sauce then slow roasted to perfection. Antibiotic and hormone free USA Beef Lung and Liver, these treats are high in Protein and low in Fat. Regular $12.75, now $10.75
Buy a 6 lb. Tuckers Pork and get 2 FREE Raw supplement cups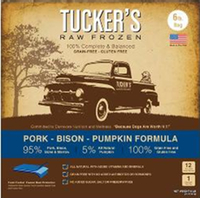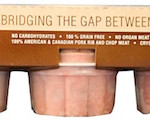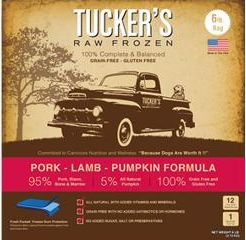 Pick up a 6 lb. package of Tuckers raw Pork/ Bison or Pork/ Lamb and receive two FREE 3 oz. raw supplement cups. The 6 lb. packages sell for $31.75. The handy portion-sized supplement cups can be used as a treat or topper for any meal and normally sell for $1.25 each.

Canine Caviar Buffalo Paddywacks are tasty chews which are low in sodium, calories, and contain calcium, potassium, vitamins B6 and B12. If you missed these earlier in the year because you are not a Treat of the Month member, now's your chance to grab them at a special price. Made from 100% free range grass fed Buffalo. Regular $7.25, now $6.50
Spring Fever Toy Attack- save 10%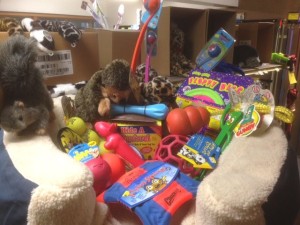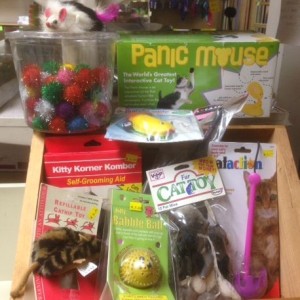 Spring is here and you can enjoy it even more with spring fever savings on your favorite pet toys!
Spend a few minutes sniffing around the dog toys or cat toys section and we'll take 10% off as many of them as you'd like, as long as they are in stock. Your 10% discount will be added automatically as you put toys in your cart- no coupon code needed!
For items not in stock, you may have to wait an extra week or two for reorders to arrive. If pricing has changed, you'll still get 10% off and we'll let you know any new pricing before the reorder is placed.
NEW ITEMS
Glacier Peak Holistics Supplements
Glacier Peak Holistics supplements are organic, herbal remedies which address common food or environmental sensitivities and triggers many pets face. The Glacier Peak Holistics supplement line includes:
A daily nutritional supplement formulated to provide ongoing support to the immune system. This herbal blend acts as a natural defense against parasites by making the digestive tract an unfriendly environment for pests. Contains Astragalus (immune system booster), Dandelion (organ and blood cleanser), Kelp (thyroid support), Nettles (detoxification) and Diatomaceous Earth (parasite control).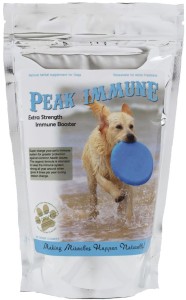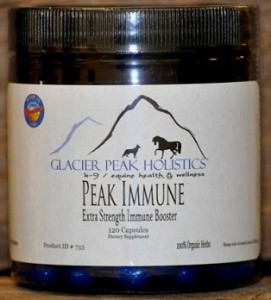 An organic herbal blend formulated to rebuild the immune system. An ideal supplement for use during seasonal changes, times of stress or to assist recovery following surgery. Peak Immune is intended to be used as a quarterly regimen or to address sensitivities identified through the GPH Alternative Allergy Assessment kit.  Available in powder, capsule or tincture forms.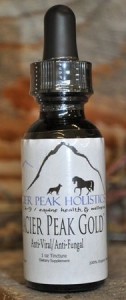 A blend of organic herbs to control virus, fungus, bacteria and parasites which can often result in chronic ear infections, hair loss, irritated skin and foot chewing. The tincture contains Olive Leaf (antibiotic), Pau d'Arco (antiseptic, anti-inflammatory), Nigella Sativa (organ support and digestive aid) in an alcohol base. Recommended when GPH Alternative Allergy Assesment results show Yeast, Bacteria, Fungus or Immune concerns.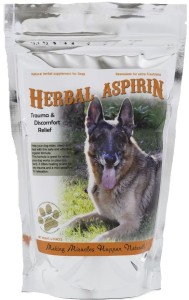 We all know that human aspirin or aspirin substitutes (particularly acetaminophen) should not be given to dogs. GPH Herbal Aspirin offers gentle and safe alternative pain relief for dogs without the worry of overdose or toxicity effects.
Herbal Aspirin contains Feverfew (pain relief), White Willow (anti-fever and inflammatory), Skullcap (mild sedative), and Valerian (stress relief). Available in powder, capsule or tincture forms. Senior dogs or those with joint pain can use Herbal Aspirin in combination with Inflapotion for senior dogs and joint pain. Not recommended for cats or kittens.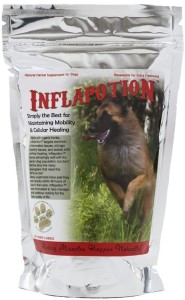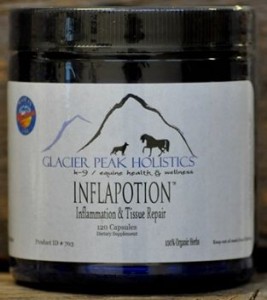 Formulated to provide relief from the discomfort and swelling that accompanies inflammation. A fast acting anti-inflammatory that can provide ongoing relief with no side effects when used regularly. It helps to regenerate and repair damaged tissue rather than mask pain.
Made with Comfrey (tissue repair), Red Clover (toxin removal), Marshmallow Root (diuretic and emollient), Slippery Elm (protective anti-inflammatory) and Echinacea (immune support). Inflapotion can be used safely by both dogs and cats. It is available in powder, capsule or tincture forms.
Long used as a natural antibiotic, colloidal silver can be effective in treating yeast infections, cuts, scrapes and skin irritations. Recommended when GPH Alternative Allergy Assesment results show Yeast and Candida concerns. Available in tincture form.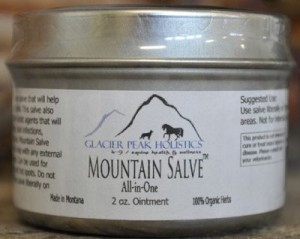 The sole product in the GPH Supplement line intended for external use only. Mountain Salve is formulated to be used as a topical antibiotic and antifungal ointment. It contains many of the same herbs used in Inflapotion in a base of coconut and olive oil. Mountain Salve can be helpful when treating hot spots, allergy infections and wound care.
TREAT of the MONTH

Canine Caviar Buffalo Lung- save 20% 
A generous 8 oz. package of lightweight, all-meat treats made from Free Range Grass Fed Buffalo. The treats are hormone and antibiotic free, are high in Protein (75%) and low in Fat (9%).  Regular $7.50, Club Price $6.00.
Interested in the special pricing on these treats? Become a Treat of the Month Club member- it's free! Just email us or mention it with your next order to sign up. Each month that you receive a delivery, the featured treat will automatically be added to your order. You'll save a minimum of 10% each time, and treats are no more than $8.00.