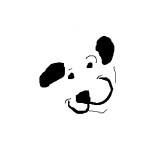 In this issue:
Your special offer
Best of Western Washington
Bravo Raw Food Recall
Latest Round of Price Adjustments
Common Pet Poisons to Avoid
New Products and Info from Supplier Show
Monthly Features
Happy Fall!
While it may be sad to begin to see the days get shorter, it doesn't mean we can't continue to enjoy our mild Pacific Northwest seasonal weather (while it lasts).
As a subscriber, you can also take advantage of extra savings on one of this month's featured treats (while they last). Take an extra 10% off this month's promotional price on Yaky Sticks when you mention this special offer.
YOUR SPECIAL OFFER
Save an additional 10% on Yaky Sticks

Your dog may already love the tempting flavor and texture of beef chews. But what happens when you combine that enticing treat with another favorite- the Himlayan Dog Chew? You get a Yaky Stick!
This month we're featuring special pricing on these tasty treats. As an eMuse subscriber, you can take an additional 10% off the featured price, which saves you almost 25% off the regular price. (Regular $7.25, eMuse pricing $5.50)
Just mention you'd like the special eMuse pricing when you place your order.
NEWS
A Vote in Time Saves… $Five

It's that time of year again when the voting begins for the Best of Western Washington. If you haven't had a chance to vote yet, the contest continues for another few weeks. It was fun to get an early start and see a single digit ranking last week (we were #6!) but we've now slipped down into double digits. Wanna play?
This year, you'll "unlock" a voter deal which saves you $5 on your next delivery order when you vote for Smiley Dog. It's a "pay $10 get $15" offer which will be emailed to you once you've voted. You can share this deal with your friends and spread the word about Smiley Dog at the same time. Read more…
Bravo Issues Limited Recall on Chicken and Turkey Blends
Bravo Pet Foods has issued a limited recall of selected raw Chicken and Turkey formulas of its products. The affected items are 2 pound, 5 pound packages of Chicken Blend and Turkey Blend foods.
The recall is being issued following the discovery that samples from two lots of these formulas tested positive for Salmonella during routine testing by the Nebraska Department of Agriculture. The testing was not confirmed with samples from the same batch done by an independent third party lab. Read more…
Latest Round of Price Adjustments
Some unexpected price adjustments appeared earlier this month, with a few changes slightly higher than usual. While there was a minimal adjustment on canned food pricing from Precise, the change in some dry formula pricing was a bit steeper.
Merrick, Nature's Variety and some Primal formulas also have had some adjustments over the past few months. Natural Balance has made small adjustments despite the transition from 28 pound to 26 pound bags. Read more…
Common Pet Poisons to Avoid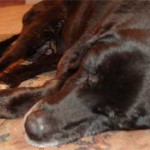 Looking for a quick reminder of some common pet poisons found around the house?
Have a look at this handy, quick list of foods, medications, plant and other hazards to your pets. It is by no means a complete listing, but you may just discover something on it that comes as a surprise.
Links to a few more comprehensive lists are also included Read more…
New Products and Info at Supplier Show
Last month we had the good fortune to attend the first-ever Open House hosted by one of our favorite suppliers. This family-owned business is one of the few independent suppliers remaining in the area.
It was a good excuse to take a quick trip down to Vancouver, WA, paw over some new items and get questions answered by old friends. It turned out to be well worth the day trip, and some new items uncovered will be arriving later this month. Read more…
FEATURES of the MONTH

The return of the TenderStickz! These individually vacuum sealed soft and chewy treats are made without glycerin, propylene glycol, syrups or sugar. They contain only USDA inspected chicken, organic flaxseed, cheddar cheese, dried carrot, dried tomato, dried spinach, celery powder and sea salt. $2.00 each, now 5 for $8.00

These treats will last much longer than traditional beef chews since they have a layer of Himalayan Dog Chew spiraled around the outside. Once your dog works through the outer treat, it reveals a softer beef chew center. Both portions are all-natural, highly digestible, high in protein and low in fat. Each Yaky Stick measures approximately 6 inches. Regular $7.25, now $6.25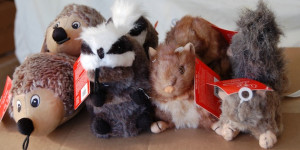 Choose from a selection of 6 inch and 8 inch toys from Pet Lou at a special price this month. The larger 8 inch choices include a Badger or Hedgehog, and the smaller 6 inch options are a Rat or Squirrel. Take one or all at a 20% savings this month and treat your dog to a new indoor toy. At this price, it's a perfect gift to share with a friend!
8 inch Badger or Hedgehog regular $8.75, now $7.00
6 inch Rat or Squirrel regular $6.75, now $5.40
NEW ITEMS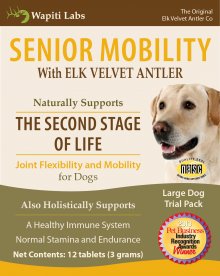 An inexpensive and effective way to sample Wapiti Labs elk velvet antler supplement for joint and mobility support. This trial pack contains 12 tablets of Joint Flexibility and Mobility which is formulated for dogs 50 pounds and larger that have begun to slow down, may be affected by colder or damper weather, or who struggle to climb steps or rise from a sitting or sleeping position. 12 tablets- $6.50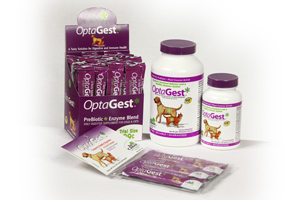 OptaGest is a daily digestive supplement for dogs and cats from In Clover, the makers of our best-selling joint supplement. OptaGest is unique in that it contains the prebiotic inulin as well as digestive enzymes. It does not contain probiotics since these can lose most of their effectiveness as they travel through a pet's digestive tract.
Prebiotics are the "food" that allow existing probiotics to work their digestive magic. Adding prebiotics to your pet's diet benefits both the immune and digestive systems by increasing the quantity of good bacteria.   
Pets under stress, aging or experiencing difficulty with food transition can benefit from OptaGest. It works quickly, in harmony with your pet's metabolism, and results are normally seen within 3-5 days. If you think your pet could benefit from the addition of Optagest, ask for a free sample!
Available in 100 gram ($21.75), 300 gram ($44.50) and single serve tubes (10 pack) for traveling ($9.75) 
TREAT of the MONTH
Wag More Bark Less Chicken Pot Pie biscuits- save 18%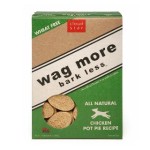 A full pound of crunchy, oven-baked, wheat- free biscuits made with Chicken, Barley Flour, Oatmeal, Rice Bran, Pea Starch, Whole Oats, Millet Flour, Chickepea Flour, Sunflower Oil, Carrots and Natural Chicken Flavor.
Regular $7.00; Club Price $5.75
Interested in the special pricing on these treats? Become a Treat of the Month Club member- it's free! Just email us or mention it with your next order to sign up. Each month that you receive a delivery, the featured treat will automatically be added to your order. You'll save a minimum of 10% each time, and treats are no more than $8.00.