It's that time of year again when the voting begins for the Best of Western Washington.
We played this game last year for the first time as an experiment, and never had a chance to thank all those who voted for us. We'd like to change that this time!
This year, you'll "unlock" a voter deal which saves you $5 on your next delivery order when you vote for Smiley Dog. This experiment is being managed by the contest organizers. If the deal does not appear once you've voted, please let us know and we'll make sure you get the credit you deserve. You can also share this offer with a friend so they can enjoy the savings as well!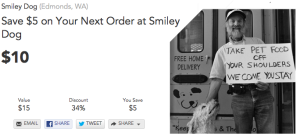 Here's how it works (if all goes as planned):
Go to the Best of Western Washington page
Set up or log into your account
Click the Vote Now button on the Smiley Dog page
You will receive an email with a link to the magic deal once your vote has been placed.
If you'd like to take advantage of the offer, you pay $10 and receive a $15 credit voucher to be used on your next delivery order. The $15 voucher credit expires 6 months after purchase. Your $10 purchase price never expires.
But wait, there's more!
While you're in a voting mood, why not share the name of your favorite dog walker or pet sitter as well? This is not for the contest, it's to let us know who has earned your trust and may be interested in getting some free publicity from Smiley Dog.
If you've been pleased with your sitter/ walker and would like to help them grow their business, send us a quick email with their name and contact info. We'll take it from there!