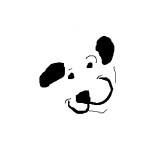 In this issue:
Your special offer
GMO Free Dog Food
Canned Foods Add Moisture
New Products
Monthly Features
Treat of the Month
This is definitely a first- publishing a Smiley Dog newsletter on Super Bowl Sunday! Here's hoping you enjoy the game if that's part of your afternoon plan. Sending this from Seattle comes with a certain amount of bias, and it's left to you to decide which team we're pulling for today.
The game will come and go, as will Valentine's Day, but here's something that will stick around all month. In honor of Valentine's Day you can save 14% on all of our heart-shaped treats and two new can samplers (see below).
February is National Pet Dental Health month, and one of our favorite ways to maintain healthy teeth is with the live enzymes found in raw foods. We've got a small selection of foods in the freezer that were brought in for clients who have moved on to something else. While they last, you can pick them up this month at a 10% savings.
And finally, you're invited to share your 2-3 paragraph "case history" and photos of how Smiley Dog has helped you. These will be incorporated into our new Home page over the rest of the year to provide some variety to Amy's story which currently appears. Give us a call or send an email for more information.
Happy February!
YOUR SPECIAL OFFER
Free Goodies just for the asking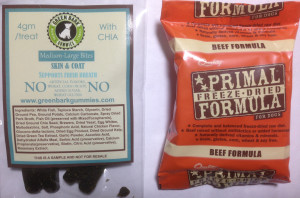 Would you like a couple of delicious new treats to appear with your next delivery?
Just ask for the eMuse Valentine's Day offer to be included when you place your order for delivery anytime this month. If you're on auto-delivery, simply send a quick email or leave a message requesting those goodies.
You'll receive a sample package of Green Bark Gummies along with a sample package of Primal freeze-dried beef. Yummy!
NEWS
 GMO Free Dog food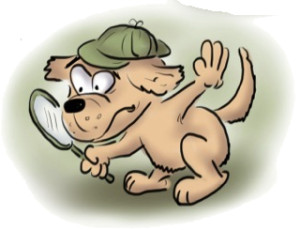 Last month during a conversation with a client, I was asked if there is a humanely-raised, non-GMO dry dog food available.
If we get too deep into details, overly complicated investigation would result. So instead, let's agree that "humanely-raised" is more along the lines of free range, cage free, or certified organic when it comes to meat ingredients. After all, in the end, the animals end up in a bag, which is not overly humane whatever your perspective.
Then there's the question of GMOs. For starters, let's begin with a broad and non-judgmental definition of the GMO. Read more…
Canned Pet Foods Add Needed Moisture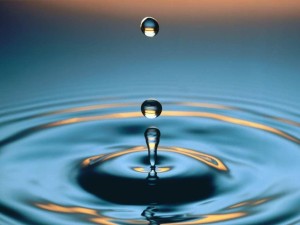 Canned dog food is a great way to add more moisture to your dog's daily diet if you are feeding dry dog food. So why is moisture important?
It comes as no surprise that water is an essential element of nutrition. A dog can potentially survive weeks without food, but only days without water. A healthy, balanced diet is critically important, but without including moisture as part of that diet nutrients can not be properly utilized. Read more…
FEATURES of the MONTH
Try a Can Quartet at a Valentine's day Price
Take this opportunity to try a sampler of cans from either (or both!) of these offerings at a 14% savings this month.

Nulo's cans are grain-free and made from all trusted US sourced ingredients. They do not include carrageenan and use low-glycemic ingredients to avoid blood sugar spikes. This sampler includes one can of Beef, Lamb, Salmon and Turkey formulas. Try the Nulo Valentine's Month Quartet at a special price. Regular price $11.80, now $10.15

Addiction's offerings include two rather exotic protein sources which are ideal for a hypo-allergenic diet. But your dog doesn't need to have allergies to enjoy these! This sampler includes one can of Brushtail/ Veggie, Salmon/ Potato, Unagi/ Seaweed and Venison/ Apple. Try the Addiction Valentine's Month Quartet at a special price. Regular price $15.30 , now $13.00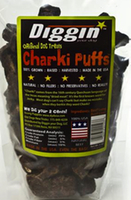 Get an extra treat this month when you pick up a 6 oz bag of Charki Puffs ($12.75). These lightweight treats are made with antibiotic, hormone-free USA beef lung bathed in pure liver sauce and then slow roasted.

Your bonus treat is an 8 inch Charki-O, one of the tastiest hip and joint treats around. Made from natural beef trachea, coated in the same liver sauce and slow roasted. These normally sell for $3.75 each, but it is yours FREE with the purchase of a bag of Charki Puffs.
A Valentine's Month Feature
In honor of Valentine's Day, you can save 14% on three of our heart-shaped treats this month. Buy two pounds or two packages of any heart-shaped treats and save 14%. Yes, you can mix and match! Included in this promotion are:
Hurry, limited supply! The manufacturer has discontinued the heart shape in this formula and our new supply will be bone-shaped.
Made with wheat flour, pork liver, chicken fat (preserved with mixed tocopherols), rolled oats, wheat germ, flaxseed, brewers dried yeast, rosemary extract. Regular $5.25/ pound, now $4.52/ pound (2 pound minimum)
Made with wheat flour, pork liver, chicken fat (preserved with mixed tocopherols), rolled oats, wheat germ, flaxseed, brewers dried yeast, rosemary extract. Regular $5.25/ pound, now $4.52/ pound (2 pound minimum)
Precise Healthy Habit Duck biscuits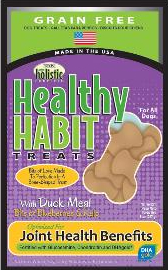 The return of a longtime favorite, now in a new flavor. Made with Spring Yellow Pea Flour, Spring Yellow Pea Starch, Garbanzo Beans, Duck Meal, Chicken, Flaxseed, Chicken Fat (preserved with Mixed Tocopherols and Ascorbyl Palmitate), Chicken Meal, Dried Egg Product, Natural Flavor, Menhaden Fish Oil, Fat Product (natural source of Omega-3 DHA algae), Chicken Cartilage (source of Glucosamine and Chondroitin Sulfate), Dried Kelp, Dried Apples, Dried Carrots, Dried Blueberries, Chamomile, Dandelion, Peppermint, Rosemary, Turmeric, Dried Bacillus coagulans fermentation product, Chicory Root (source of inulin), vitamins and chelated minerals. This 8 oz package normally sells for $8.25, now $7.10
National Pet Dental Health Freezer Special
Every once in a while, we end up with some items brought in for clients who end up not needing them. More often than not, this is the result of someone moving out of the area or a pet having a change of taste. Whatever the reason, this gives you the opportunity to pick up some frozen raw goodies at a very attractive price. Take advantage of this chance to try something new at a one time only price.
Most of these are one of a kind, so if you see something you like, don't hesitate to place your order. Because these were special request items, you won't find them listed on the website Shopping Cart. Click the link to send an email or call (206) 903-9631 to get these goodies. Prices are good only for the items currently in the freezer!

16 oz. Rad Cat Raw Chicken cat food $8.50 (3 available)
16 oz. Rad Cat Raw Turkey cat food $8.50 (3 available)
6 pound Tuckers Pork/ Bison patties $26.50 (1 available)
6 pound Tuckers Pork/ Lamb patties $26.50 (1 available)
2 pound NW Natural Beef chub $7.50 (1 available)
2 pound NW Natural Lamb chub $8.25 (1 available)
2 pound NW Natural Turkey chub $6.75 (2 available)
2 pound Natural Pet Pantry Cooked Chicken Stew $8.00 (1 available)
NEW ITEMS
We're eagerly awaiting a fresh shipment of Kitty Roca from the good folks in Chehalis at 4Legz. All 4Legz treats have now been certified GMO Free. We're pleased to now have Kitty Roca in bulk to save you some money!  Made with unsulphured blackstrap molasses, organic unsalted peanut butter, organic rye flour, non-gmo rice flour, rolled oats, and ground cinnamon. These will be sold by the pound ($5.50)
Vital Essentials Raw Food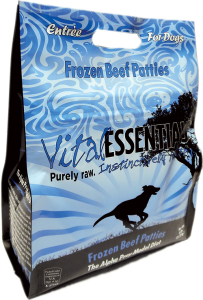 Vital Essentials Beef patties are on the way to our freezer in this new line of raw food. The 6 pound bag sells for $33.25. Other formulas include Chicken, Duck, Rabbit, Turkey, Fish and Wild Boar. Any or all are available by special request. Vital Essentials offers three sizes of raw food- Niblets, Patties and soon to arrive chubs.
Addiction Cans

Addiction Brushtail & Vegetables
Addicition Unagi & Seaweed
Addicition King Salmon & Potatoes
Addicition Venison & Apples
Nulo cans

Nulo Grain-free Beef
Nulo Grain-free Lamb
Nulo Grain-free Salmon
Nulo Grain-free Turkey
TREAT of the MONTH
Canine Caviar Paddywacks- save 17%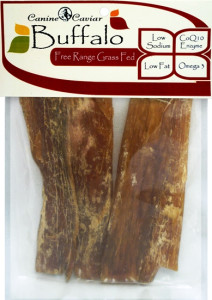 A 4 pack of chewy treats made from free range, grass fed buffalo. Low in calories and high in protein, these meaty chews are an ideal long- lasting and healthy alternative to rawhide. Regular $7.25, Club price $6.00
Interested in the special pricing on these treats? Become a Treat of the Month Club member- it's free! Just email us or mention it with your next order to sign up. Each month that you receive a delivery, the featured treat will automatically be added to your order. You'll save a minimum of 10% each time, and treats are no more than $8.00.