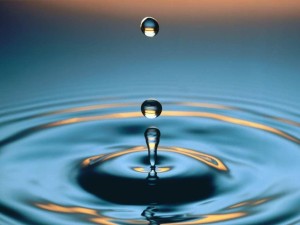 Canned dog food is a great way to add more moisture to your dog's daily diet if you are feeding dry dog food. So why is moisture important?
It comes as no surprise that water is an essential element of nutrition. A dog can potentially survive weeks without food, but only days without water. A healthy, balanced diet is critically important, but without including moisture as part of that diet, nutrients can not be properly utilized.
The moisture in a pet's diet allows nutrients to be distributed to the cells of the body, helps transport waste, supports joints, digestion and the proper function of every organ. It also helps regulate temperature by preventing dehydration.
Clean fresh water is essential for your pet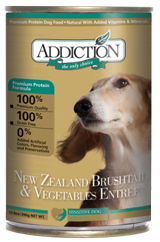 Besides providing access to a water bowl, one of the best ways to add moisture to your pet's diet is with canned food. Dogs and cats often find canned food much more attractive than dry. The moisture content of canned food is often eight times that of dry. This added moisture goes a long way to entice with its softer texture, tempting aromas and simpler digestibility.
Yes, canned food can become expensive (no pun intended). If you're accustomed to feeding only kibble, an easy way to get the benefits of canned moisture is to add a tablespoon or three in each meal. This will boost the daily moisture intake of your pet without lightening your wallet too much.
Yes, you can just add water to dry food in the bowl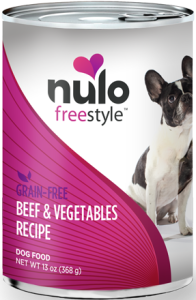 Adding water to some kibble will make it softer as it absorbs and expands. While this can be a way to introduce more moisture into the diet, it often does not provide the same tempting benefits that come with canned formulas. Some of the more digestible or coated kibbles will not absorb water. In these cases, you won't get many benefits from trying to moisten meals in this way.
If your pet does not like the softer texture or bland taste of a kibble moistened with water, you can also try adding gravy. Not gravy from your table— which is most likely filled with fat— but a gravy formulated to add nutritional benefits for pets. One of the best products we've found for this is SuperGravy, and free samples of this are available for the asking.
It's the cans that often provide the most reliable result
Two new lines of cans have now been added to the Smiley Dog inventory.

A grain-free quartet from Nulo includes Beef, Lamb, Salmon and Turkey. Nulo's cans are both grain and carrageenan-free. Carrageenan is currently being investigated as a potential cancer-causing ingredient in food and is found in many canned formulas.
Nulo uses low glycemic ingredients to avoid spiking blood sugar levels, and includes chelated minerals for better absorption. Their ingredients are sourced from consistent, trusted sources within the United States.

From our friends at Addiction comes a more exotic quartet including Brushtail, Unagi, Salmon, and Venison.
These formulas can be an ideal topper or supplement to a limited ingredient diet, since they include less common protein sources from New Zealand.  Brushtail is a marsupial, and Unagi is a fresh water Eel. Both are ideal alternative protein sources.
Ask for a sampler pack this month at a special price and give your dog a special treat with each meal. Add a spoonful or a can- the choice is yours!