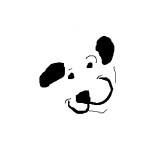 In this issue:
Your special offer
Would You Like to Become a Star?
Solid Gold Changes Formulas and Packaging
Honest Kitchen Price Adjustment
Soft Bite Floppy Disk Returns
Monthly Features
Treat of the Month
Welcome to 2015! We'd like to be among the first to wish you a peaceful and relaxing New Year.
Could you use a 2015 calendar? There is a limited supply of Smiley Dog calendars remaining. Request one for yourself, a friend or your office- they're free!
Since 2015 is officially The Year of the Goat, why not take this opportunity to share some goat milk yogurt with your pet? It's this month's subscriber offer, prepared just for you.
And don't miss your opportunity to become part of a redesigned Home Page, coming soon to a screen right in front of you!
YOUR SPECIAL OFFER
Ask for your FREE package of raw Goat Milk Yogurt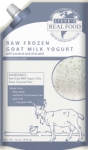 A while back we wrote about the benefits of adding goat's milk to your pet's diet. At the time, Answers was the only company producing a raw goat's milk product specifically for pets. Since then, a few other manufacturers have introduced their own goat milk products.
Honest Kitchen has a powdered goat's milk offering (Pro Bloom) and Steve's Real Food has introduced their raw Frozen Goat Milk Yogurt which includes coconut and chia.
As a newsletter subscriber, this month you can receive a free 4 oz. package of Steve's Raw Goat Milk Yogurt. These packages normally sell for $4.75 each.
To get yours, just request one with your next delivery order.Offer limited to individuals living within the Smiley Dog service area- not valid for mail orders. Be sure to mention you're an eMuse subscriber and leave a cooler out to keep the yogurt frozen!
NEWS
Would You Like to be a Star?
How would you like to see your dog (and yourself) become an international star? You'll get bragging rights if your story and photo is chosen to be featured on the new Smiley Dog Home Page.
The new Home Page will feature a section with a short story of how Smiley Dog has helped clients like you. Along with a photo of your dog (you can be featured in it as well) put together a few paragraphs which explain what you most appreciate about the service. Read more…
Solid Gold Changes Formula and Packaging
Don't be surprised when you spot the new bag designs from Solid Gold. They have updated the traditional and familiar designs with a more modern feel. The new bags are already beginning to show up in some formulas as the older bags are depleted.
The size of some formulas, Sun Dancer and Barking at the Moon are also being reduced. With the size reduction also comes a price reduction, and some formula changes have quietly been made as well. Read more…
Honest Kitchen Price Adjustment
Honest Kitchen has notified retailers that a price adjustment will go into effect at the beginning of January. The company cites rising costs of ingredients as the main reason behind the change.
Pricing will increase an average of 5%, with most of the popular formulas seeing less of a jump. The new pricing will be effective at Smiley Dog as of January 5, 2015. While the new pricing will appear on our website as of January 1, current pricing will be honored for all orders placed and invoiced prior to January 5.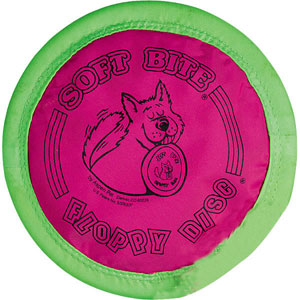 Soft Bite Floppy Disk: An Old Favorite is New Again
One of the first "pricey" toys we began carrying at the request of clients back in the early 1990s was the ever-popular Soft Bite Floppy Disk. This fluorescent colored cloth flying disk was easy to spot outdoors and had latex tubing around its outer edge.
It flew marvelously well, could be used indoors without the damage a hard plastic disk could do, and also floated. For more than 10 years, this toy was among the most durable water retrieval toys available. Read more…
FEATURES of the MONTH
We're pleased to offer the original Soft Bite Floppy Disk once again now that ownership and control has returned to its original creators. Suitable for use indoors or out, this durable retrieval toy also floats, can easily be spotted in grass, and can be used as a makeshift water bowl! Regular $21.75, now $19.50
These may not be the most attractive looking goodies, but they are a great value! 100% free-range Buffalo which have approximately 80% less fat compared to beef. Take advantage of special pricing on these this month! Regular $6.75, now $5.75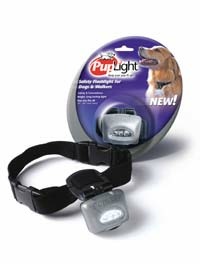 These compact LED lights brighten your path up to 15 feet ahead, and are invaluable as a "poop spotter" on dark walks. Use the included collar for quick and easy Can be attached directly to an existing collar, or use the included adjustable collar to slip quickly on and off your dog. Works with 3 AAA batteries. Regular $20.75, now $16.50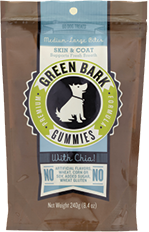 These cute bear-shaped soft treats are made with sprouted chia seeds to provide a nutritional punch of omega-3 fatty acids. Available in two formulations. Choose the fish flavored Medium/ Large size chews for Skin & Coat or the duck flavored Medium size for Vitality. 8.4 oz package- Regular $9.75, now $8.25
NEW ITEMS
A generous 8 oz. package of these lightweight treats. Made from free-range, grass fed buffalo, these tasty chews help reduce tartar and are low in fat and sodium. Hormone and antibiotic free. 8 oz bag- $6.75
Toppl toy from West Paw Design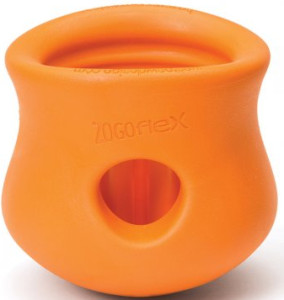 We've been a fan of West Paw Design toys for close to 2 decades. Their Hurley toys, also made of Zogoflex, are among the most durable flexible toys we've tested. Now we're pleased to offer the latest addition to the Zogoflex line- the Toppl. Like all Zogoflex toys, it is recyclable, dishwasher safe and guaranteed to last.
Available in 2 sizes which can nest in each other, the Toppl is a unique combination of a puzzle, retrieval and treat dispensing toy. Try one on its own, or pick up both sizes to combine for more of a challenge. Large- $21.75, Small- $12.75
Click here for a 90 second video of Toppl in action
TREAT of the MONTH
Fruitables Bacon & Apple biscuits- save 15%
A delightfully fragrant 7 oz. package of low-fat, all natural chewy biscuits with a taste dogs love. Just 3.5 calories per treat. Regular $6.75, Club Price $5.50
Interested in the special pricing on these treats? Become a Treat of the Month Club member- it's free! Just email us or mention it with your next order to sign up. Each month that you receive a delivery, the featured treat will automatically be added to your order. You'll save a minimum of 10% each time, and treats are no more than $8.00.