Looking for a potent digestive aid for your dog or cat? Want a natural way to support your pet's immune system? More comfortable with a whole food solution?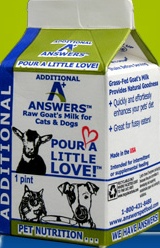 Answers Raw Goat's Milk is now available for delivery!
While we're not quite ready to deliver your milk just yet, we're more than happy to fill the needs for your pet. Goat's milk contains an ideal combination of nutrients in correct proportions, along with enzymes. It requires very little effort to digest and receive the benefits of these nutrients. This allows your pet's organs to strengthen the immune system and detoxify the body, rather than working at digesting more inappropriate foods.
Goat's milk can be used as a supplement with raw food, dehydrated, canned or kibble. Simply pour it over the meal and stand aside. When used with raw foods, goat's milk will target and destroy "bad" bacteria which may be present while encouraging the growth of "good" bacteria.
A few words of introduction if you've never used raw goat's milk before. A small amount of flatulence can occur when starting on the product. This will disappear once the correct balance of gut bacteria is restored. This is a result of re-populating the digestive system with beneficial microflora, and purging accumulated toxins. The appearance of the milk is greyish white, rather than the pure white we're accustomed to seeing from pasteurized products.
This product comes to you frozen, and can be thawed over 24 hours in your fridge or in a few hours on the counter. It will keep for 7-10 days. You can also make curds from the milk if you set it out for a few days, and strain the liquid. This can be used as a supplement or treat.
More information is available on the manufacturer's website.
Interested? Try a pint and let your pet decide!