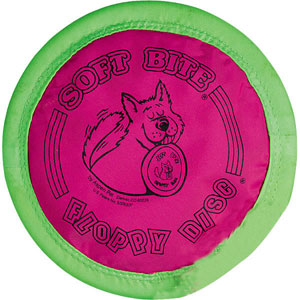 *Please Note*
*This was originally posted in 2014. These toys are no longer available.*
One of the first "pricey" toys we began carrying at the request of clients back in the early 1990s was the ever-popular Soft Bite Floppy Disk. This fluorescent colored cloth flying disk was easy to spot outdoors and had latex tubing around its outer edge.
It flew marvelously well, could be used indoors without the damage a hard plastic disk could do, and also floated. For more than 10 years, this toy was among the most durable water retrieval toys available.
The original team behind the toy eventually contracted with the good folks at Aspen to manufacture and distribute their toy. Aspen has grown over the years, and they were recently purchased by Petmate, which has replaced the Soft Bite with a soft flying disk of its own.
Petmate's new toy, the Tail Spin Flyer, is strikingly inferior in quality to the original. After receiving a small order of these, we've decided to return to the tried and true original Soft Bite.
Ownership, distribution and manufacturing of the Soft Bite Floppy Disk has now returned to the original creators who have moved manufacturing back to the United States. The material and quality of these toys is once again what we've come to expect.
If you've been thinking about picking up one of these old favorites, we're pleased to announce that the original Soft Bite Floppy Disk is once again available at Smiley Dog and is included as a featured product during January!