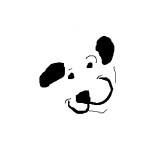 In this issue:
Small Batch Recalls Duck Sliders
Tasty Treat or Hidden Hazard?
Blue Buffalo Settles Lawsuit
Monthly Features
New Products
Treat of the Month
Happy Spring!
Yes, it's finally here, and with it comes the continuation of an election season that is anything but ordinary. Without considering it an April Fool's ploy, we're offering our Peace Berry biscuits in hopes that their name may help restore just a shred of civility as we continue through the season.
Be sure to take advantage of your free treat offer below, and enjoy the change of seasons!
YOUR SPECIAL OFFER
Try a Treat, Get Another!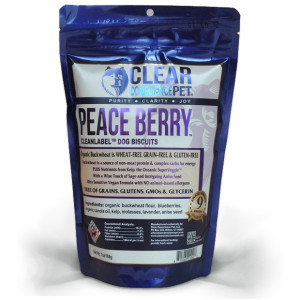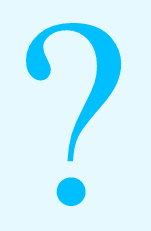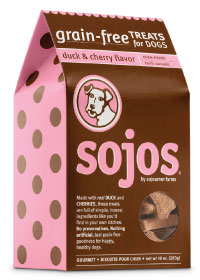 The two treats above are being featured at a special price this month. As a subscriber, you'll not only receive that special price when you purchase one (or both) of the Featured treats, you'll also receive another package of goodies absolutely FREE!
What will those additional treats be? You'll just have to wait to find out- that's why the Question Mark is above!
And for our feline friends… do you have a favorite cat treat that you'd like to see us carry? Let us know and we'll have a look. If we decide to bring them in, your first package will be FREE!
NEWS
Small Batch Recalls Duck Sliders
Small Batch Pets has issued a voluntary recall for one lot of its raw frozen 3 lb Duck Sliders for dogs due to its potential to be contaminated with Salmonella and Listeria.
The affected lot is #CO27 with a Best By date of January, 27, 2017. Best By dates are found on the back of the package below the seal. The package UPC is 713757339001
Read more…
Tasty Treat or Hidden Hazard?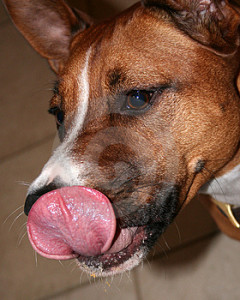 Doctors say it. Nutritionists and dieticians say it. Books have been written about it. You may even have said it yourself.
It holds true for ourselves and our pets alike.
You are what you eat (even your treats)
We put lots of thought into what goes into our pet's bowls, but how much time is spent on choosing treats?
It's not unusual to expect that a battle with weight can be won with a change of food. But what about the treats we feed? Read more…
Blue Buffalo Settles Lawsuit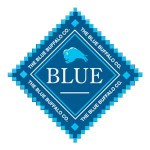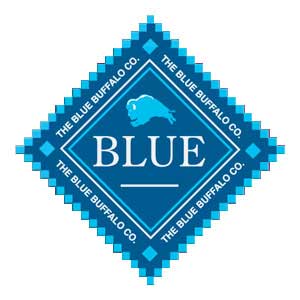 Blue Buffalo has agreed to settle a consumer class action lawsuit that accused the company of false labeling practices. The lawsuit was filed when tests showed that some of the company's formulas contained poultry by-products and grain.
The company has since admitted that some of its foods did contain by-products as a result of unapproved ingredients sourced from a former supplier.
The $32 million dollar settlement means reimbursement of up to $200 for consumers. Read more…
FEATURES of the MONTH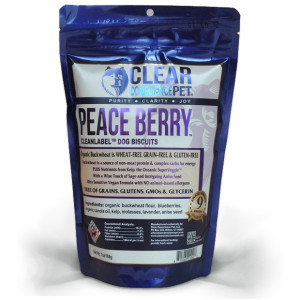 Grain-Free crunchy biscuits made with  Organic Buckwheat Flour, Organic Blueberries, Organic Canola Oil, Honey and Organic Lavender. 7 oz. package Regular $9.00, now $7.20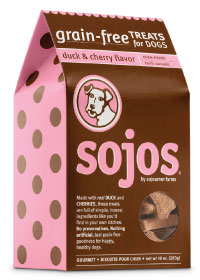 Looking for a unique grain-free crunchy treat? These medium bone-shaped goodies may be just what you're after! Tasty Duck & Cherry cookies contain no artificial flavors, colors or preservatives and have just under 14 calories per treat. 10 oz. box Regular $8.00, now $6.40
$7.77 Auto-Delivery Sign Up Bonus

What if you never had to worry about running out of pet food or kitty litter again? Think of the time and hassle you'll save by having it show up as needed based on a schedule prepared just for you. Now's the time to sign up for Auto-Delivery!
Enjoy the freedom and peace of mind that comes with not having to make last minute calls or trips for food. There are no contracts to sign, and you're free to adjust or cancel any time. The convenience of Auto-Delivery is combined with Price Protection and our Golden Rule Guarantee.
If you've placed at least 2 orders with us previously, we can customize a schedule based on your usage. If not, a few quick questions will get you started.
And to top things off, sign up during the month of April and save $7.77 on your first Auto-Delivery order! Simply call or email to get started.
NEW ITEMS
K-10+ may seem an odd name, but the company offers an interesting line of supplements which include Joint, Digestive, Dental and Calming aids.
We're pleased to now stock their line of Calming products in various forms. These non-drowsy, natural supplements can help in stressful situations to reduce separation anxiety, nervousness, and hyperactivity.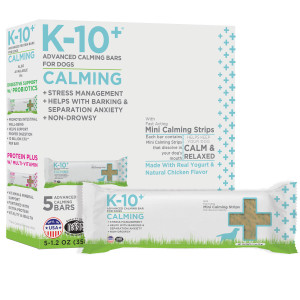 Calming Bars– Individually wrapped for freshness and convenience, these bars contain no grain, gluten, by-products, artificial colors or flavors. Made with fast acting dissolving strips containing Colostrum Calming Complex, calming amino acids, chamomile, and vitamins. Box of 5 bars- $19.75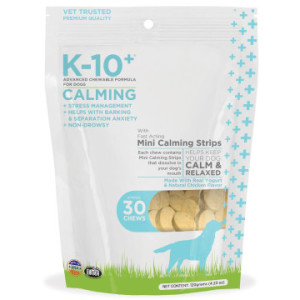 Calming Chews– Convenient bite-sized chews made with yogurt and natural chicken flavor for a quick treat or dose. These chews are made with mini dissolving strips containing the same active ingredients as the bars.  4 oz. package contains 30 chews- $19.75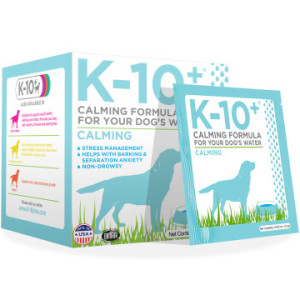 Calming Water Additive– We're not usually a fan of water additives for supplements since it can often be wasteful. The K-10+ Calming Water Additive ensures adequate dosage since its active ingredients are more easily absorbed and utilized than with bars and chews. The company claims the water additive is up to 9 times more effective than the solid forms.  28 individual packets- $23.75
Other K-10+ supplements are available by special request. You can get more info about their line at the K-10+ website.

These natural dental chews are available in variety of whimsical shapes. Made in Holland, each chew has a variety of shapes and spaces to help massage gums and get the chew into spaces between teeth.
We're currently stocking multipacks of the Large size chews ($18.50) in Alligator, Hedgehog, Toothbrush and Stick. Each Large multipack has 7 chews, except Hedgehog which has 4. Other sizes and shapes available by special request. $18.50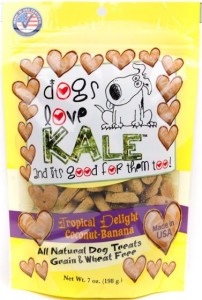 Kale seems to be in the news for us healthy humans, so it's only natural that it becomes available for our pets as well. Kale is considered a superfood which is high in antioxidants.
These limited ingredient, heart-shaped low fat treats are made with Chick Pea Flour, Kale, Coconut, Banana, Flax. 7 oz bag- $7.50
TREAT of the MONTH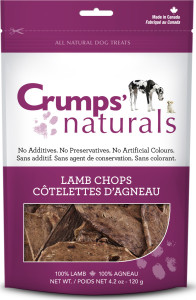 Crumps Lamb Chops- save 23%
These lightweight treats are made from thinly sliced 100% Lamb and cut into sticks. Can be used as a special reward, or broken into smaller pieces to be used as a high value training treat.
1.9 oz bag Regular Price: $9.75  Club Price: $7.50
Interested in the special pricing on these treats? Become a Treat of the Month Club member- it's free! Just email us or mention it with your next order to sign up. Each month that you receive a delivery, the featured treat will automatically be added to your order. You'll save a minimum of 10% each time, and treats are no more than $8.00.