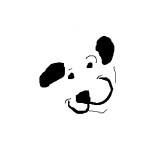 In this issue:
Your Special Offer
Natural Stride Hip & Joint supplement
The Dog Aging Project at University of Washington
Monthly Features
New Products
Treat of the Month
Happy Autumn! Yes, we're sad to see summer pass into history, but we're one day closer to the start of next summer! You can hold on to this year's warm weather by grabbing one of the few remaining packages of PuppyCake Ice Cream mix before they're gone- a tasty treat to keep those summer memories alive!
Some of you may have noticed a new face making your deliveries during the past two months. Then again, some of you may have recognized it as my old face!
I've been covering for Mick during this time as he takes some well-deserved time off and recovers from some planned medical procedures. We look forward to welcoming him back in the next few months, and he appreciates all the good wishes sent his way.
The past few months have seen some new additions to the lineup of food, treats and supplements available to you. The return of Orijen foods, Open Farm, new treats and supplements all offer new choices for you to consider.
And finally, it's time to play the Best of Western Washington game again! If you're so inclined, hop on over to the contest site and cast your vote. As a special thank you, you'll unlock a Loyalty Deal after voting for a half price $10 credit. (pay $5, get $10 towards any future order)
YOUR SPECIAL OFFER
Get a free can of FirstMate's limited ingredient Wild Tuna
Last month we announced the arrival of the new FirstMate limited ingredient dog and cat food cans. These grain-free foods share the same healthy formula for both dogs and cats.
Ask for a 5.5 oz can to be included at no charge with your next order if you'd like to pass along a special treat to your dog or cat. The label says cat food, but the only difference between this and the dog formula is the size of the can! It's your subscriber offer for October.
NEWS
Natural Stride Hip and Joint Available
Back in the "olden days" when a dog showed signs of joint pain, a children's or buffered aspirin was often the recommended treatment. That sometimes masked the symptoms for awhile, but did nothing to address the underlying cause.
Fast forward to today, and we've got far more options to address arthritis and joint pain in pets. Herbal remedies and nutraceuticals for joint relief are among the most common supplements on the market today. One of the most common ingredients found in popular joint supplements today is glucosamine.
There are many glucosamine-based supplements available, although there are now far more options to consider. Want a supplement with a single form of glucosamine, or do you prefer more active ingredients? Just about any combination of joint aids are available if you know what you're after.
Have you heard about the Dog Aging Project at UW?
It was just a passing mention in a recent email exchange with a client, but it certainly raised my eyebrows.
The Dog Aging Project is led by two molecular biologists and UW pathology professors, Dr. Daniel Promislow and Dr. Matt Kaeberlein. Their idea was initially presented at an October 2014 symposium in Seattle.
Planning and fund-raising for the research began following the symposium. There are two primary goals for the project. Read more…
Head on over to the Best of Western Washington contest and vote for Smiley Dog!
You'll unlock a Voter Deal after voting which gives you the opportunity to buy a $10 credit for just $5. The credit is good towards any future Smiley Dog order and never expires. Read more…
FEATURES of the MONTH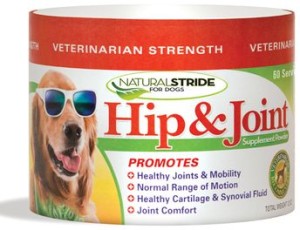 Pick up a container of this powerful new joint supplement containing glucosamine, hyaluronic acid, cetyl myristoleate and MSM. You can also save your UPC codes and enroll in the Buy 6, get one Free program. Save $1 on your first purchase of Natural Stride this month as well! 150 gram container lasts two months for a 50 lb. dog. Regular $38.75, now $37.25
Bare Bites– buy one, get one at 50% off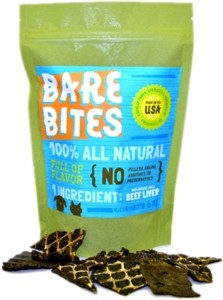 These 100% beef liver treats are ideal for a quick treat for dogs or cats. Take advantage of this month's offer and double up your supply at a very special price! 2 oz. package $5.75
PuppyCake Peanut Butter Ice Cream mix– seasonal closeout!
Sad as it is to say goodbye to summer, you can hold on to it just a bit longer with the last of this summer's tasty ice cream treat! Simply add hot water, mix and freeze for 5 hours to make a pint of all-natural Peanut Butter flavored ice cream. Available while supplies last! Regular $7.50, now $6.00
NEW ITEMS
For those of us who want to help keep our pet's teeth clean but can't quite get into a brushing routine, here's a great option! PetzLife Dental spray is a natural alternative to eliminate plaque, tartar, and freshen breath with the ease of a spray. Made with grape and grapefruit seed extract, peppermint, neem and thyme oils. Available for immediate pre-order, arriving mid-October. 1 oz. spray- $9.75
Open Farm Pet Food is Certified Humane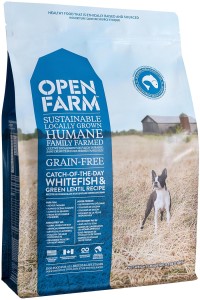 Open Farm dog food formulas became available for delivery earlier this summer. Open Farm is the first ethically raised and sourced, certified humane pet food on the market. It is a Canadian company which manufactures its foods in the United States.
While more and more pet foods boast of using locally sourced ingredients, Open Farm goes one step further by utilizing independent, third-party certification of its suppliers. This ensures that the family farms used to source animal ingredients comply with sustainable practice standards.
Open Farm's Catch of the Day Whitefish formula is currently available for delivery. Read more about Open Farm here.
TREAT of the MONTH

Snicky Snaks Organic Peanut Butter biscuits- save 16%
Peanut Butter seems to be the favorite of many dogs. Here's a box of crunchy Organic Peanut Butter treats sure to please! Made with Organic Peanut Butter, Organic Molasses, Organic Oat Flour, Organic Rolled Oats, Organic Peanut Flour, Organic Nonfat Milk and Organic Eggs. Regular price $8.00, Club price $6.75
Interested in the special pricing on these treats? Become a Treat of the Month Club member- it's free! Just email us or mention it with your next order to sign up. Each month that you receive a delivery, the featured treat will automatically be added to your order. You'll save a minimum of 10% each time, and treats are no more than $8.00.