Open Farm dog food formulas became available for delivery last month. Open Farm is the first ethically raised and sourced, certified humane pet food on the market. It is a Canadian company which manufactures its foods in the United States.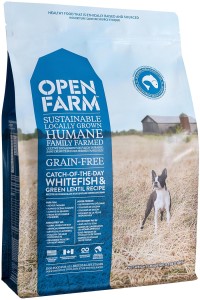 While more and more pet foods boast of using locally sourced ingredients, Open Farm goes one step further by utilizing independent, third-party certification of its suppliers. This ensures that the family farms used to source animal ingredients comply with sustainable practice standards.
All Open Farm meat and poultry ingredients are certified by the Humane Farm Animal Care (HFAC), a nonprofit organization dedicated to improving the lives of farm animals used in food production.
Fish ingredients are ocean caught and sourced seasonally. This means that the mix of fish used in Open Farm's Catch of the Day Whitefish & Green Lentil formula changes to reflect the fish species  available during a particular season. The fish used are identified on each bag.
Open Farm has also partnered with Terracyle
Through a unique arrangement with TerraCycle, empty Open Farm bags can be recycled rather than added to a landfill. Registering with TerraCycle is easy and free. You can also earn points for merchandise or your favorite charity by returning empty bags to TerraCycle for credit.
If you like the idea of the TerraCycle program, but don't want to be bothered with storing and returning your bags, just let us know. We'll be happy to collect your empty bags and return them for you!
There's no denying that Open Farm has a compelling marketing message behind its line of food. But how does the food itself measure up?
Open Farm offers three dog food formulas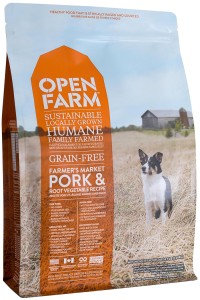 In addition to its seasonal Whitefish formula, Open Farm offers a Homestead Turkey & Chicken recipe along with a Farmer's Market Pork & Root Vegetable recipe. All three foods contain seasonal fish and are grain-free. Each formula's ingredient list reads well and is suitable for All Life Stages.
While Open Farm formulas are not as highly digestible as some other foods, their feeding guidelines are comparable to many other excellent quality alternatives.
If you've been looking for a sustainably sourced dog food, Open Farm, may be worth examining.
Ask for some Open Farm samples to be included with your next delivery.
Read more about TerraCycle and HFAC