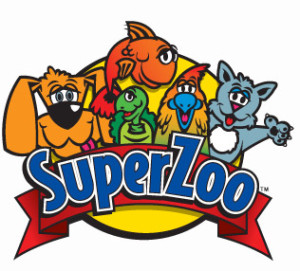 I probably shouldn't admit that one of the highlights of this year's SuperZoo trade show came after the show had closed. The Trade Show itself certainly met expectations and you can read a bit about that below.
What you won't read about is the excellent performance of Zarkana by Cirque du Soleil. It was a much appreciated reward following 3 days of spectacle, theatre and frenzy on the Trade Show floor.
The highlights of this year's show came from both new products and information, including a short list of clients' questions to get answered. One question concerning raw food turned into a very spirited conversation that continued throughout all 3 days of the show.
As usual, the seminars offered a wealth of ideas and information
One of the most interesting presentations was titled "Protein, Fats, and Carbohydrates: Controversy or Consensus." This was a bit of a departure from the normal seminar offered. Instead, each topic was presented by an "industry expert" (and yes, they really were). The session was moderated by a 4th expert, and many others sprinkled among the audience weighed in with both questions and opinions.
Time permitted only 3 additional seminars, which addressed nutrition, marketing and social media. As the show gets bigger each year, it takes more time to cover the entire floor, and this year's seminar attendance had to be somewhat sacrificed.
Less time to feed the head was offset by a feast for the eyes with new goodies crammed throughout the show floor.
New products included foods, treats, toys and supplies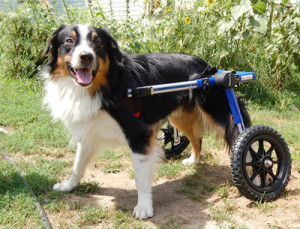 You'll be reading about a few new products from the show that will soon become available. Others are available now by special request. Some of the most interesting are specialty items which are just good to know about if the need arises in your household.
I had previously read about canine carts, and was impressed to see a Walkin' Wheels dog wheelchair on display. This is an adjustable cart that can be used with any size dog, is lightweight, and folds flat for storage and transport.
This is the cart which was used by a partially paralyzed dog to climb the 7.6 mile summit of New Hampshire's Mt. Washington Auto Road.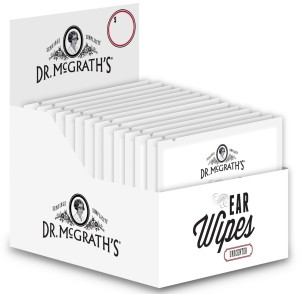 If your pet has been battling ear infections or you just need an easier way to keep those ears clean, Dr. McGrath's ear wipes may be just what the doctor ordered.
The individually wrapped wipes are made with Purified Water, Witch Hazel, Apple Cider Vinegar, Glycerin and Organic Aloe.
The company, based in Portland, is named after Elinor McGrath, the first practicing female veterinarian in the USA.
Two other interesting supplement offerings came from hemp and 'shrooms

You may have read about CannaVet in the past. It is a hemp-derived supplement which has proven to be effective in addressing a variety of issues for both dogs and cats. We'll be looking at this more closely in the near future as an aid for immune and neurological system support as well as GI and joint support.

Time spent speaking with the folks from Mushroom Matrix was a fascinating experience. They offer a small line of raw, organic, medicinal mushroom powders grown and packaged in California.
Mushroom Matrix supplements are designed as an alternative or complement to herbal supplements targeting skin & coat, immune support and anxiety. Included in the line is a Turkey Tail powder which showed excellent cancer-fighting properties in a study conducted by the University of Pennsylvania.
Joint support supplements continue to evolve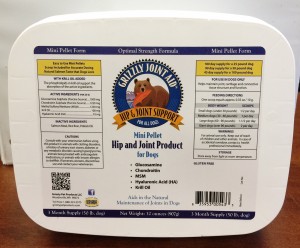 More than 10 years ago, Glucosamine was on the cutting edge of joint support supplements. Then came the addition of Chondroitin, MSM, and most recently, Hyaluronic Acid.
Grizzly Pet Products has now reformulated their joint support product to include all of these along with krill oil which speeds absorption. The new supplements contain more active ingredients than Joint Oats, the product it replaces.
Grizzly Hip & Joint Product is now available in pellet or liquid form.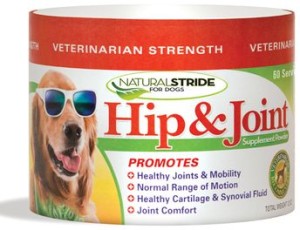 A newcomer to the joint support mix comes from Natural Stride Hip & Joint supplement.
This is the first joint supplement we've found which combines Glucosamine HCL, Glucosamine Sulfate, MSM, Hyaluronic Acid and Cetyl-Myristoleate in an affordable powdered form.
We're currently testing Natural Stride and may be adding it later this summer.
Other goodies are currently on their way over the next few weeks (and months)
A new moist cat food from Applaws was quite different from others we've seen. These formulas come in pouches, cans or a unique, recyclable single serve "pot."
The top of the pot peels off, and the bottom portion is used as its own serving bowl. Once the pot is licked clean, it can be placed in with your recycling.
Many pet foods use enticing photos of tasty food which bear no resemblance to what's inside their package. Applaws formulas contain just 3 or 4 human-grade ingredients and both look and taste like the real food they use.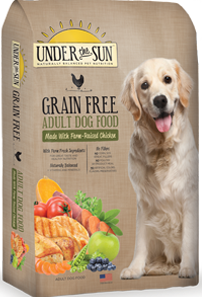 If you're a newsletter subscriber, watch for a special offer for an Applaws sample coming in August.
We also looked at Under the Sun, a new food line from Canidae. This is one of the first "value" lines we've come across that delivers on its promises.
This line of dry food for dogs and cats also includes canned food for dogs. It is a small step down in both quality and price from the regular Canidae line, but a huge step up in quality from grocery store offerings.
And then we have the "fun" stuff
There were, of course, no shortage of new toys and treats to explore this year. It seems as if this is the one category that just keeps expanding year after year. Here are a few of the goodies you can expect to see in the coming months: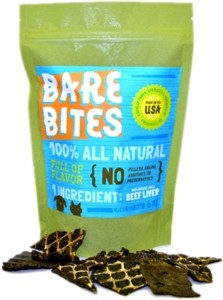 Bare Bites– 100% dehydrated beef liver from a small, unique company in Frederick, MD. These are similar to the fondly remembered Smiley Dog Liver Yummies.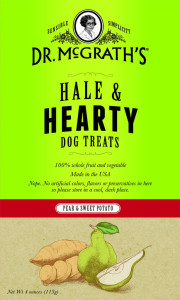 Dr. McGrath's Pear & Sweet Potato biscuits– chip style treats made with just 100% pure dehydrated fruit and veggies with no artificial colors, flavors or preservatives.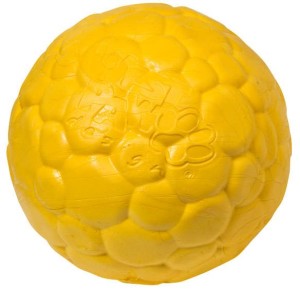 Boz from West Paw Design– it's hard to get excited about a ball, unless you were among the many pet parents (and pets) who were disappointed when the Bow Wowser Ball disappeared. The Boz looks to be a worthy replacement. It is lightweight. durable, can be used in a Chuckit and it floats. Boz will be available by the end of August and can be pre-ordered now!
There's one more surprise coming, which shall remain nameless. We're *really* hoping it arrives in time to offer as the Treat of the Month for August!
More info about each of these items will be available as they appear in the warehouse
Check the website, newsletter or Droppings for more information as these new items begin to arrive. Here's hoping you and your pets enjoy using them as much as we've enjoyed finding them!