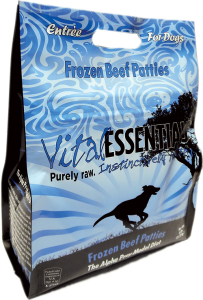 It all began as an innocent question that a client had asked us to pursue. It turned into a fascinating conversation that continued, on and off, for all 3 days of this year's Trade Show.
We all have our favorite foods, and at times, we all wonder how one compares to another. That's where this question began: how do Vital Essentials freeze-dried and raw formulas compare to other brands.
Why not go to the source to find out?
When this question was originally posed to the good folks at the Vital Essentials booth, there seemed to be some degree of hesitation. Perhaps folks are used to corporate espionage at Trade Shows, but I just wanted a straight answer from the perspective of someone who believes in their product.
And that's exactly what I got.
To their credit, no other brands were disparaged during the conversation here, or at other booths. But some interesting philosophical differences arose.
Vital Essentials uses all meat in its formulas
While other raw and freeze-dried manufacturers incorporate fruits and veggies into their complete formulas, Vital Essentials does not. It uses only whole meat, organs, bones, blood and oil to produce their single-protein complete foods.
Their formulas are made in a USDA facility, and their meat is only ground once during production. According to the company, a single grinding allows the integrity of the ingredients to remain as close as possible to their natural state. There is no additional thawing, freezing or processing of ingredients during production.
A more minimally produced approach to manufacturing sounds appealing. But what is even more intriguing is making a complete and balanced formulation without the need for any produce or synthetic ingredients.
Other companies offer raw formulations without produce, but they are not complete and balanced
Is the absence of produce a good thing, a bad thing, or just a different thing? The Trade Show floor offered an excellent opportunity to chat with other manufacturers about this. That seemed like too much fun to pass up and over the course of the next few days the dialog continued.
Each offered their own explanations, and presented it with as much passionate belief as Vital Essentials. The consensus which emerged from other manufacturers was that their formulations required produce for nutritional balance and dietary fiber.
How is it that VE can produce a complete and balanced formula and these other companies do not? I don't know, and really don't care. If your preference is for a balanced, all-meat food, Vital Essentials may be your answer.
Is produce-free food better?
The best answer to this question may be a definitive perhaps/ perhaps not. From our perspective, it's not a matter of produce in food being better or worse, it's simply a matter of it being different.
Vital Essentials has an excellent line of products, as do most of the other raw food manufacturers. All offer a variety of formulas for rotating proteins. They are also one of the most affordable raw food manufacturers.
It doesn't just come down to produce and price. Some dogs may thrive without produce in their diet, others may do better with some included. Produce is one of many factors to consider.  USDA plant, single source protein, single grind during production, form and price are all things to consider.
One thing is certain— Vital Essentials can be an excellent choice for your raw or freeze-dried food choice. It compares very favorably with most other brands, which can also be excellent choices. Perhaps the best way to judge is to feed one or more and let your pet help you decide!