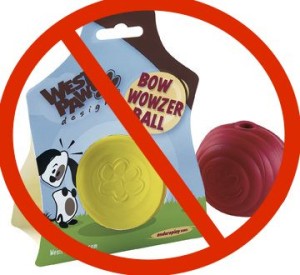 The Bow Wowzer ball from West Paw Design was a favorite of pet parents for close to a decade. It was one of our best selling toys until it was discontinued four years ago.
Since then, we've continued to get inquiries about it from across the country and even overseas. So I was surprised to learn that a few were recently located in Germany and flown back to the US at great expense.
That does not mean that these are available once again
These rare and elusive toys were acquired by none other than the original manufacturer, West Paw Design. The reason for all the trouble? To use them as a model and control product for its successor, Boz (rhymes with Nose).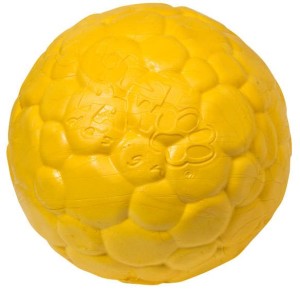 Boz is made of air-infused Zogoflex material, which makes it much more durable than the original Bow Wowzer ball. It is slightly heavier than the original ball, but much lighter than other Zogoflex toys.
It feels firmer in the hand, but can be easily compressed in your dog's mouth, which was one of the features which made the Bow Wowzer ball so popular. Boz also floats, is quite chew resistant, non-toxic, dishwasher safe and guaranteed against dog damage.
It is available in two sizes, 2.5 inch (Small) and 4 inch (Large). The Small size can be used with a Chuckit.
Boz will be available by the end of August.
You're welcome to pre-order now and be one of the first to get your paws on this great new toy!