Is your pet's health worth $15 and 90 minutes of your time?
Resolve to start the new year off right! Join us on Thursday, January 5, 2017 at 7:30pm for a one-night only screening of the new film, Pet Fooled at AMC Alderwood 16 in Lynnwood, WA (Alderwood Mall).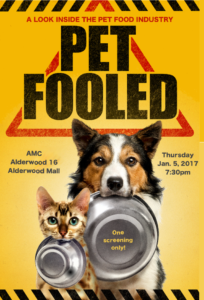 Pet Fooled is a new documentary film that examines the business behind the pet food industry. It takes a balanced approach, presenting different types of feeding styles. The veterinary perspective is present throughout, along with some historical context and case studies.
The film is written and directed by Kohl Harrington, a Los Angeles filmaker and pet lover. The documentary got its start when a groomer suggested that a change of dog food could help address an itchy stomach rash. More than 5 years and over 50 in-depth interviews later, Pet Fooled premiered at the Catalina Film Festival in October 2016. It is scheduled for general release in 2017.
We have the opportunity to bring it to Seattle prior to its general release
You can be among the first in the country to see and benefit from this informative documentary. This is not a film that employs scare tactics, preaches the virtue of one brand over another or gives a pass to large pet food producers. It does not pretend that there is a single, simple answer on what to feed. Instead, it openly examines how different feeding choices became accepted and how each affects your pets' health.
While you may recognize some brands, the film was made independently and did not seek any industry sponsorship.  The facts speak for themselves, and you'll come away with a heightened understanding of how to improve your pet's diet.
The veterinary perspective is presented by Dr. Karen Becker, DVM, SMD and Dr. Barbara Royal, DVM, CVA. You'll also see clips of interviews with Jay Edelson, the lead attorney for the pet 2007 pet food recalls, along with academic, government and industry representatives.
A portion of ticket sales will help local groups
A handful of local groups have been invited to use the screening to raise money by donating a portion of ticket sales. That invitation was also extended to supporters through Facebook.
Summit Assistance Dogs and Citizens for Off-Leash Areas (COLA) will receive 10% of ticket sales from their supporters. Each has been issued a Donation Code which will allow sales to be tracked for each organization. If you would like to support these groups, request your Donation Code from the organization and follow the simple steps outlined here.
Unlike a "regular" movie, you must reserve tickets in advance
Through a special arrangement with Gathr, we can secure a special screening of the film once 50 reservations are purchased.
Ticket price is $14.40, and the ticket charge will not be processed until all 60 reservations are made. In other words, your card will not be charged for any tickets until our "tipping point" goal of 60 reservations is met.
Once the 60 reservation goal is met, your card will be charged for any reservations you've made and your tickets will be emailed.
Tickets will not be available at the door
Tickets must be purchased through the Gathr website at http://gathr.us/screening/18515. Get yours now!
What: Pet Fooled reserved public screening
Where: AMC Alderwood 16

Alderwood Mall
18733

 

33rd Av W
Lynnwood, WA 98037

When: Thursday, January 5, 2017 at 7:30pm
Why: Learn more about what goes into your pet's food and how you can better understand what to feed. A short Q&A will follow.
Cost: $14.40 total- includes processing fee
Remember- the screening will not happen unless we get 60 reservations- make yours now!
Watch the Pet Fooled trailer below: