Want a simple way to earn some quick and easy cash for your favorite pet-related organization?
Help spread the word about the one-night only screening of Pet Fooled on Thursday, January 5, 2017 at Alderwood 16. Contact us before 7pm on November 28 and get your Donation Code to pass along to supporters. Smiley Dog will donate 10% of  ticket sales made using your code back to your organization.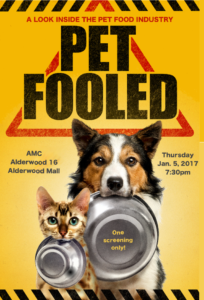 Pet Fooled is a new documentary film that examines the business behind the pet food industry. It takes a balanced approach, presenting different types of feeding styles. The veterinary perspective is present throughout, along with some historical context and case studies.
Reservations are risk free before the deadline
We must book 60 reservations for the film before the deadline of Dec. 19, 2016 to ensure the screening happens. Each reservation moves the film closer to the total needed to get the green light.
Reservations are not charged to individual's credit cards until the quota is met. Once 60 reservations are made, the card used for each reservation will be charged and tickets issued.
If less than 60 reservations are booked, cards will not be charged and the screening will be cancelled.
Help educate and entertain your supporters while raising money at the same time
Interested? Contact us before 7pm on November 28 and we'll send you a donation code for your friends, members, volunteers and employees to use once their reservation has been made. The donation code will be unique to your organization.
Contact us through email or at (206) 903-9631 before 7pm November 28 to get your code and redemption instructions to pass along to your supporters.
When your supporters make a reservation/ purchase a ticket, they will receive a confirmation code. The confirmation code and your organization's unique Donation Code must then be emailed to us. This ensures a portion of that purchase gets earmarked for you.
Your group will receive a check from Smiley Dog by January 15, 2017 for a total of 10% of all ticket sales made using your code.
Want some Pet Fooled postcards to hand out to your people to help your cause? Just ask!
Simple. Easy. But remember the deadlines!
• Request your Donation Code by 7pm on November 28. Sooner is better- it gives you more time to spread the word and raise funds!
• We must reach a total of 60 reservations by December 19 to ensure the screening will happen. You can see the reservation count updated in real time at http://gathr.us/screening/18515
Let's go to the movies!