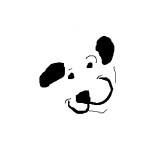 In this issue:
Precise Pet Plays with Packaging
Alternatives to Darwin's in Seattle
Artemis Dog and Cat Foods now available
Orijen Price Adjustment
Monthly Features
Treat of the Month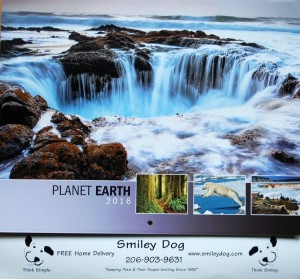 There's no doubt the new year is upon us, ready or not. If you're among those who can still use a 2016 calendar for home or office, it's yours for the asking! Just mention it when placing your next order and a shiny new calendar will be included.
Looking back on 2015, I'm amazed at how much has changed for both our clients and our industry. We'll do our best to stay on top of these changes for you in the coming months, and wish you a peaceful and relaxing new year.
You may not feel as if your support of Smiley Dog over the months and years has made much of a difference. Please understand that without your support, we would have followed in the unfortunate footsteps of many small businesses that have disappeared over the past few years.
It is with heartfelt gratitude that I thank you for your continued support and help in sharing what we do with your friends. Your referrals are the lifeblood of our business, and the significance of a few words to your friends continues to make Smiley Dog possible.
It is the single greatest gift or compliment you can offer. Thank you for sharing!
YOUR SPECIAL OFFER
Try a Raw Food Sampler for Half Price!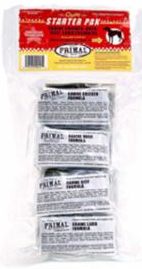 Curious about raw feeding but not sure if you or your pet is ready? Pick up a half-priced raw food Starter Pack from Primal and take a step towards this healthy way of feeding. Each Starter Pack contains 4 different formulas to sample.
The Cat Starter pack includes three 1 oz nuggets of each formula:  Beef/ Salmon, Pheasant and Chicken/ Salmon formulas.
The Dog Starter pack includes three 1 oz nuggets of each formula: Beef, Chicken, Duck and Lamb.
Both Starter packs include transition and raw feeding instructions, along with a company brochure. These are a great way to introduce yourself and your pet to raw food as a supplement or sole diet.
Ask for your half-price Sampler to be included with your next order. Be sure to mention you'd like the eMuse offer and leave a cooler out on delivery day!
Primal Sampler regular price $7.25, Special eMuse Subscriber offer $3.63
NEWS
Precise Pet Plays with Packaging
Precise Pet Foods has temporarily discontinued the 15 pound bag of Feline Foundation while it looks "at ways to improve overall packaging" of its bags.
There is a limited supply of the large Feline Foundation bags remaining, although there is no estimate on when production will resume. Once the current supply sells through, we plan to offer discounted pricing for purchases of two or three 6 pound bags for clients who would prefer the larger size.
This is the first hint of change with Precise since its ownership change this Fall. read more…
Alternatives to Darwin's in Seattle
Over the past few weeks, we've been contacted by pet parents who have been feeding Darwin's formula. Most share the same story- they love the food but are fed up with the poor service and are looking for options.
I have the greatest respect for what Darwin's has accomplished. They offer an excellent product line at a competitive price.
It's unfortunate that, for some, their service has not maintained the same level of quality as their product. Whatever the reason, we hope they resolve their issues sooner rather than later. read more…

Artemis Dog and Cat Foods Now Available
For many years, Artemis pet foods have been included in the Whole Dog Journal's annual list of recommended foods. Artemis makes a line of both whole grain and grain-free formulas. It also includes a canned line for both dogs and cats.
Until recently, the company's products were available primarily in California. We're pleased to now offer the Artemis line in the Seattle area by special request. read more…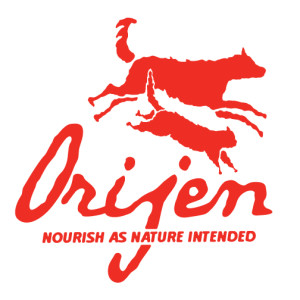 Orijen Price Adjustments for the New Year
Orijen formulas will be having a price adjustment on its dry foods as of January 1, 2016. This includes all cat and dog kibble formulas in the Orijen line of products. Pricing on freeze-dried formulas remain unchanged.
The price increase averages 4%. read more…
FEATURES of the MONTH

Grab this 8 oz. package of crunchy, heart-shaped, grain-free Salmon biscuits from Precise at a special price this month. Regular $ 8.50, now $7.25

Yummy! A unique soft and chewy treat made without glycerin, these chews have won awards for "Best Dog Treat" two years in a row! Individually wrapped, each half-ounce treat can be fed whole or torn into smaller pieces for use over time (refrigerate after opening if your dog allows you to not feed it all in one sitting). Made with Chicken, Organic Flaxseed, Cheddar Cheese, Dried Carrot, Tomato and Spinach, Celery Powder and Sea Salt. Buy 3 and we'll add an extra treat FREE! Regular $2.00 each, now 4 for $6.00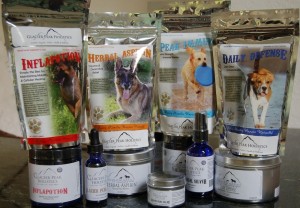 Choose from a variety of natural supplements in powdered, liquid or tablet form. Choices include joint support, herbal aspirin, immune support, daily nutrition and wound care.
Extra bonus– Pick up an Alternate Sensitivity Assessment test before the end of January and you'll save 15% on your first order of any Glacier Peak supplements.
TREAT of the MONTH



Peace Berry Biscuits from Clear Conscience Pet- save 22%
Enjoy a 7 oz package of crunchy, organic, blueberry and lavender biscuits. Made with Organic Buckwheat flour, Organic Blueberries, Organic Canola oil, Honey, Organic Lavender. Regular $9.00, Club price $7.00
Interested in the special pricing on these treats? Become a Treat of the Month Club member- it's free! Just email us or mention it with your next order to sign up. Each month that you receive a delivery, the featured treat will automatically be added to your order. You'll save a minimum of 10% each time, and treats are no more than $8.00.