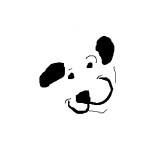 In this issue:
Your special offer
What's on your Wish List?
The Dog Food Detective has been published
Monthly Features
Treat of the Month
Happy Independence Day!
We hope you have the opportunity to enjoy some summer fun with your furry friends, and keep them out of harm's way on July 4. Remember, your dog may not enjoy fireworks nearly as much as you. After all, what's merely loud to us can be deafening to them. If you're venturing out for holiday festivities, be sure your pet is in a comfortable, safe and secure location with proper identification- just in case.
If you've got a particularly sensitive pet, consider remaining home with them, or offering some Rescue Remedy, herbal calming aid or melatonin to help ease anxiety. It's been reported that July 5 is often one of the busiest days at animal shelters because of panicked pets that escape and get lost or injured. Just a bit of caution and common sense can go along way to change that trend!
YOUR SPECIAL OFFER

Get a FREE Wag More Bark Less sticker
You may have seen them on the back of cars, on books, laptops and even clothing. Now you can have your very own Wag More Bark Less oval sticker this month with the purchase of any treat.
Just ask for one to be included when you include any treat on your order in July!
NEWS
What's on Your Wishlist?
It's getting to be that time of year again to endure triple digit temperatures, gaze upon glitzy accessories, pet pink poodles with mohawks, and encounter other eyebrow raising surprises.
Yes, it's the annual pilgrimage back to Las Vegas for SuperZoo, one of the largest pet industry trade shows in the country.
Do you have a question or comment that you'd like passed along to a manufacturer? Let us know and we'll be happy to be your advocate on the show floor. Read more…
The Dog Food Detective Has Been Published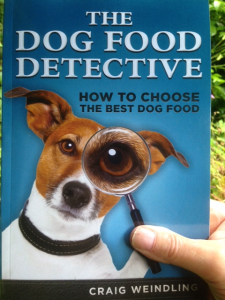 Just a mere 3 months behind schedule, The Dog Food Detective paperback is finally available. The book offers a light-hearted, common sense path through the confusion of choosing the best dry dog food for you and your dog.
The Dog Food Detective guides pet parents through a simple system that easily adapts to changing needs. It shows how to focus on facts without the distractions of marketing hype or complex technical detail.
The Dog Food Detective System® is based on the methods used at Smiley Dog over the past 2 decades to help clients choose the most appropriate food for their situation. Read more…
FEATURES of the MONTH

Save big on these natural treats from Australia. Choose from Roo Bites, Loin o' Tuna or Green Lipped Mussel. All come in resealable 2.82 oz. packages and are 100% grain & gluten free, dehydrated meat treats. Regular $10.75- $19.75;   Now $9.25- $16.75
Just in time for the height of summer! Choose from Large or Extra Large sizes, this heavy duty floatable retrieval toy from Kong will most likely be lost before it wears out. Either size comes with attached rope for easy tossing and retrieval in a field or water. Regular $12.75 or $15.75; now $10.20 or $12.60
Save $4 on Sojos Grain Free Beef Mix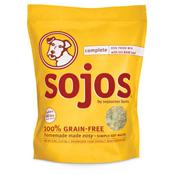 Have you been curious about some of the dehydrated dog food options available? Take this opportunity to get a special price on a 2 pound bag of this complete grain and gluten free mix made with USDA freeze-dried beef. The 2 lb. bag rehydrates to make 8 pounds of fresh food which can be used as a sole diet or supplement. Regular $24.50, now $22.50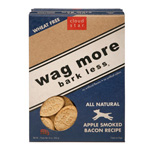 A full pound of crunchy, oven-baked, grain-free goodies from the makers of Buddy Biscuits. The USA-made treats are low in fat (6%) and come in oval, bite-sized pieces. These are the perfect compliment to your Wag More Bark Less sticker!
Ingredients: Apples, barley flour, oatmeal, rice bran, pea starch, bacon, whole oats, millet flour, chickpea flour, sunflower oil (preserved with mixed tocopherols), natural hickory smoke flavor, natural apple flavor. Regular $7.25, now $6.25
TREAT of the MONTH
Alligator Blueberry biscuits- save 18%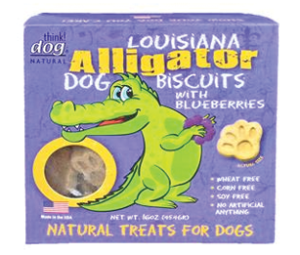 Grab a full pound of these unique paw-shaped Alligator and Blueberry cookies as the featured treat this month. These wheat and corn-free cookies are made with Alligator, Barley, Oats, Pea Starch, Rice Bran, Potato Flour, Blueberries, Canola Oil (preserved with Mixed Tocopherols) Regular $8.25, Club Price $6.75
Interested in the special pricing on these treats? Become a Treat of the Month Club member- it's free! Just email us or mention it with your next order to sign up. Each month that you receive a delivery, the featured treat will automatically be added to your order. You'll save a minimum of 10% each time, and treats are no more than $8.00.